"Finder's panel of 33 fintech specialists" updated its bitcoin price projection for 2022 on Wednesday, according to the prominent product comparison website.
The price of bitcoin is expected to peak at around $94K before completing the year at $76K, according to Finder's panel of 33 fintech experts. Furthermore, the panel predicts that the cryptocurrency's price will reach $192,800 in 2025 and $406,400 in 2030. 
READ ALSO: 60 million Shiba Inu Tokens Burnt via Shiba Search Engine's Ad Revenue
The panel predicts that the price of bitcoin will reach $192,800 by the end of 2025, down 7% from their October projection. The panel also predicts that the price of bitcoin will reach $406,400 by the end of 2030, which is a 28% decrease from their October projection.
Are the interest rate hikes playing a role in Bitcoins surge?
Potential interest rate hikes may be causing the panel to be more cautious with their forecasts than they were in October.
Several panelists, like Panxora Group CEO Gavin Smith, who predicted $70,000 by the end of 2022, believe that rising interest rates will have a negative influence on the bitcoin market.
However, when asked explicitly about Bitcoin, only 1 in 5 panelists (19%) believe increased interest rates will lead to a lower BTC price, while 31% are undecided. Smith believes that if increased interest rates do cause a reduction in Bitcoin's price, it will be temporary.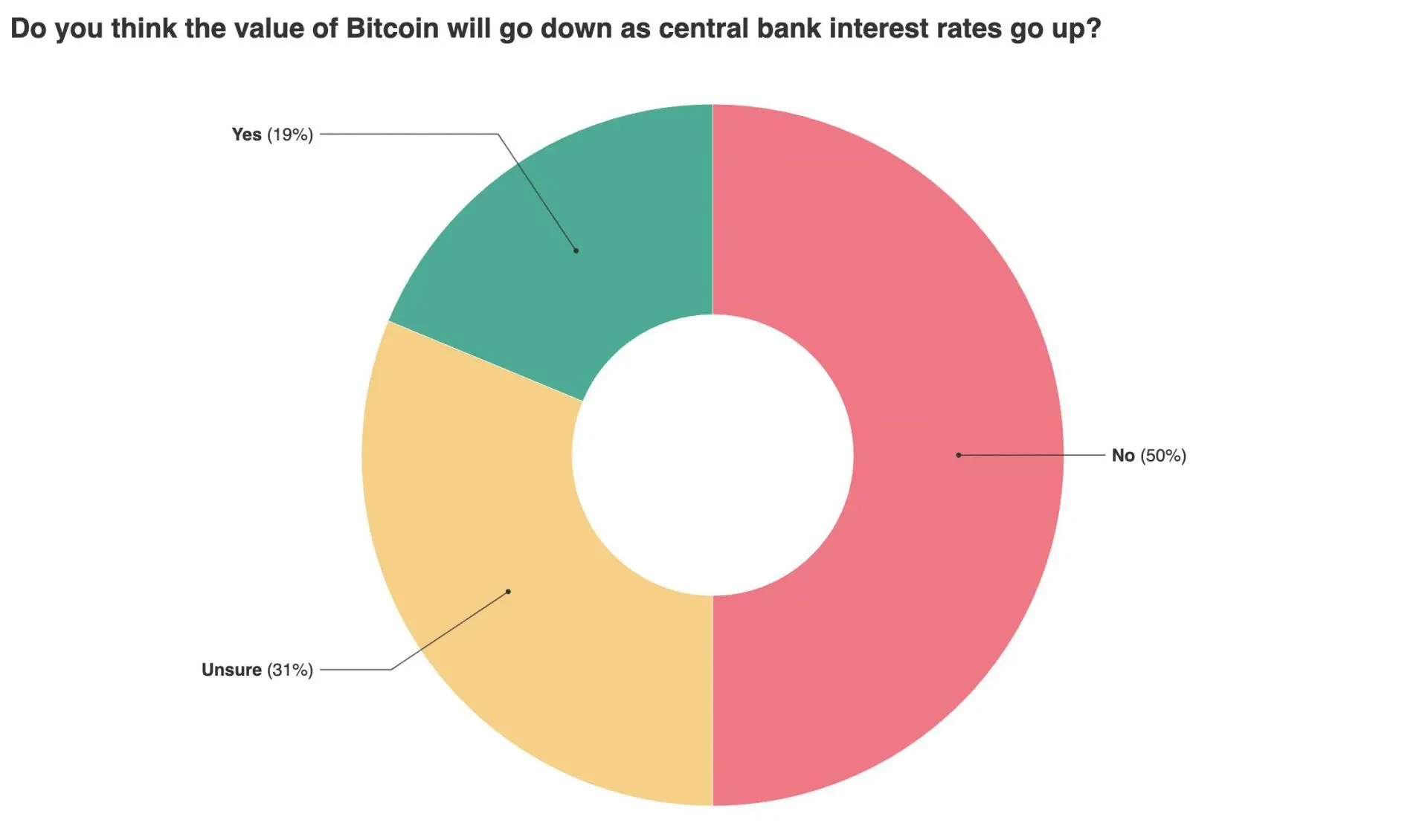 Coinflip founder, Daniel Polotsky, agrees with Smith, saying "It is possible that the asset bubble the Fed created by keeping interest rates near 0% for over a decade may spill over into Bitcoin. However, the cryptocurrency has the gold-like fundamentals and trust to weather the storm better than its peers. While in the short term, higher inflation will make savings rates lower (meaning less disposable income to spend on investing), in the long run, people will look for alternatives like Bitcoin to escape the inflation."
Time to buy BTC?
Finder's founder Fred Schebesta is very bullish on Bitcoin, saying that now is the time to buy BTC. He is of the opinion that cryptocurrencies are a formidable challenger to the world's traditional financial infrastructure, with many projects now moving beyond the theoretical realm of potential value and into the domain of dependable delivery. 
READ ALSO: Intel to enter crypto-verse with low-voltage Bitcoin mining ASIC
Dr. Iwa Salami, an associate professor of law at the University of East London, recognizes the cryptocurrency market's quick rise but feels it is a cause to hold for the time being.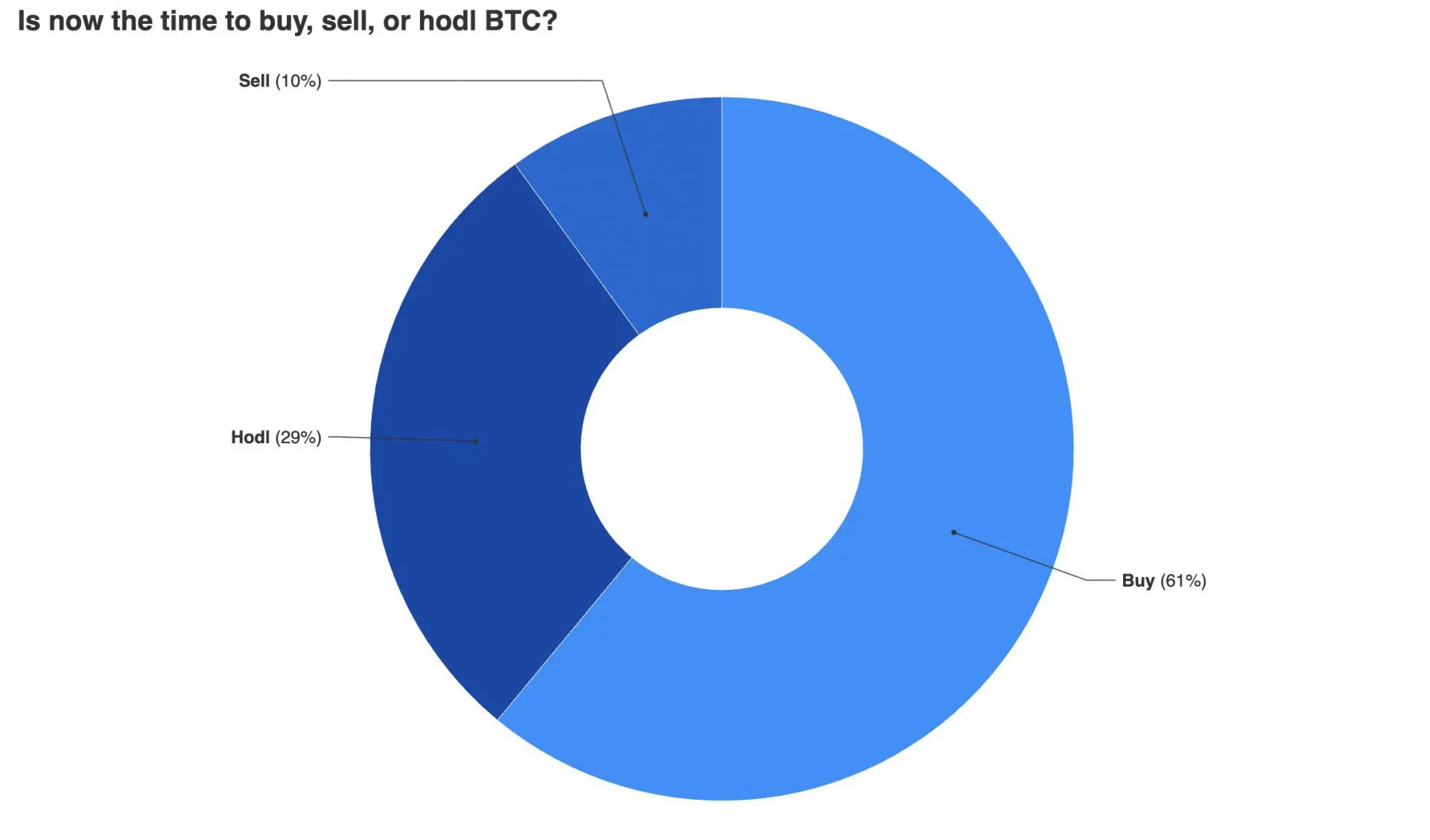 However, some panelists, such as University of Western Australia associate professor Lee Smales, are pessimistic about Bitcoin's future and believe now is the time to sell.
According to the majority of the panel (61 percent), now is the best moment to buy BTC. A further 29% believe it is time to hold, while only 10% believe it is time to sell.