The volatility in the crypto market has been rising of late. Even though the current levels are significantly lower than the highs registered in January and March this year, noteworthy progress has been made over the past few days. In fact, with a host of macro-economic related events lined up, the volatility is expected to further notch up this week.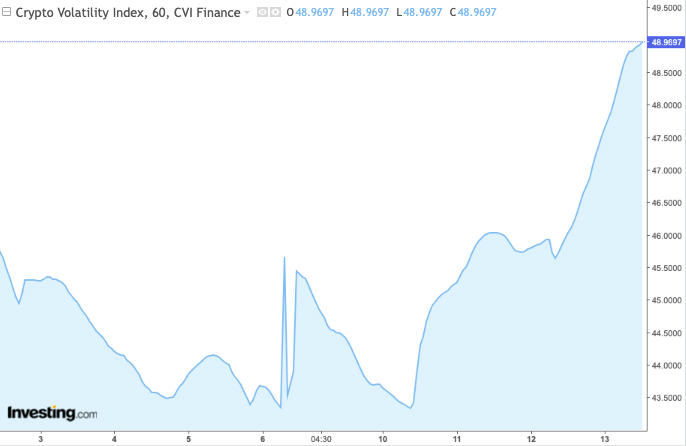 Also Read: Ripple: Novatti's Australian Dollar Backed Stablecoin Goes Live on XRP Ledger
Chainlink Volatility Oracles
Now, in such an environment, Chainlink has been working on volatility oracles. In a recent blogpost, it is highlighted that the demand for both realized and implied volatility datasets [RV, IV] is growing. Tapping on the same, the developer community has been working on two new product solutions, one for each type. They're currently experimenting on various testnets.
The RV data, calculated by data providers, will be fetched by multiple Chainlink node operators in an Oracle network. After that, it will be combined into an aggregated Oracle report, and be published on-chain that can be used by DeFi applications.
For RV, there is usually reference data. However, that is not the case for IV, because it is usually based on predictions. In effect, there is no single calculation method. Since IV is a prediction of future volatility, Chainlink Functions will allow dApps to define their methodology. Further elaborating on Chainlink's role in such a scenario, the blog post noted,
Chainlink Functions provides the ideal infrastructure solution, with dApps able to draw implied volatility data from as many or as few data providers as they desire, providing the ultimate discretion for their in-house calculations—all without having to deal with managing their own Oracle node infrastructure.
RV data is currently available on four blockchain testnets: Arbitrum Goerli, Avalanche Fuji, Ethereum Sepolia, and Polygon Mumbai. IV, on the other hand, can be accessed on three testnets: Avalanche Fuji, Ethereum Sepolia, and Polygon Mumbai. Thus, DeFi developers can now apply for beta access before the functions' full release on the mainnet.
According to well-known Chainlink community member 'ChainLinkGod', this is a "very timely release."
Also Read: Binance Coin OI Rises to $377 Million: Price Dips 26%
Finblox, LooksRare, Swift Working With Chainlink
Alongside volatility oracles, there are several other developments that have taken place within the Chainlink ecosystem. A recent report brought to light that crypto asset management firm Finblox is integrating U.S. Treasury Bills on Chainlink.
The company's "superapp" will be tying up with OpenEden to bring a smart contract vault. That will provide 24/7 access to tokenized Treasury Bills. OpenEden's Treasury Bill Vault, on its part, will be integrated with Chainlink. This will help provide on-chain proof that its tokens are backed by actual assets.
Parallelly, other platforms are also making use of Chainlink's functionalities. For instance, NFT marketplace LooksRare recently integrated Chainlink's Verifiable Random Function [VRF] on Ethereum to help it pick winners for its 'Raffles' in a fair manner.
Additionally, Chainlink has been working with Swift and a host of other major financial companies to test how they can connect with multiple networks. According to Chainlink, "These experiments are a significant step forward from the biggest financial players across the globe to #LinkTheWorld of traditional finance to blockchains."
Also Read: Solana, Cardano, MATIC Targeted by SEC, Down 31%
Investor Sentiment
Despite the macro market turmoil, Chainlink fundamentals have evidently not deteriorated. In fact, even whales seem to be on board. A recent analysis by Santiment revealed that LINK-related whale transactions [>$1 million] have spiked to a 7-month high, as the price dropped to a 3-year low of $5.00 this weekend. Chalking out the magnitude of accumulation, Santiment noted,
"Mid-sized 1K-100K LINK wallets are particularly accumulating big, with 3.9M LINK (worth $20.0M) accumulated in the past week."
At press time, LINK was trading at $5.27, up 3% over the past day.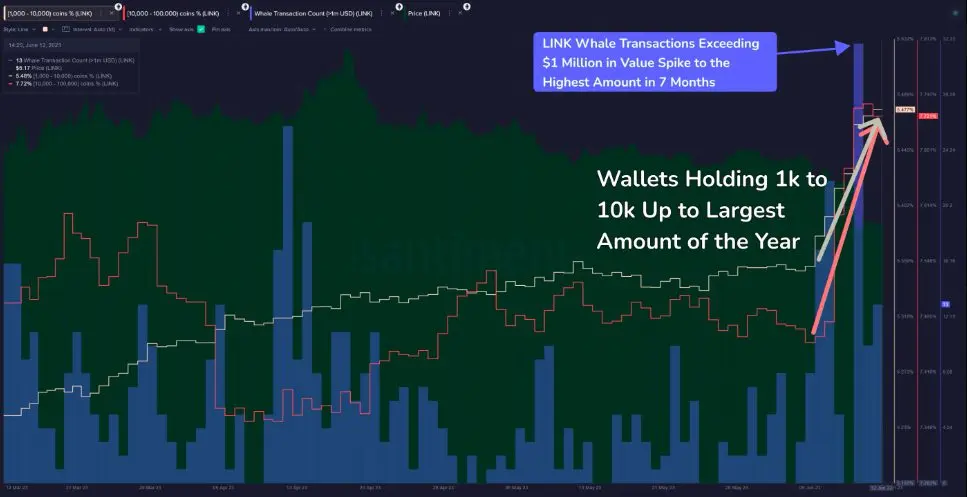 Also Read: Ethereum Registers 'Largest' Outflow Since the Merge: $35.6 Million Withdrawn