Crypto.com token has risen by more than 250% in November. With a market cap of $21 billion, it reached a new all-time high of $0.87 at press time. In a previous article, we discussed the marketing campaign and development that led to Crypto.com's recent rise. Now, the question in everyone's mind remains whether CRO can reach $1 before the end of November, or not.
Crypto.com registered trading volumes of $1.6 billion, higher than Cardano, over the past 24-hours.
Crypto.com 4-hour time frame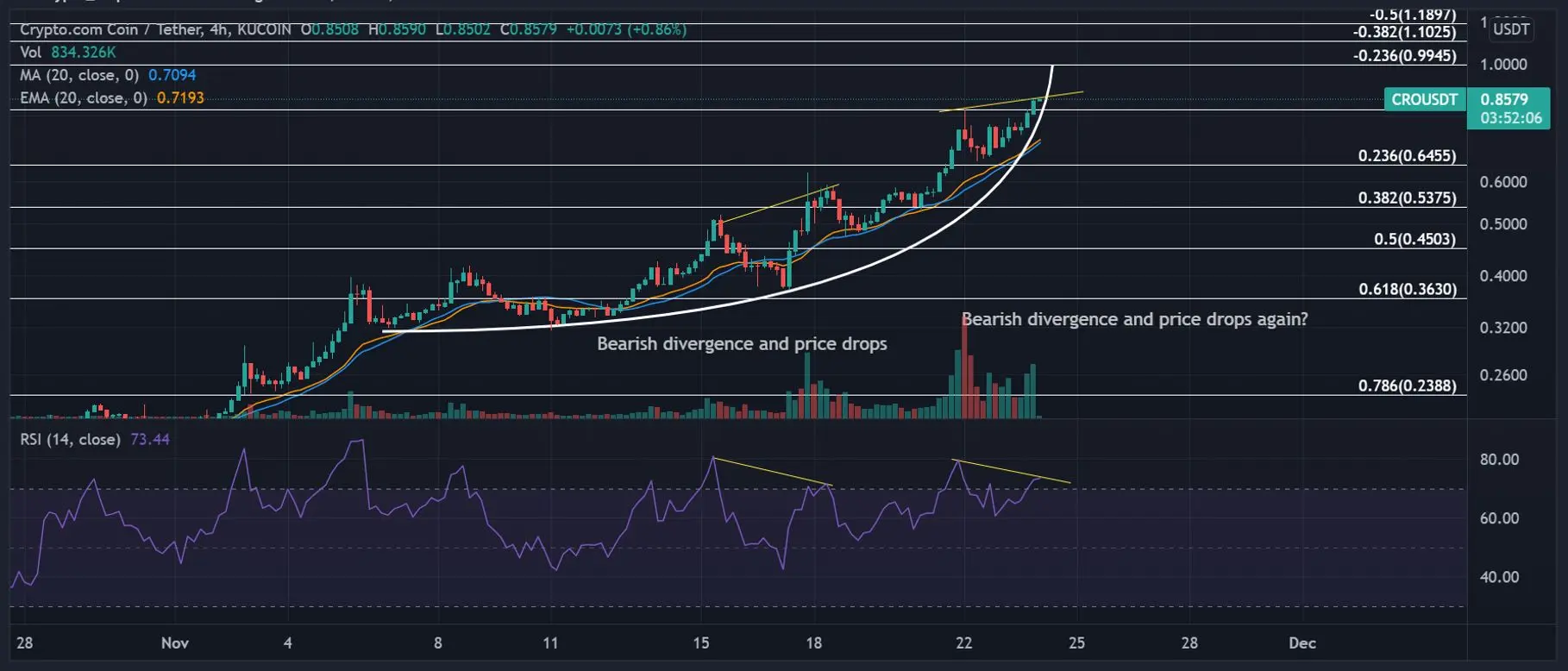 CRO token has continued to rise in a parabolic structure since the beginning of November. As observed, It remains above the curved line and, the possible end of the line is above $1. In addition to that, Exponential Moving Average and Simple Moving Average also continue to indicate a bullish trend. Yet, a minor bearish divergence can be observed.
READ ALSO: Kevin O'Leary Says His Crypto Holdings Today Are 'Almost at 10%'
The yellow line between the rising price and decreasing Relative Strength Index led to price corrections last week. At press time, a similar pattern can be observed and the possibility of repetition is high as well.
Market Indicators

All the market indicators are collectively bullish at the moment. MACD indicator continues to remain positive as the MACD line remains above the signal line. Stochastic RSI also suggested that bullish momentum is recovering and finding strength in the short term. Moreover, On-balance volume also indicates the investors are unwilling to increase selling pressure at the moment.
READ ALSO: Big News for Floki Huge Partnership
$1; Yes or No?
The short answer is yes but there might be a minor correction down to $0.75 before the $1 touchdown. CRO token has been extremely consistent in terms of recovering after a minor correction and reaching $1 is an eventual formality.