The mysterious Shiba Inu founder Ryoshi disappeared in May 2022 by deleting his Twitter handle and Medium blogs. Ryoshi's whereabouts and his identity remain to be a mystery as the founder chose to be anonymous throughout.
However, speculations are rife that Ryoshi could be someone influential in the crypto space. There are rumors that Ethereum founder Vitalik Buterin or Tesla CEO Elon Musk could be Ryoshi, but none of it is confirmed. Nonetheless, new speculation is brewing that Shiba Inu founder Ryoshi has launched another token named 'Dejitaru Tsuka', reported Express.co.uk.
Also Read: An $8,000 Shiba Inu Investment Amassed $5.7 Billion in 400 Days
Why Investors Claim Shiba Inu Founder Ryoshi Launched 'Dejitaru Tsuka'
Crypto enthusiasts claim that Ryhoshi has returned from his hiatus and might have launched yet another project Dejitaru Tsuka (TSUKA). The speculation comes after several investors deciphered Dejitaru Tsuka's cryptic blockchain messages and connected them to Ryoshi.
Many find Ryoshi's Shiba Inu language and tone similar to that of Dejitaru Tsuka's language in its first Medium blog. In addition, the first blog has the same picture of a Japanese Yogi which is also the profile picture of Ryoshi's Twitter handle.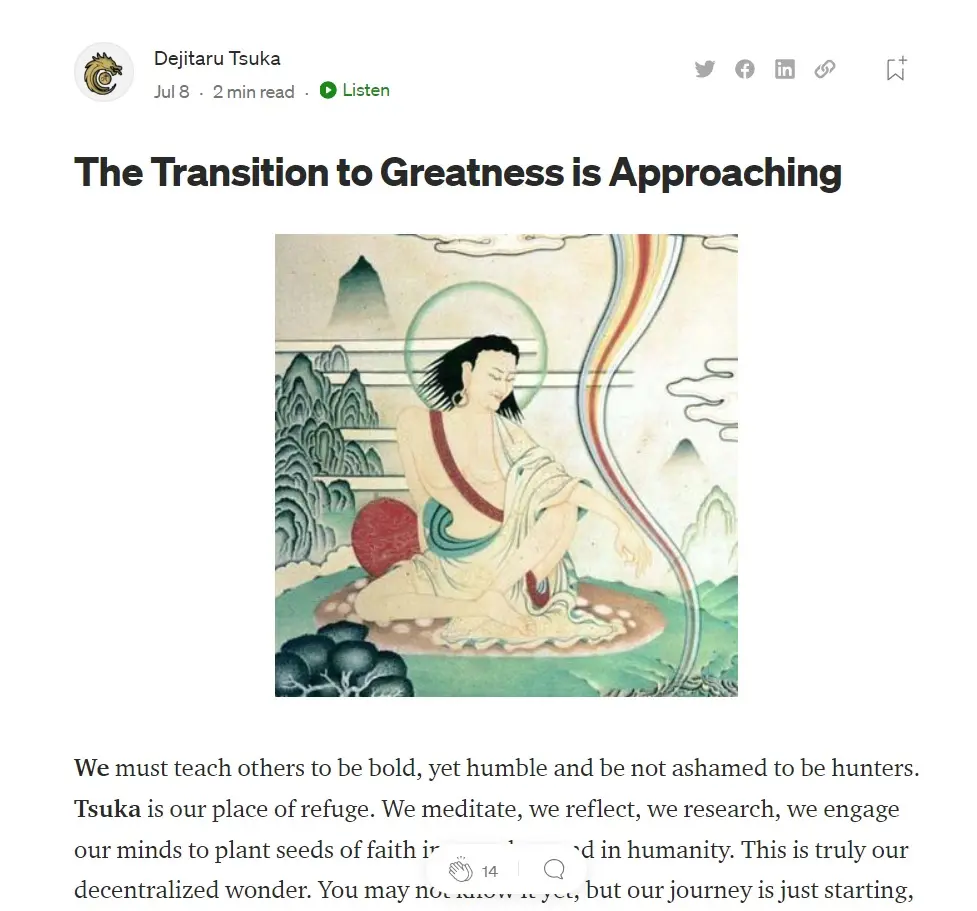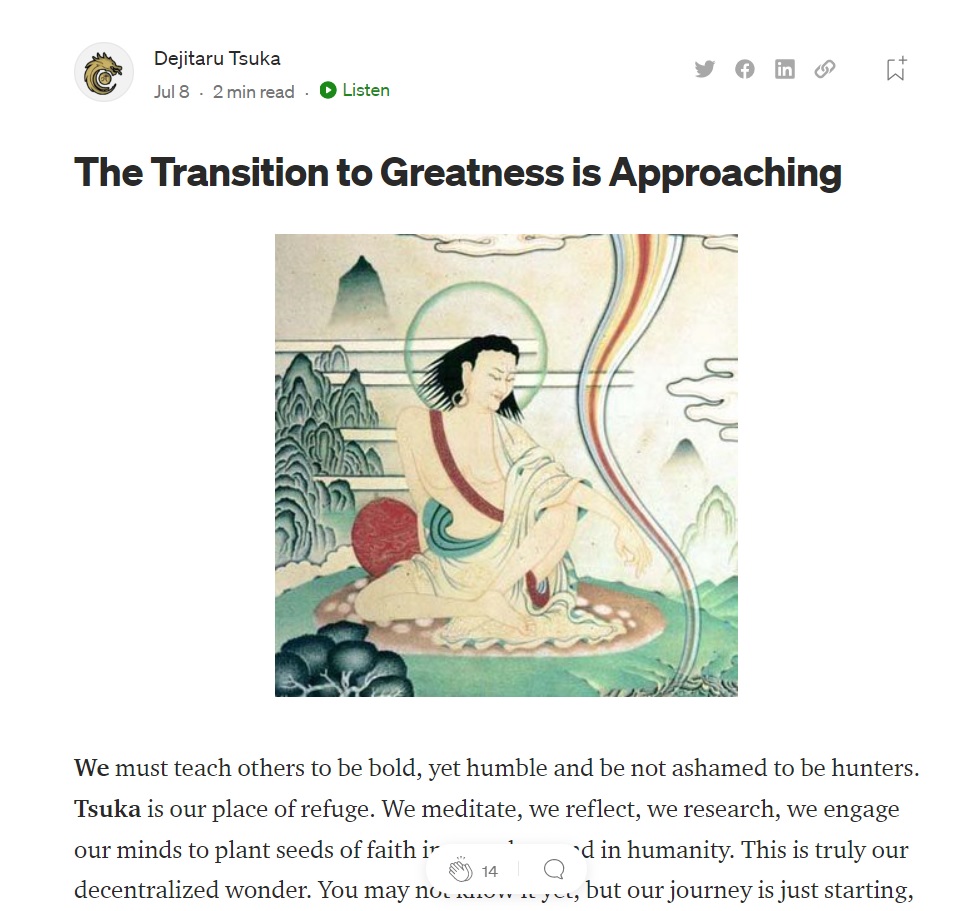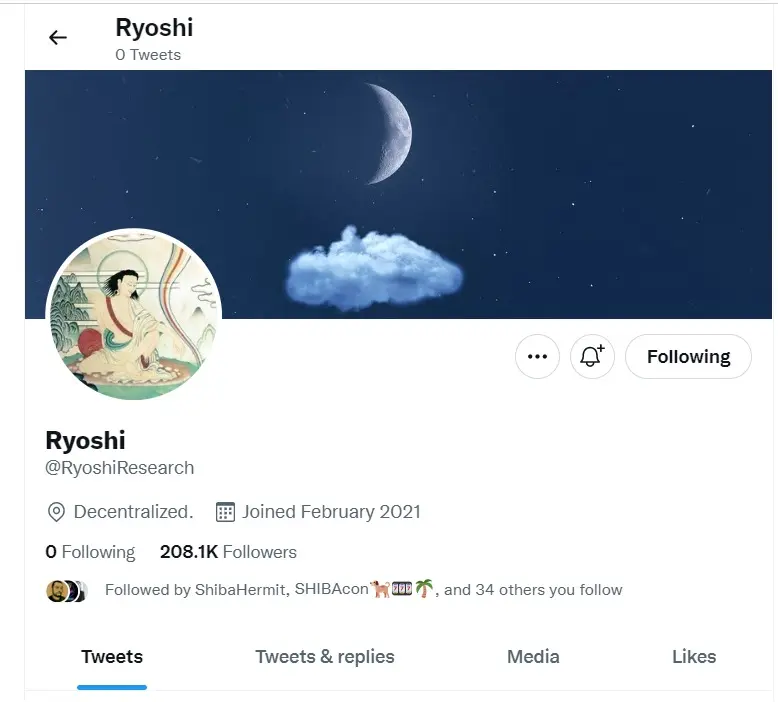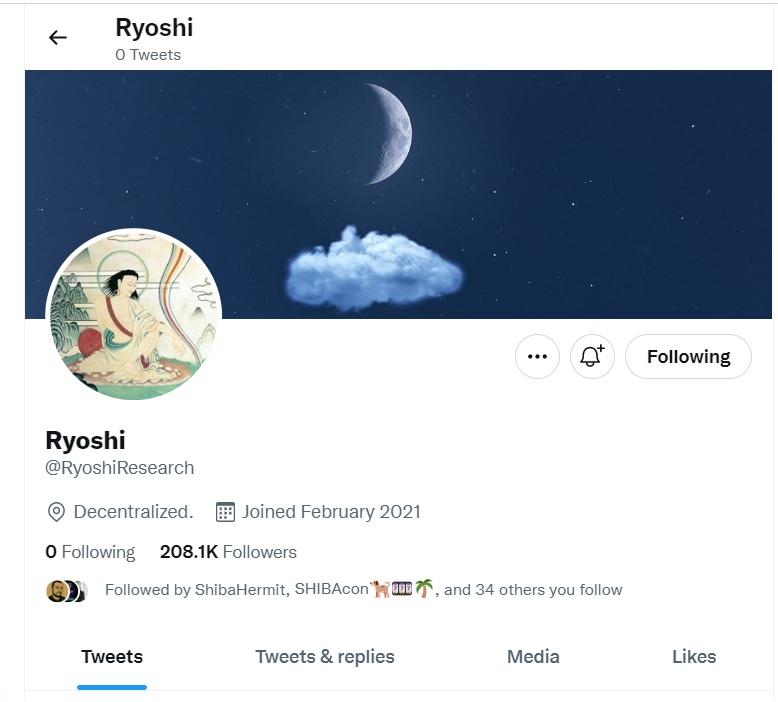 Now coming to the language and tone of the blog, there are similarities, which include spiritual and cryptic metaphors. For example: "We must teach others to be bold, yet humble and be not ashamed to be hunters. Tsuka is our place of refuge. We meditate, we reflect, we research, we engage our minds to plant seeds of faith in ourselves and in humanity."
Read here to glance through Dejitaru Tsuka's first Medium blog which was published on July 8, 2022.
Those who have read Shiba Inu's first Medium blog 'All Hail the Shiba' might agree that the tone is similar. However, we can't read SHIB's first blog again as Ryoshi deleted it before vanishing on May 30, 2022.
Also Read: Shiba Inu Turns 2: Here's How Many Zeroes it Deleted Since Launch Day
Can Dejitaru Tsuka Founders Be Impersonators of Ryoshi?
The point to be noted in Dejitaru Tsuka's first blog is that it signs off at the last as "Ryoshi". Here's what it says: "We need nothing, we seek nothing, we desire nothing. We are nobody. We are Ryoshi. – ALL HAIL TSUKA."
Many a time, bad actors always impersonate others to gain leverage or attract attention. Impersonation attacks and spreading disinformation saw a dramatic spike since 2020, including impersonating celebrities, leaders, and politicians, among others. Read here to know more about the outbreak of impersonation attacks that's taken over social media.
In conclusion, there's no way to confirm that Shiba Inu founder Ryoshi is behind the launch of the Dejitaru Tsuka token.
Also Read: Binance to Launch New Token 'BAB' That's Built on the BSC Chain?
At press time, the Dejitaru Tsuka token was trading at $0.02692298 and is down 13.9% in the 24 hours day trade. TSUKA was launched on July 18, 2022, at a price of $0.01570974.