Dogecoin (DOGE) has bled out along with the rest of the crypto market. The popular dog-themed crypto project has fallen 1.9% in the last 24 hours and by 10.4% over the previous week. The latest plummet is attributed to the regulatory scrutiny ongoing in the United States. The global crypto market cap has fallen to $1.05 trillion, dropping by 4.4% in the last 24 hours.
Dogecoin (DOGE) is currently facing resistance at $0.06266, with support at $0.05942. If current resistance levels are broken, DOGE could face fresh resistance at around $0.0700. However, if it goes below its current support level, it could plummet down to $0.053. This level was last seen in June 2022, a year ago. It should be noted that DOGE briefly fell to this level on June 10, 2023.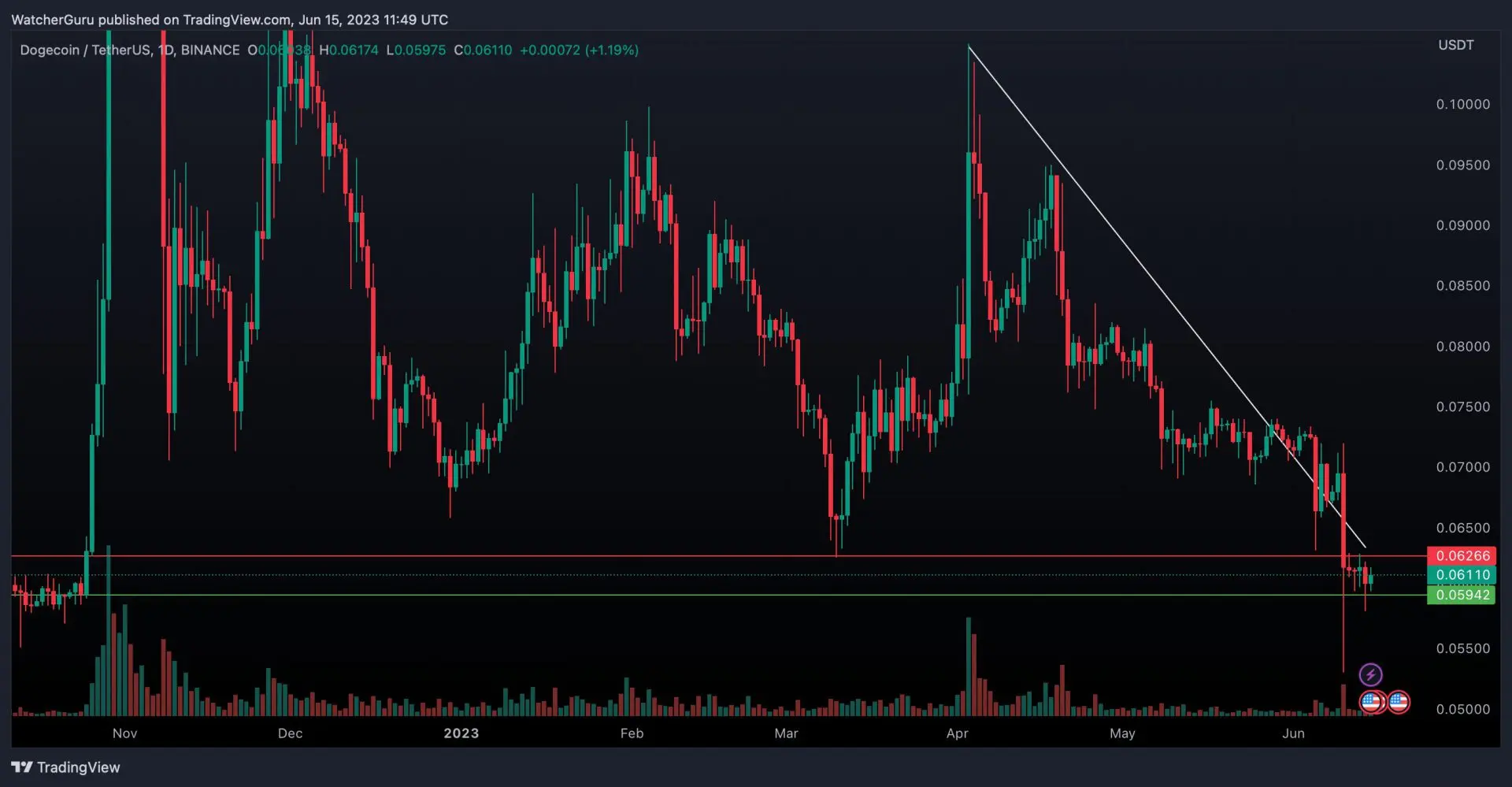 Furthermore, DOGE being a memecoin relies on online popularity and word of mouth to stay relevant. The project does not have a lot of use cases and is only used for payments in a few outlets.
Nonetheless, Tesla CEO and DOGE proponent Elon Musk were accused of insider trading by some DOGE investors. According to the lawsuit, Musk intentionally raised Dogecoin's price by more than 36,000% over the course of two years before allowing it to fall.
Can Dogecoin rebound from current levels?
As per the data on LunarCrush, DOGE's popularity seems to be falling. The platform stated that DOGE's social mentions have increased by 8.6%, but engagements have fallen by 52.1%. This could mean that people are not interacting with Dogecoin-related posts online. Moreover, social dominance for DOGE is up by 8.6%. Bullish sentiment, on the other hand, is up by 9.8%, while, bearish sentiment is down by 1.1%.
The fall in social media engagements could be attributed to the news around the SEC's (Securities and Exchange Commission) double lawsuits against Binance and Coinbase. Investors are probably on edge as legal clarity over crypto is discussed in court. Moreover, the FOMC is due soon. Investors might also be waiting for what the Fed has to say, and will likely take their positions based on the meeting. At press time, DOGE was trading at $0.060930, up by 0.2% in the last hour.