According to crypto analysis firm Glassnode, dormant Bitcoin (BTC) held in wallets continues to increase. BTC held for more than a year, also touched new highs. Glassnode indicated increased BTC holding in all bands, especially in the last two years.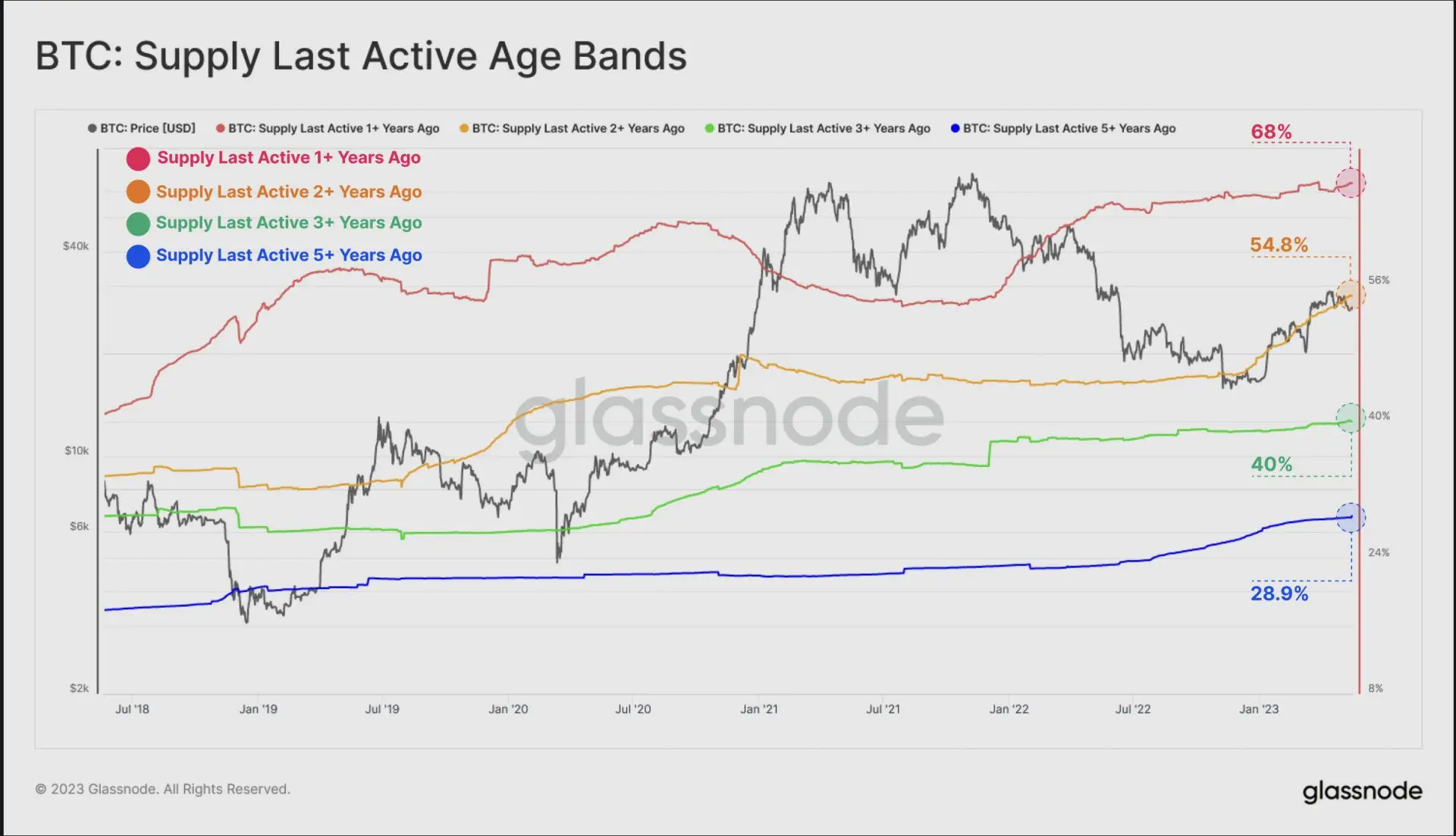 With 14.46 million BTC, the supply of long-term holders, or BTC held for more than 155 days, has surpassed its previous record. These coins were purchased right after the FTX collapse and have reached LTH status, according to Glassnode.
Additionally, since December 2020, the "Bitcoin liveliness metric," which measures holding and spending behavior, has declined to its lowest point. This highlighted that holding is currently the market's trending activity. Moreover, Glassnode is not the only one to throw light on BTC not being moved. According to Unchained, 68.13% of Bitcoin hasn't moved in over a year.
The increased holding is a testament to the confidence investors have in regard to the original crypto. Investors are probably certain that BTC prices will rally soon and have chosen to hold till they break even or make a profit. According to IntoTheBlock, 22% of BTC holders are still at a loss. However, 67% of holders are sitting on profits.
Will Bitcoin's price boom anytime soon?
Historically, Bitcoin finds a price bottom when sellers are exhausted, creating the most recent influx of long-term investors, the report stated. According to Glassnode's analysis, these variables present a largely positive picture of Bitcoin investors' confidence.
However, a price rally might be off the table for the next few months. Although BTC has spiked 2.6% in the last 24 hours, there isn't much happening that could help propel BTC into a price rally. The economic woes of the globe are still to be dealt with. The U.S. debt limit has been reached and a new limit is being discussed, however, with no success as of yet. Moreover, inflation in the U.S. is still more than double the Federal Reserve's target of 2%.
Therefore, the signs do not look all too promising for a Bitcoin (BTC) rally just yet. However, once the financial world settles down, and macroeconomic factors are back to normal, we could expect another bull run for the original crypto. However, this could take place sometime in 2024. At press time, BTC was trading at $27,392.92, up by 0.1% in the last hour.