Ever since the launch of the Beacon chain in December 2020, users have been staking ETH tokens on the Ethereum network. However, only after the Shanghai hard fork that took place on the mainnet earlier this year, it became possible for users to withdraw their staked Ether tokens.
Over the short term, stakers have been withdrawing their assets. Over the past 24-hours, for instance, around 52.6k ETH tokens were removed from the network. On the other hand, only half the amount was deposited back, making the overall net balance negative.
However, when zoomed out, the number was positive. Since the Shanghai hard fork, over 6.58 million ETH has been deposited on the network, while only 3.18 million have been withdrawn. As a result, the net balance flashed a value of 3.4 million at press time.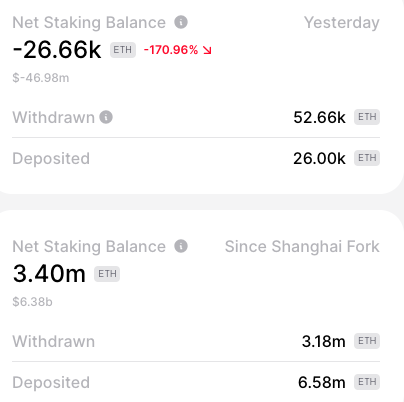 Also Read: Ethereum-Bitcoin Pair Resist Correction As Binance Notes 2023's Largest Outflow
Ecosystem ripe for a 'flip'
Now, with the amount of Ethereum locked on the network evidently rising, the community is expecting a 'flippening'. As depicted below, the balance of Ethereum on exchanges has been on a downtrend for quite some time. At the moment, the reading of both metrics is quite close to each other. As of the weekend, 22.8k ETH was locked on the network. Contrarily, the balance on exchanges stood at 24.3k. Commenting on when to expect a flip, Nansen CEO Alex Svanevik recently tweeted,
"One of my fav charts these days: ETH on exchanges vs ETH staked. Flippening happening within a month."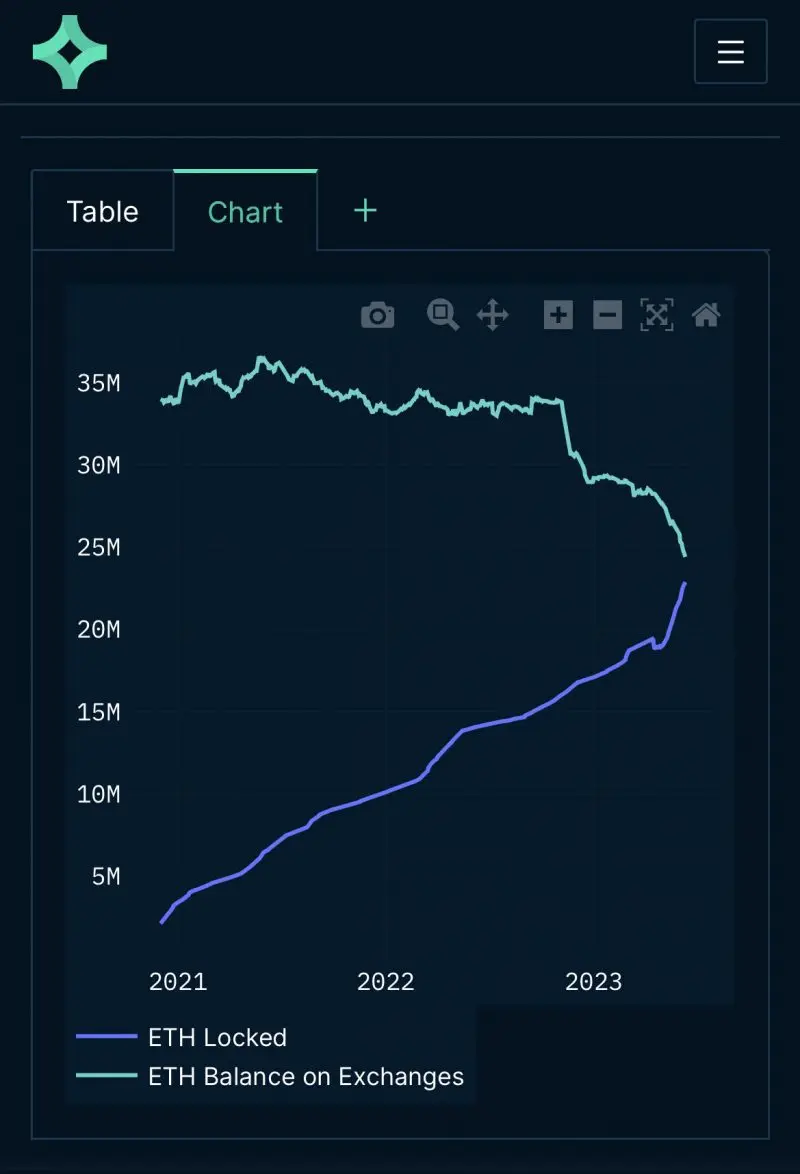 As far as the state of stakers is concerned, most of them continue to be in a not-so-favorable position. According to data from Dune Analytics, around 67.5% of stakers are currently underwater, while the remaining 32.5% of them are only in-the-money. Thus, it can be contended that there is not much incentive for the masses to withdraw their locked ETH at the moment, eliminating the pressure off the macro net staking balance.

Also Read: Ethereum to Hit $11,800 by 2030: Investment Manager VanEck