According to cryptocurrency analysis firm Santiment, Bitcoin (BTC) and Ethereum (ETH) supply on exchanges has hit a 5-year low. The firm noted that the development may lead to limited future sell-offs.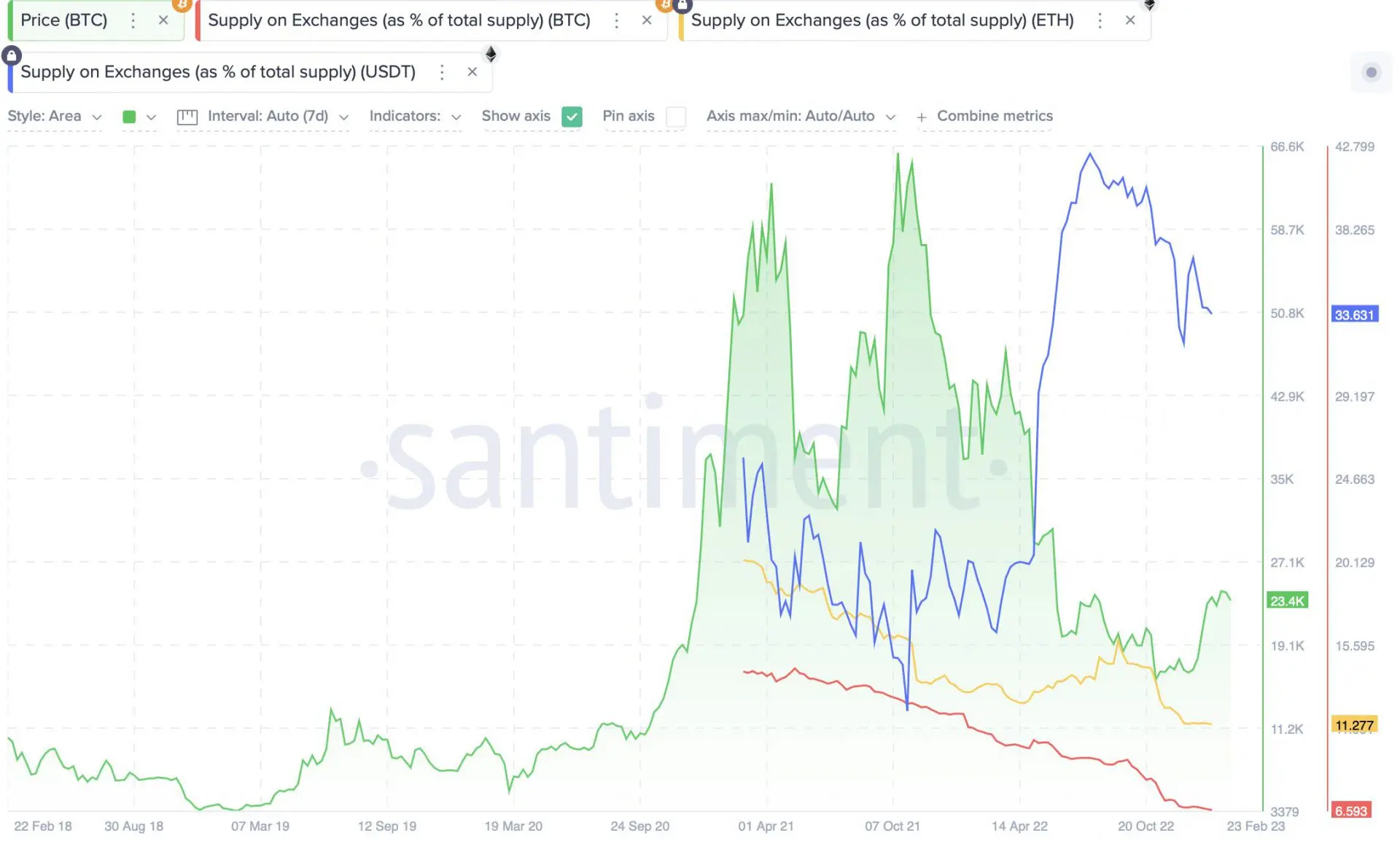 According to Santiment, the trend of moving assets from centralized exchanges into self-custody picked up after the collapse of FTX. The fall of FTX took many investors by surprise. However, the majority of retail investors suffered the most. The saga led to people losing their trust in centralized exchanges and consequently moving their assets into self-custody.
Moreover, Bitcoin (BTC) and Ethereum (ETH) having the lowest supply on exchanges in five years might be a bullish development. This means that there is less likelihood of a sell-off from investors. The data gives bulls more confidence, which they might need right now. Bitcoin (BTC) is hovering around the mid-$23k levels after failing to breach the $25k resistance. Moreover, the number of Bitcoin whales has been decreasing significantly. On the other hand, Ethereum (ETH) is trading at $1.6K, testing the $1700 level.
Only 14% of Ethereum is staked
According to Dune, the ratio of staked Ethereum to its available supply, or "staking ratio," is now about 14%. In contrast, the staking ratio of other proof-of-stake (PoS) blockchains like Cardano (ADA) and Solana (SOL) is over 70%.
Nonetheless, the amount of staked ETH is expected to rise after the much-awaited Shanghai upgrade. The Shanghai upgrade will finally allow the unlocking of staked ETH. Many expect there to be a sell-off, but a majority of staked ETH is at a loss, hence a sell-off is unlikely.
The Shanghai upgrade has also led to an increase in the popularity of liquid staking. Liquid staking is the technique of locking up money to collect rewards while maintaining access to it. Liquid staking is becoming more popular, making it the second-largest crypto branch in terms of the total value locked (TVL). Almost $14 billion in digital assets have been placed in 71 liquid staking systems, according to data from DeFi Llama.