According to the data provided by Nansen, Ethereum (ETH) gas prices witnessed a sharp spike, reaching as high as 1062 Gwei. After lending and borrowing services reported up to a 300% rise in consumption, the Ethereum network faced a tremendous surge in utilization.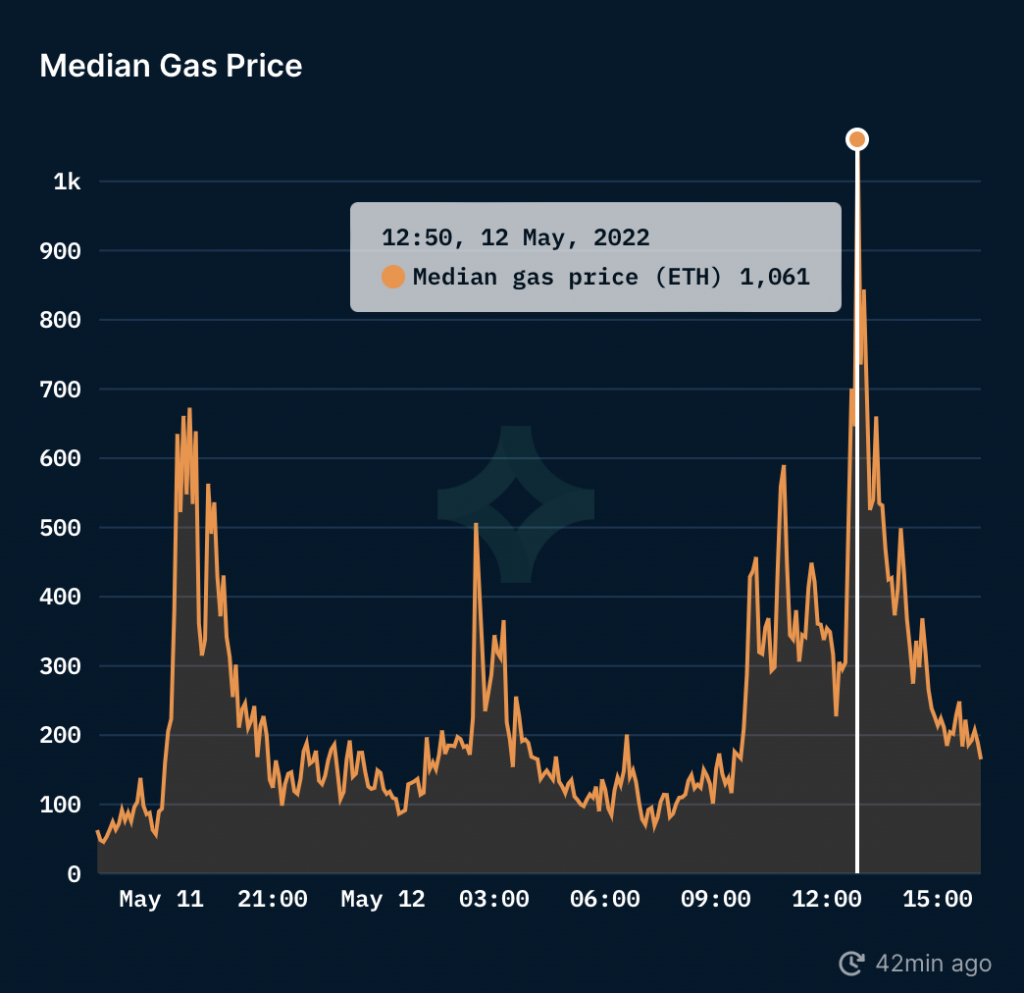 Platforms like 1inch, Uniswap, and Tether token contracts are among the largest gas consumers on Ethereum networks. The increase in demand mirrors the present market attitude, as traders aggressively move their cash away from crypto and hunt for a means to convert to fiat.
The gas price has since settled down to an average of 170 gwei.

The market experienced enormous withdrawals of cash from the whole DeFi business following the decline in UST. According to DefiLIama, the decentralized solutions business suffered a significant loss in TVL in the previous 24 hours, losing 24 % value of money locked-in contracts. The entire TVL across multiple chains fell from $204 billion to $115 billion in less than a week.
Investors are increasingly losing faith in any of the leading stablecoins or DeFi solutions, and are shifting money away from various liquidity contracts, putting lending and borrowing platforms under intense "attack."
AAVE, ADA, and ATOM are examples of DeFi-related tokens that have lost over 60% of their value in a matter of days. However, DeFi is not the only business that has seen a significant decline in Netflow; cryptocurrencies such as Bitcoin and Ethereum (ETH) have also experienced double-digit losses in recent days.
Additionally, Tether (USDT) has stated that it is orchestrating a chain swap to transfer USDT assets from Tron's TRC20 to Ethereum and Avalanche's blockchain, in response to recent events in the stablecoin space.
Tether said that 1 billion USDT will be transferred from Tron's blockchain to Ethereum. An extra 20 million USDT will be converted to Avalanche, on the other hand. Tether claims that this will not affect the stablecoin's total supply.
At press time Ethereum was trading at $1,976.63, down 19.1% on the 24-hour chart.