Ethereum has been relishing its pre-Merge rally of late. Exactly a month back, ETH was trading around the psychological $1k level. Fast forward to press time, the second largest asset was trading around $1.8k, up by around 80%.
At the beginning of the month, it was reported that Ethereum-based derivative trading was on the rise. In fact, on exchanges like Deribit, the asset's Open Interest had managed to 'flip' that of Bitcoin.
Read More: Ethereum OI 'flips' Bitcoin for the 1st time: Here's what it means
Well, the Open Interest rise trend has only gotten stronger with time. On Friday, the aggregate ETH OI attained a new ATH by surpassing the $8 billion mark.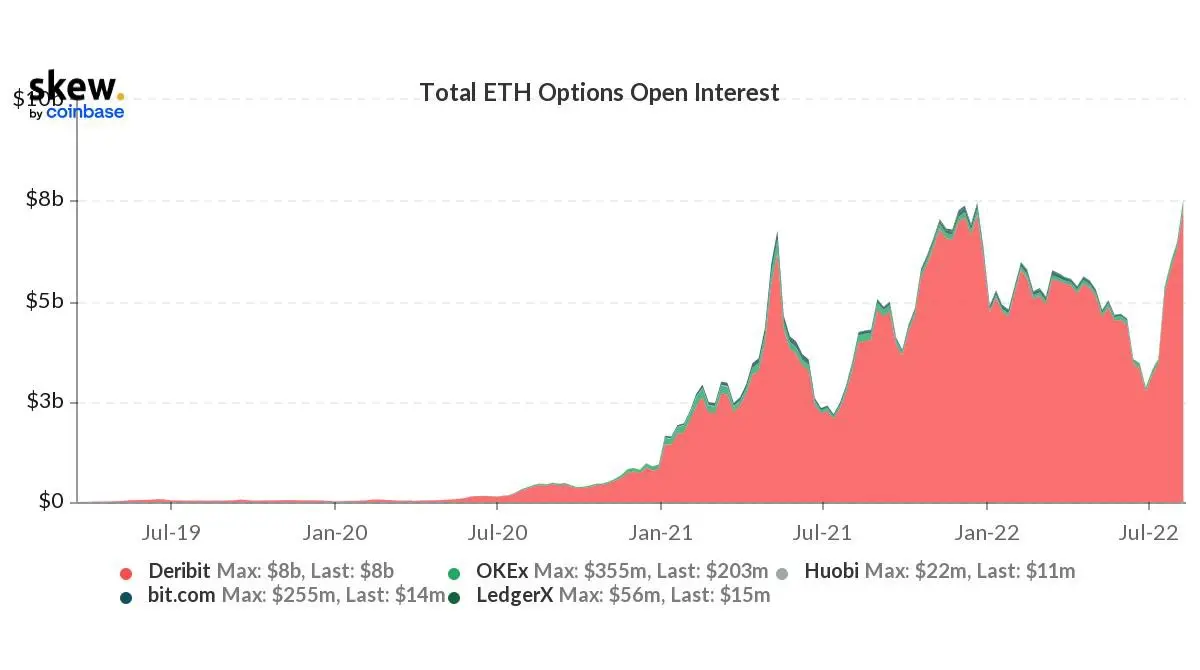 Bitcoin OI, on the other hand, remains to be flat and is fairly lower when compared to its ATH. In fact, the aggregate worth of all Bitcoin open contracts stood at merely $5.5 billion on Friday. The same indicates that the Ethereum playing field is more magnetic at the moment and traders are placing directionally obvious bets on ETH than toying with BTC.

Worth riding the Ethereum hype wave?
A rising OI accompanied by rising prices is a bullish sign. So, keeping the new feat achieved the fate in mind, it'd seem like traders are optimistic and expect ETH to continue rallying. However, that might just be the trailer.
As reported yesterday, The Merge is officially set to take place around 15-16 September. And traders perceive the same to be an 'event.' As analyzed by Glassnode recently, traders' long bias is expressed "heavily" via the options contracts centered in September.
However, post that, the market is in backwardation. Whenever the prices of assets are lower on the derivative front when compared to the spot front, the market is said to be in backwardation. The same is usually considered to be bearish in nature. Thus, it can be contended that post The Merge, ETH's price will slash back. Elaborating on the same, Glassnode's report noted,
"[Both futures and] options market are in backwardation after September, suggesting traders are expecting the Merge to be a 'buy the rumor, sell the news' style event, and have positioned accordingly."
So, traders with a high-risk appetite can continue cautiously taking advantage of the current market scenario. However, post the D-day, it'd be better to analyze how the market reacts before placing new bets on ETH.
Also read: Mark your calendars: Ethereum Merge is happening on…