TerraUST and LUNA fell 100% to $0 in just 3-trading days. Several leading exchanges have now delisted it and the crypto fell from grace. The TerraLabs team revealed they are working on a revival plan but investors have lost hopes of a comeback. The damage to its image and reputation is done and will always be known as the crypto that went to $0. Despite the Terra crash, CoinMarketCap placed Terra at 201 positions on their website and placed HEX right under it at 202. However, investors called out CMC for ranking Terra one above HEX despite the crypto crashing to $0.
Read More: Terra LUNA: From Top 10 Crypto to Crashing 99%, Here's What Happened
For the uninitiated, HEX and CoinMarketCap have always been at loggerheads since the crypto's inception. A class-action suit was filed against CMC by HEX investors alleging the platform artificially suppressed the price of the crypto. Read here to know more details about the class action suit of HEX v. CoinMarketCap. The suit was filed on September 13, 2021.
Investors believe CMC's actions of placing Terra right above HEX are done on purpose in an order to belittle its investors.
"LUNA is the biggest flop of the year, literally being watched around the world and is ranked 1 above Hex. This is CMC's message to all Hexicans. If this doesn't convince you that Hex is gatekept, I don't know what will," tweeted a user.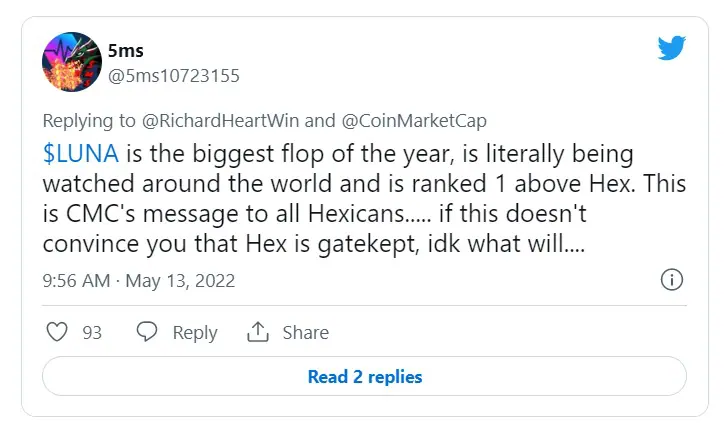 Terra Ranking: HEX Founder Hits Out At CoinMarketCap
The founder of HEX, Richard Heart spoke exclusively to Watcher Guru saying CoinMarketCap has not stopped with its dirty antics.
"TerraUST and LUNA was on the front page of most exchanges and coin ranking sites. It went to $0 as many other things on those front pages has also done. Yet HEX, which is still up 250,000% from January 5, 2020, and could have saved people, is ranked under Terra. It's obvious HEX is being hidden by the same companies," he said.
After Richard Heart and investors collectively called out CoinMarketCap for placing HEX under Terra, CMC finally moved it to the 235th position. The heat between HEX and CoinMarketCap remains at large and the fury is yet to be ironed out.
This isn't the first time that CoinMarketCap has faced rivalry tokens. In December last year, a row between Shiba Inu and CMC broke out as the SHIB team was upset over the addition of wrapped addresses on the coin's price page. To know more about how Shiba Inu v. CoinMarketCap rivalry played out, read here for a better understanding.
At press time, HEX was trading at $0.13 and is up 6.2% in the 24-hours day trade. The crypto is up 147.5% in the last 365-trading days.