Solana was one of the most-affected casualties of the FTX crash. Sam Bankman-Fried's exchange collapsed in November 2022 and it subsequently filed for bankruptcy. From its $38.59 local high created in November 2022, the crypto asset's price dropped down to a low of $8 by December. The same translated to a whopping 387% decline.
However, like most digital assets in 2023, even Solana rallied on a positive note. It went on to fetch investors lofty returns in Q1. A recent tweet from Kaiko pointed out that Solana managed to erase a significant chunk of its FTX losses. It did so by registering a three-digit gain. Specifically, its tweet noted,
"In our L1 basket, SOL erased most of its post-FTX losses with gains of 100%."
Notably, Cardano, Avalanche, Fantom, and Atom were other cryptos part of the same L1 basket analyzed by Kaiko.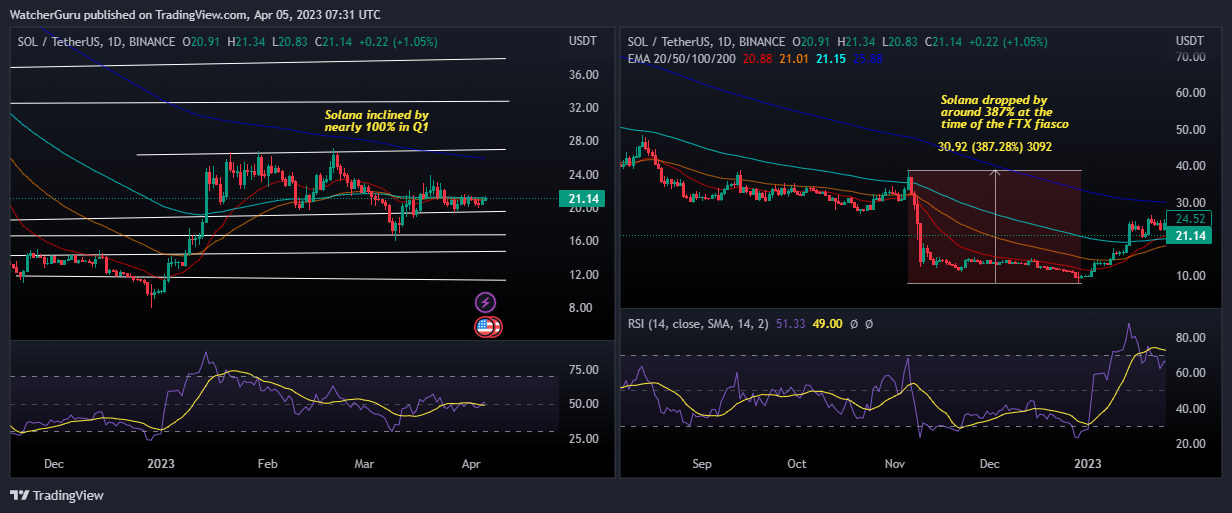 Also Read: $135 Million Flows Into Bitcoin, Solana, XRP, MATIC: Highest Since July 2022
Solana and its broader market dominance
Even though Solana has significantly risen this year, it should be noted that it is still quite far from its November 2022 peak. In fact, as shown in the chart above (left), SOL has been moving horizontally around its 20, 50, and 100 EMAs sandwiched between $20-$21. Only if it manages to successfully break past that cluster, it might head towards its next test level around $26-$27.
Here, it is worth recalling that large investors, i.e. institutions continue to have SOL on their radar. As reported earlier, they added around $0.2 million in conjunction over the past week. In fact, they have been favoring Solana and accumulating it over other Altcoins for quite some time now, further validating the assertion.
At this stage, it is interesting to note that the collective dominance of altcoins has started inclining already. At press time, Solana had a market dominance of 0.68%. So, a refinement in the state of SOL would help in boosting its dominance, which in turn would help in augmenting the state of the 'Altcoin Season' narrative further.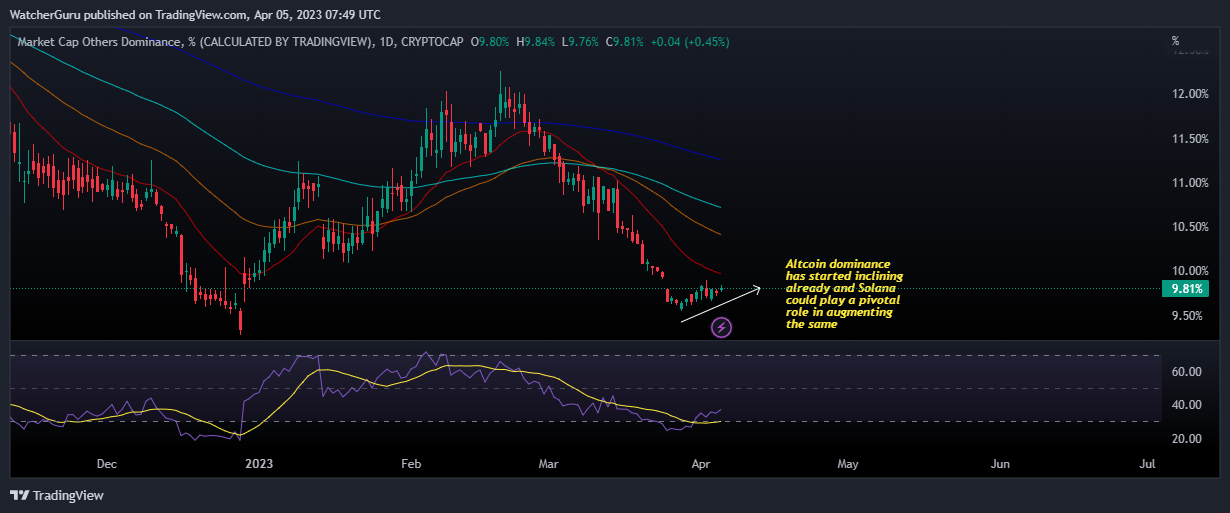 Also Read: XRP Emerges Amid Clawbacks by 'Large' Investors