Last week, crypto investment products witnessed their largest influx since July 2022. Inflows during the period summed up to $160 million and brought to light the growing investor confidence. However now, it seems like large institutional investors have started exercising vigilance as a precautionary measure.  
According to CoinShares' latest weekly report, crypto and other digital asset investment products saw positive flows summing up to "a lackluster" of $2.5 million. In fact, the trading volume in investment products has fallen by 33%, when compared to the prior week.
Last week, $127.5 million flowed into Bitcoin. The environment was "fairly supportive," according to CoinShares, for the largest asset noted inflows worth $8.8 million. Alongside, short-Bitcoin products noted negative flows, indicating that institutions continue to have Bitcoin's back.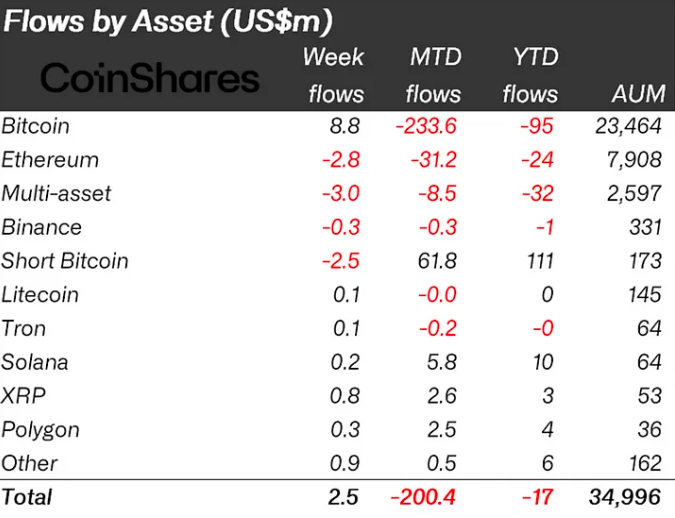 Also Read: $135 Million Flows Into Bitcoin, Solana, XRP, MATIC: Highest Since July 2022
XRP leads the Altcoin show
Ethereum, Binance Coin and Polkadot noted outflows worth $2.8 million, $0.3 million, and $0.29 million respectively. The same brings to light the pessimistic large investor sentiment. Most other prominent altcoins noted inflows, with XRP grabbing the spotlight.
Tron, Litecoin, Solana, and MATIC noted inflows in the $0.1 to $0.3 million range. XRP's number, however, stood at an elevated $0.8 million.
In fact, as highlighted in a recent article, Korean investors have been mass-accumulating XRP too. Towards the end of last week, not only did the altcoin give the king-coin tough competition, but also managed to dethrone it as a top traded asset on a Korean exchange. Owing to the buying pressure, the overall daily trading volume of XRP peaked and it was at its highest level since September 2022.
Read More – Ripple: Is XRP Making Noise Because of Korean Investors?
On the price front, Bitcoin and Ethereum continue to trade horizontally. Over the past day, the former noted a mere 1.5% appreciation, while the latter rose up by 0.64%. XRP, on the other hand, has been paying the price for its overbought market. Over the last couple of days, it has retraced quite a bit. In just the past day, it has noted a 0.5% decline, and it was trading at $0.51 at press time.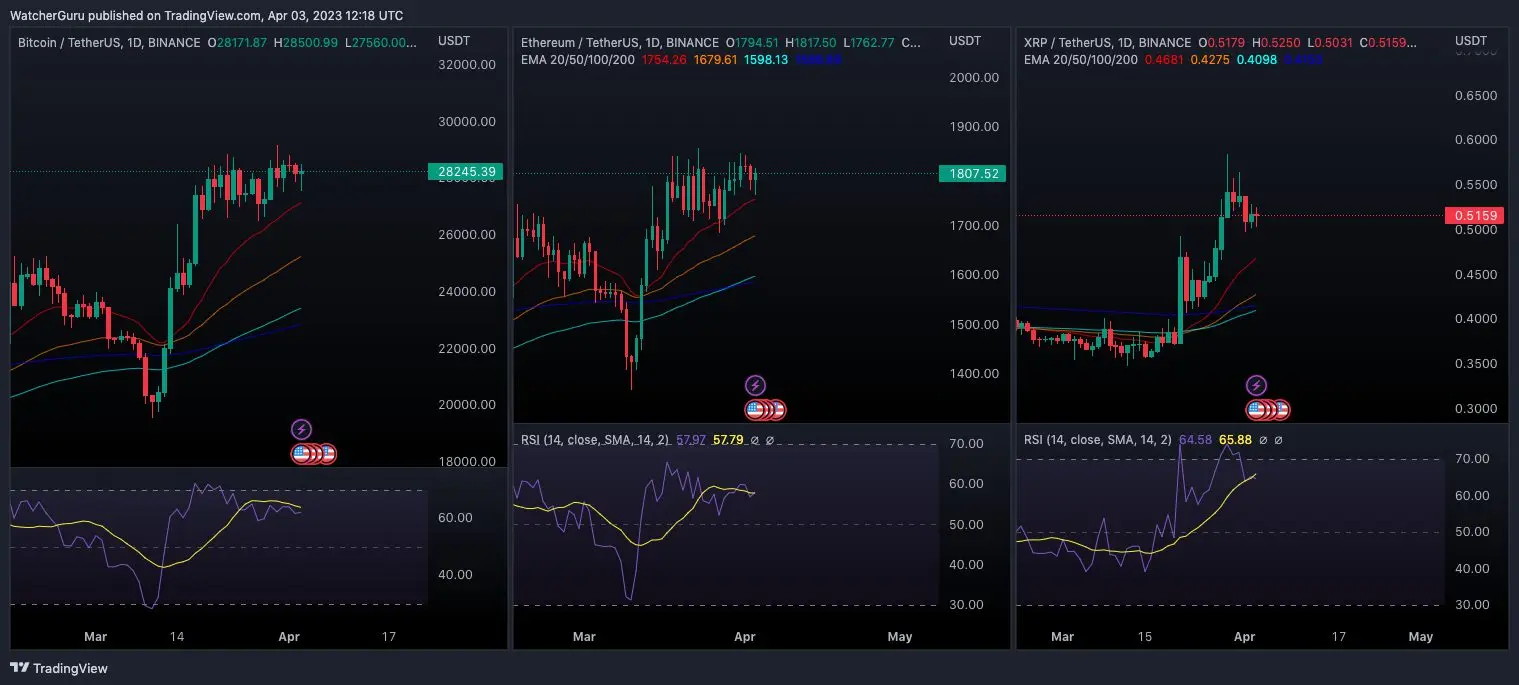 Also Read: Coinbase Reveals Why Bitcoin is Thriving Amid the Banking Stress