Throughout June, the crypto market tried to rebound and get back on its feet. In a few days, Bitcoin managed to trade in the green. However, on most other days, it suffered rejections, and blood was on the streets.
Santiment revealed that the average returns for a trader over the past 30-days had noted an incline for top coins. Ethereum and Binance Coin were ahead, while Bitcoin lagged. The same was visible using the MVRV indicator.
This ratio, as such, considers an asset's market capitalization relative to its realized capitalization. Doing so helps assess market profitability and gives a sense of the fair value. With Ethereum and Binance Coin already in the positive territory, it can be inferred that they're trading above their intrinsic value. However, Bitcoin remains undervalued, and thus investing in it is the least risky at the moment.
Bitcoin
From 8 June 8 to 7 July, Bitcoin has shed 33% of its value. In the said process, it lost more than $10k by dipping from $31k to $20k. The upcoming weekly close remains crucial in determining which direction the asset's price will head next.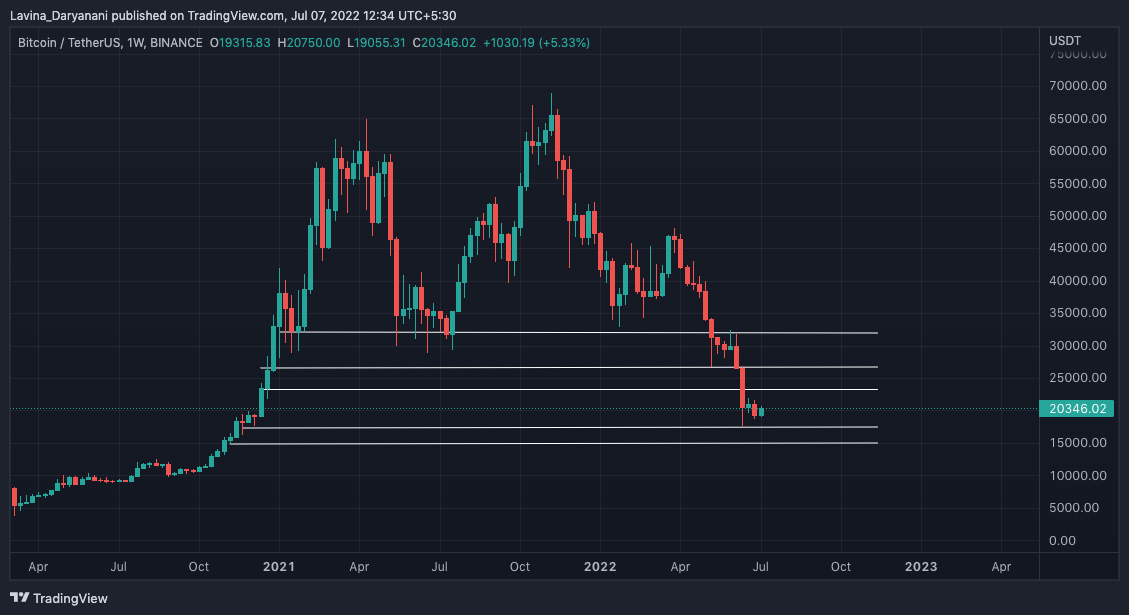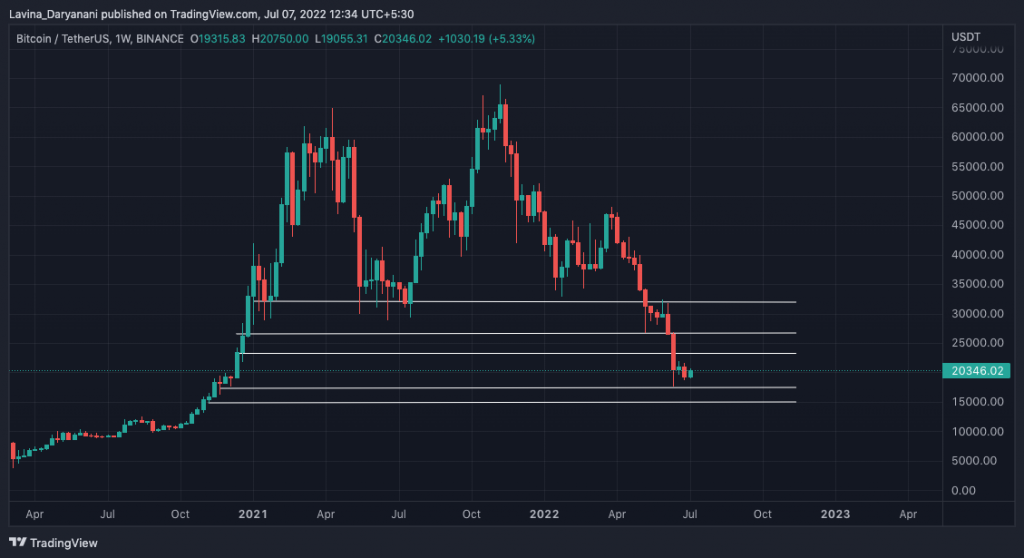 With the persistent selling bias, Bitcoin has a relatively high chances of falling into the $17.5k to $18k bracket. If bears continue to dominate, its price can stoop down to $15k. On the other hand, the immediate upside target remains $23.3k. Claiming the same would propel it towards $32k, provided it passes the test around $26.5k.
Read More: 2nd largest U.S Bitcoin ETF is short-BTC; Is $15k right ahead?
Ethereum
Around this time last month, Ethereum was trading at $1.8k. Post shedding close to 35% of its value, it is now trading around $1.1k. The current candle on the weekly remains green, but sell orders have been mounting up of late.
ReadEthereum'sereum's 10% rally might be short-Here's Here's Why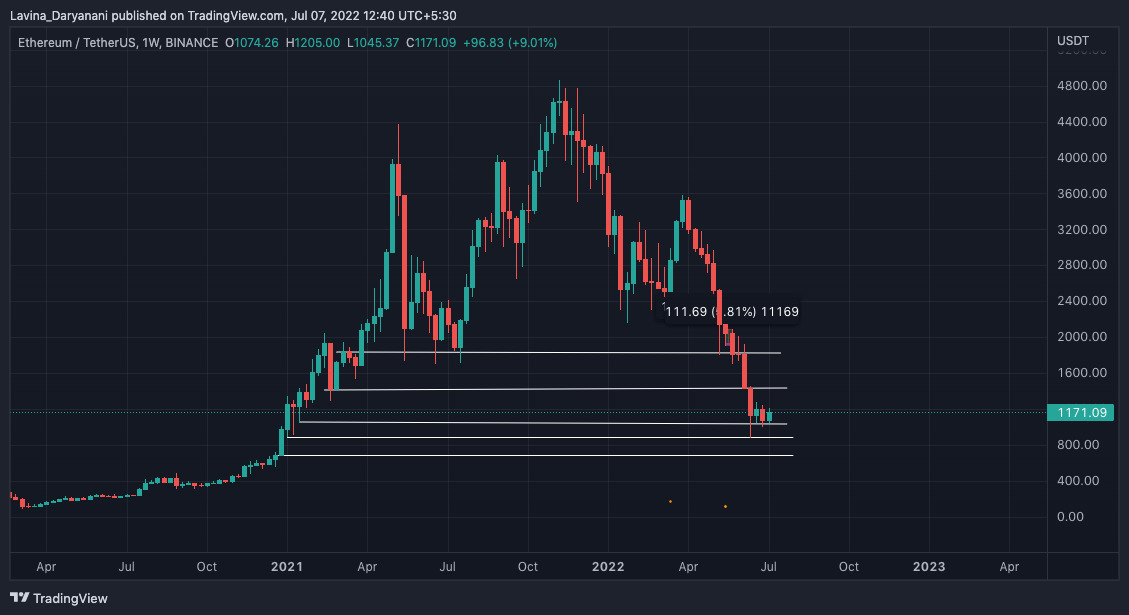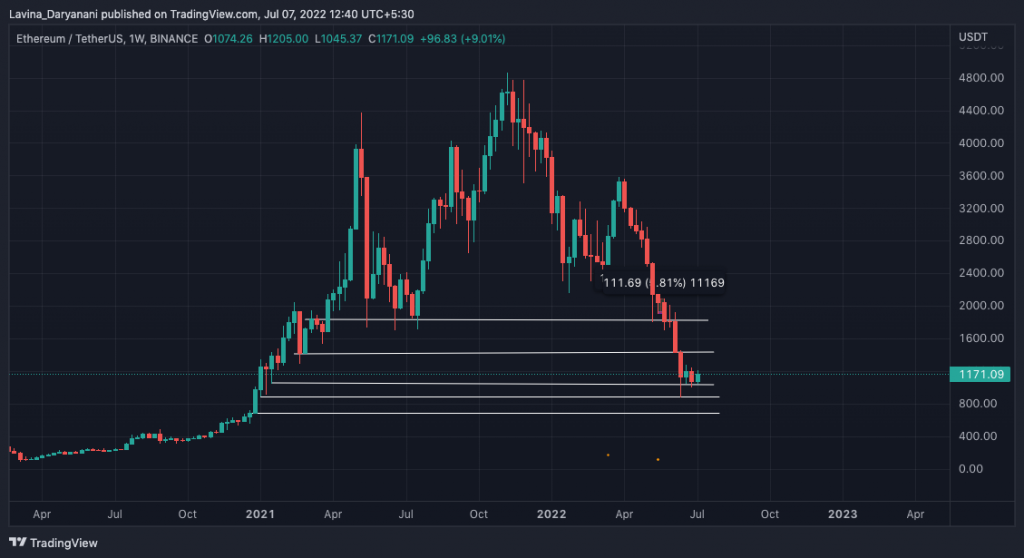 So, if the same continues, traders can expect Ethereum to drop to $1.03k or $887. If neither of the levels is clung onto, then the next weekly support, around $680, would come into play. If bulls step into the market during the weekend, a shoot up to $1.4k can be expected. If the optimistic sentiment persists, the doors to $1.8k will re-open.
Binance Coin
Binance Coin has shed substantially lesser value than the alt-king and king-alt. Over the past 30 days, it dropped from $290 to $237, which translated into a rough 20% decline.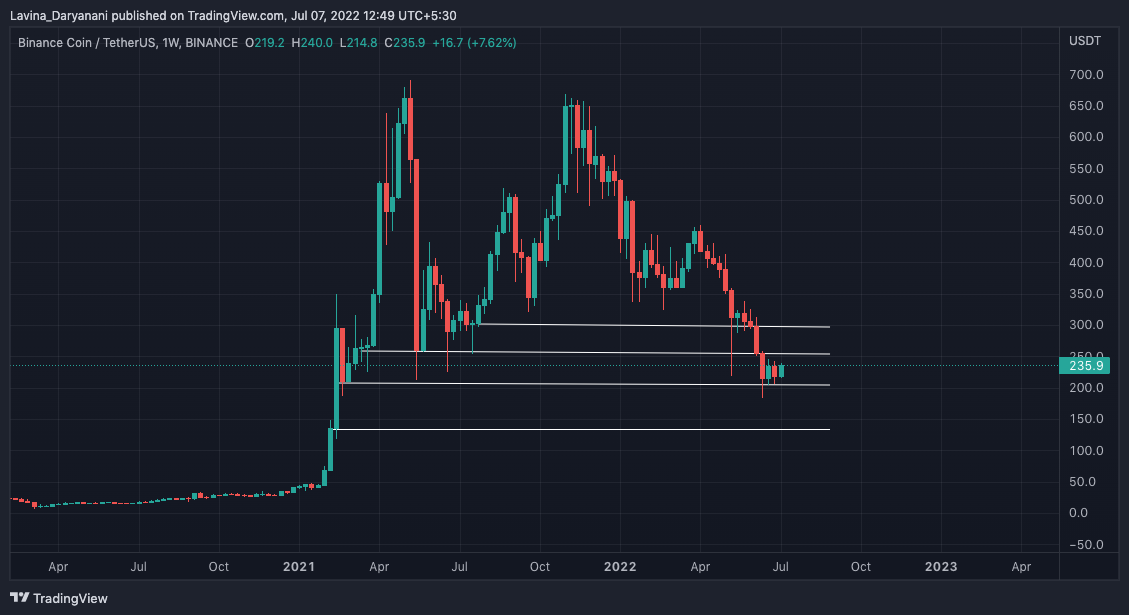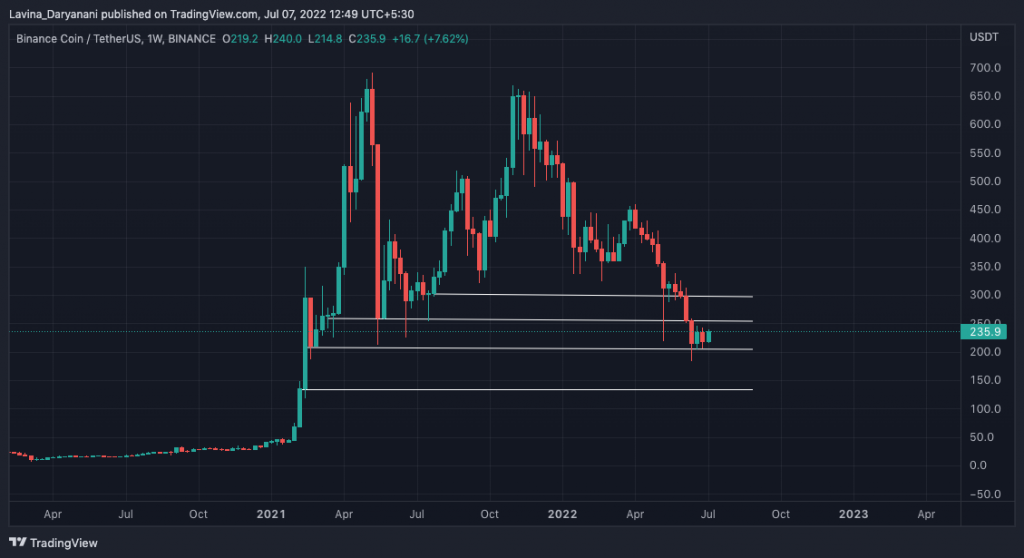 Nonetheless, Binance Coin has religiously followed the leaders' directional bias. So, if the market dips, it'll continue to fall; if the market recovers, it'll be dragged along. Regarding targets, traders can keep an eye on $204 in a bearish scenario. If the said level is lost, BNB would likely note a freefall to $130 to gather liquidity. If the market notes a bullish weekly close, then $254 and $294 can gradually be attained.
Read More: 100,000 Binance Coin burned since BEP-95; Will the price capitalize?
So, precisely a month back, if you'd invested $100 each in Bitcoin and Ethit'dm, it'd approximately be worth $67 and $65. BCoin's Coin's $100 would have depreciated to merely $80.