The crypto market is yet again at a crossroads. A few coins continue to rise and fetch investors with positive returns, while on the other hand, most of the remaining ones have started retracing. On Wednesday, March 30, the total crypto market cap was up merely 0.32% over the past 24 hours, drawing attention to the current bull-bear tussle. Specifically, it reflected a value of $1.19 trillion at press time.
State of Bitcoin vs Cardano and XRP
By surpassing the $29k threshold, Bitcoin went on to create a yearly high today. XRP, on the other hand, peaked at $0.5850 yesterday, but couldn't sustain a rally. At press time, Bitcoin was down to $28.5k, while XRP was trading at $0.5457. That being said, both the assets were trading in green. Cardano, on the other hand, has already started retracing even before becoming overbought. At press time, it was trading in red at $0.37—a level substantially below its 2023 high created last month.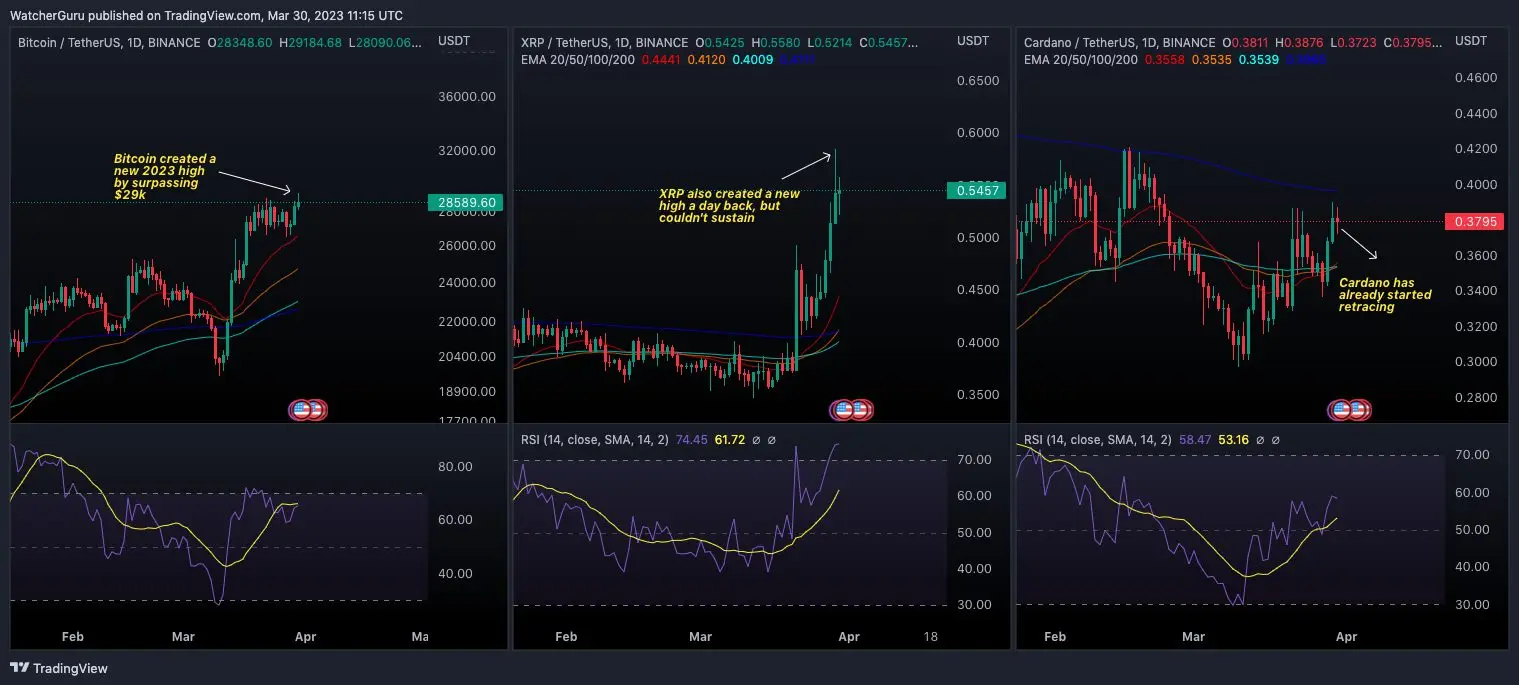 BTC/USDT, XRP/USDT, ADA/USDT by TradingView
On one hand, one might argue that users have started shuffling funds from one crypto to the other. However, with neither coin being able to retain its peak, it might just be too early yet to assert the same.
Also Read: $135 Million Flows Into Bitcoin, Solana, XRP, MATIC: Highest Since July 2022
Future outlook
A recent analysis report from Santiment pointed out that the market sentiment "is neutral to bearish" at the moment. Specifically, it went on to add that the Bitcoin market is currently characterized by "weak buying pressure," implying that BTC "may experience a bearish correction before any major rise."
If the largest crypto asset manages to break through the resistance level of $28,600, it is likely to move toward the range of $29,000 to $32,000, according to Santiment. On the other hand, if BTC breaks below the support level of $27,000, it is likely to drop toward $26,000 or even lower.
Also Read: Are Bitcoin Investors Paying Extra to Buy on Coinbase?
Similarly, the path ahead for Cardano also seems to be quite tricky. From the on-chain perspective, its largest resistance cluster lies around $0.39 to $0.048. This means, as and when underwater investors break even, they'll be tempted to cash out, weakening the bullish momentum. However, at this stage, all eyes seem to be on XRP. From a technical perspective, its market is overheated and is bound for a correction. However, The case SEC-Ripple lawsuit verdict is likely due soon and that's one of the main reasons why the investors, and institutions have been accumulating it.
Source: Twitter
In fact, people from the space, like Economist Alex Krüger, expect a full-fledged altcoin season to transpire if a ruling favoring Ripple is passed. That means the rising tide will likely lift up all other coins in the boat as well simultaneously.
Also Read: With Judge's Ruling Impending in Ripple Case, Should Investors Buy XRP?