14 January 2022 entailed a significant moment for Tesla, and most importantly, Dogecoin. After much deliberation, billionaire Elon Musk announced that one could buy Tesla merchandise using the world's largest meme coin. The fact that DOGE was validated at Tesla, one of the most valuable companies in the world, triggered a massive buying frenzy on Dogecoin.
Naturally, projects such as Baby Doge Coin, Shiba Inu, and Saitama Inu, which benefit from Dogecoin's success, saw a spike in trading volumes as well. This article is a round-up of how the price of such meme projects fared during the week and what's next to come.
Dogecoin [DOGE]
In order to gauge the historic announcement, it's important to look at Dogecoin's timeline since December rather than just the current week. On the development front, Dogecoin Foundation slated a host of new projects including LibDogecoin and GigaWallet in a first of its kind roadmap released during mid-December 2021.
The proposed changes came months after Elon Musk indicated that he was working with developers to improve the Dogecoin system. Prior to the official announcement on 14 January, DOGE moved in large numbers to an unknown wallet as per Dogecoin Whale Alert.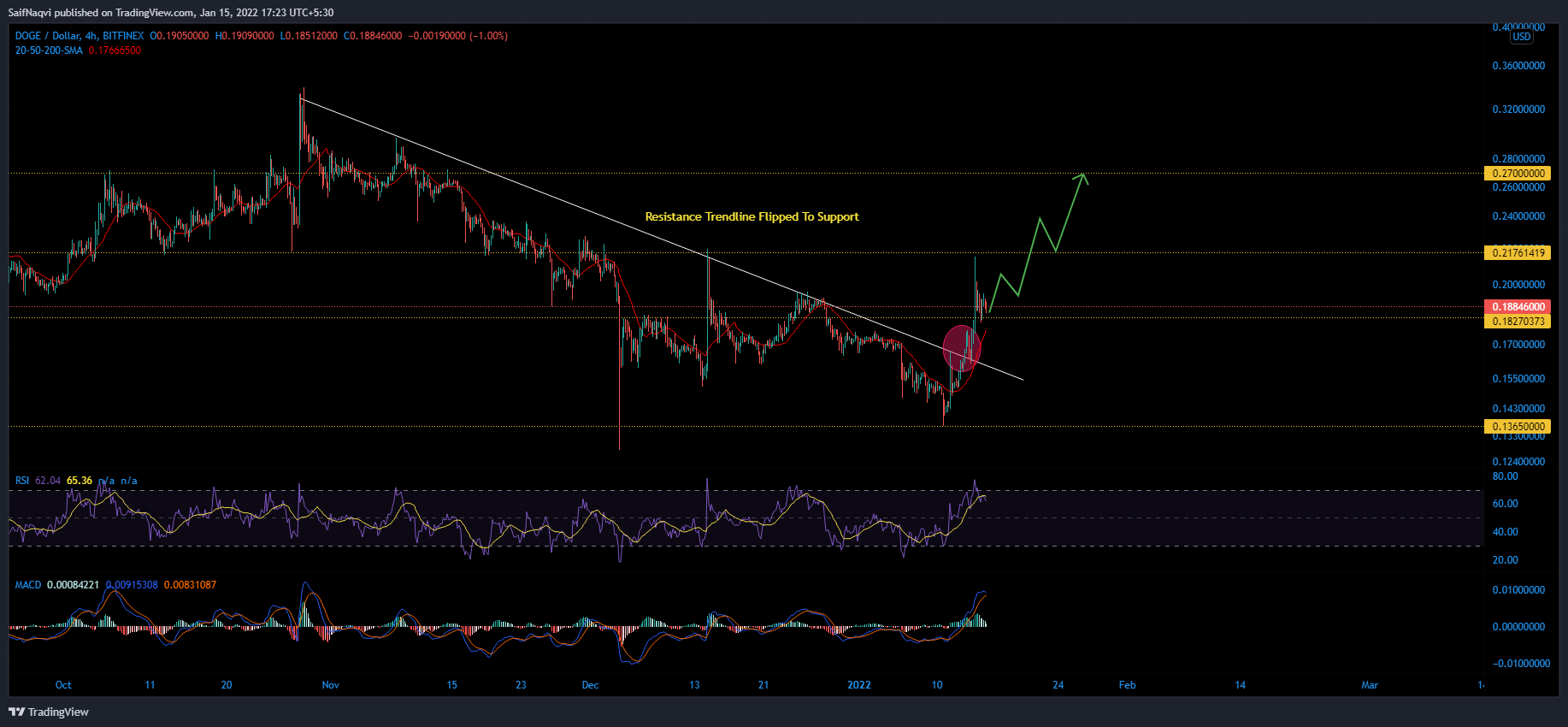 Once the news broke out, DOGE rapidly closed above a resistance trendline and copped up a monthly high at $0.215. Between 10-15 January, DOGE surmounted a near 60% hike owed in part to a bullish broader market as well. Going forward, a retracement back to $0.182 was expected due to an overbought 4-hour RSI and a possible bearish crossover on the MACD. During its next upcycle, DOGE would look to revisit $0.217 and set up a fresh high around $0.273.
Shiba Inu [SHIB]
Just like Dogecoin, Shiba Inu whales were on the move this week, possibly due to rumors surrounding a Robinhood listing. Data from Whalestats showed that the top 1000 ETH wallets held 15% of SHIB tokens as of 14 January. The week popped yet another surprise after Shiba Inu grabbed a spot on Mexico's biggest crypto exchange.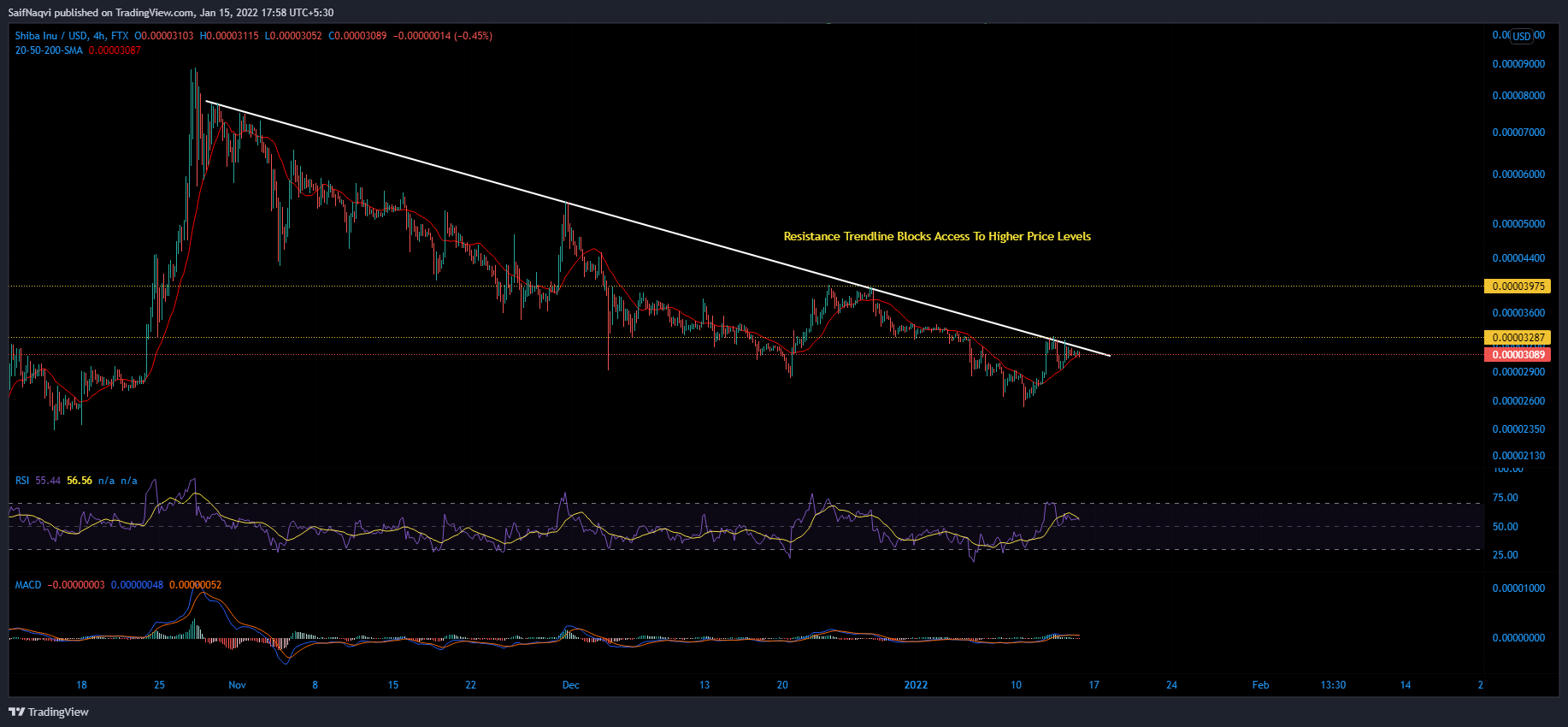 In turn, SHIBA enjoyed a near 30% hike from $0.00002563 to $0.00003295 but was unable to flip a long-serving trendline to support. As a result, its price eased close to $0.00002924 support, and market participants remained indecisive. The 4-hour RSI and MACD were bullish-neutral and the next 24 hours were expected to remain quiet for SHIB's price action. Going forward, a close above $0.00003287 can generate a fresh bull run provided bulls remain vigilant at $0.00003923-resistance.
Baby Doge Coin [BABYDOGE]
Baby Doge Coin was enjoying a fantastic week after flipping Ethereum to become the most traded coin on the top 1000 Binance Smart Chain wallets. News surrounding a possible Binance listing made rounds as well.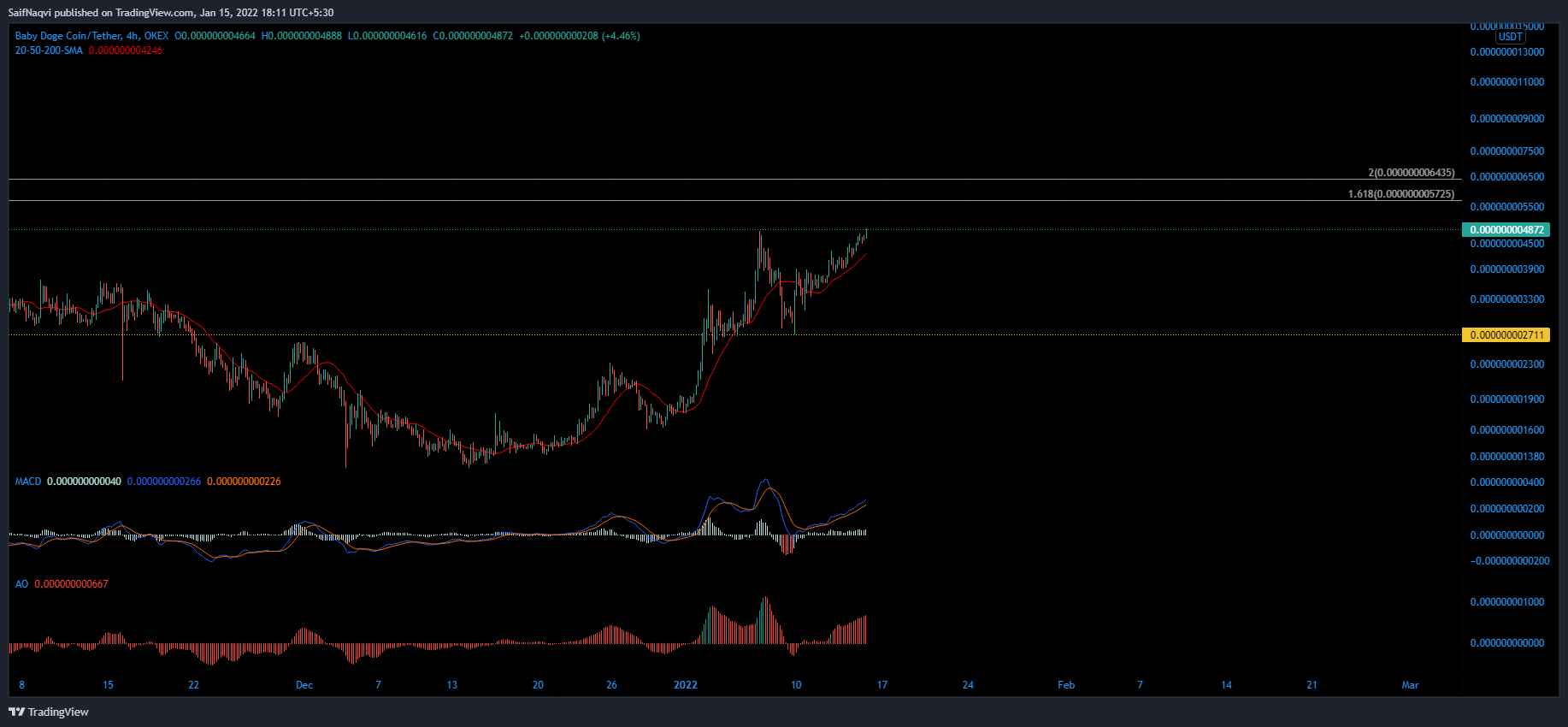 Its price action was nothing short of spectacular as gains even eclipsed those seen in Dogecoin. The up-and-coming meme token was amidst a 30% rally after securing support at $0.00000002711. The Fibonacci Extension tool plotted the next targets at $0.00000005725 and $0.00000006435. Meanwhile, no immediate threats were present on the 4-hour MACD and Awesome Oscillator.
Saitama Inu [SAITAMA]
Saitama Inu stood as a lone rebel after news surrounding a bot attack on the SaitaMask app overshadowed any favorable outlook which arose from Musk's announcement. Many users remained disgruntled after their SAITAMA tokens were reportedly lost during the attack.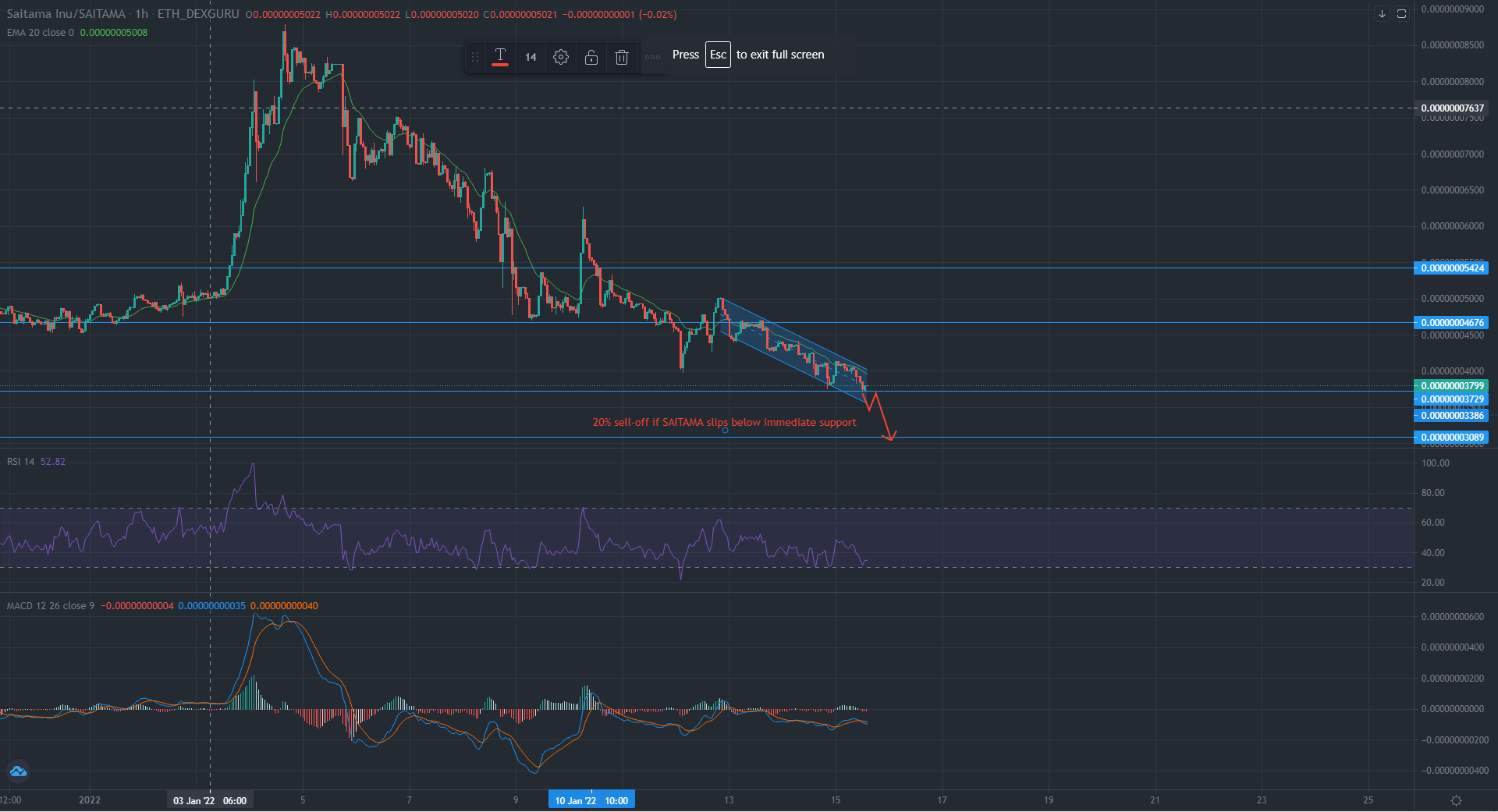 This sentiment reflect on the chart as well, as SAITAMA recorded a 40% decline between 10-15 January. Losses could even magnify by another 20% if SAITAMA weakens below $0.00000003729 support on the back of MACD's bearish crossover. An oversold RSI did not account for much as FUD was still persistent in the market.