The NFT bug hasn't spared anyone. Certainly not basketball players. An array of NBA players have been veering into the NFT space. Looking at the number of athletes riding the wave, NBA decided to create a space solely for the big NBAXNFT collaboration.
This Web3 exploration of the NBA reported focuses on all things basketball, NFTs, gaming, Web3 as well as the metaverse. The platform commemorated its entry into the space with an official Twitter account that currently entails 6,357 followers.
This collaboration sought much more success on Discord. The Discord channel amassed over 20,000 members just hours after the official announcement. The rules of the channel included basic attributes like no hate speech or advertisements, among others.
The latest interest of the NBA did not come as a surprise to anyone as most of its players have been embracing NFTs.
Here's a list of NBA players that have big bucks through NFT
2021 will go down in history as the year of the NFT. Also known as non-fungible tokens, this digitized version of art was started to aid artists. Soon it became a medium of income for half of the world.
Lebron James – Los Angeles Lakers forward, James veered into the NFT space with Crypto.com. His Super Bowl commercial with the crypto exchange was a big hit. This partnership further led to the launch of an NFT collection called 'The Moment of Truth' which is said to have captured the vital moments of James' life. Additionally, he has even filed for four NFT trademarks.
Stephen Curry – Considered one of the greatest three-point shooters in NBA, Curry rolled out Rumble Kongs. He even went on to endorse it on his beanie during an interview after a game.
Tyrese Haliburton – Sacramento Kings' Haliburton extended support to the Rumble Kongs as well. Apart from this, he joined an NFT community called the Lazy Lions.
Paul George – Seems like Rumble Kongs had caught the attention of several NBA players. this Los Angeles Clippers Forward also had his money in Rumble Kongs. He even employed Rumble Kong NFT as his Twitter profile picture.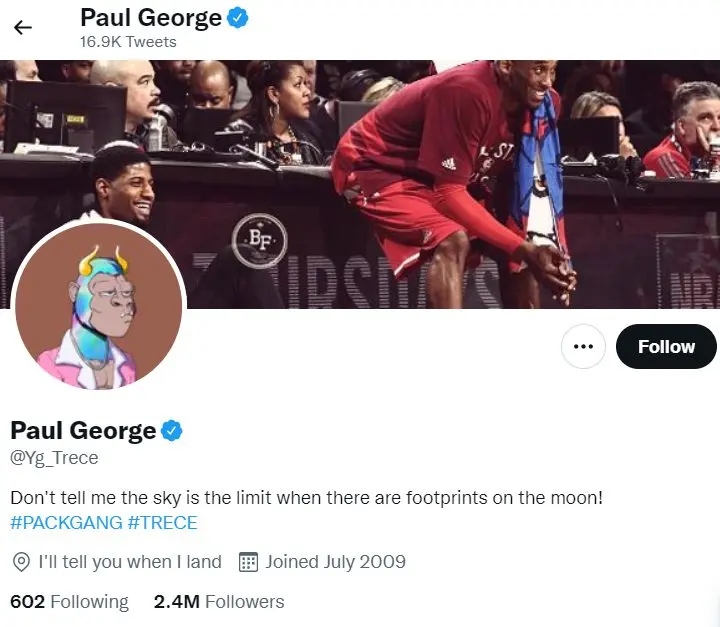 Josh Hart and Hassan Whiteside – It was all Monkey Business for these NBA players. Both Hart and Whiteside jumped onto the NFT bandwagon by betting on Bored Ape Yacht Club's [BAYC] NFTs. Both their profile pictures on Twitter entailed apes from BAYC.