Early investors are always ahead of the curve. By assuming risk, they divert funds toward new assets. Yet, not all investors are bestowed with gains. However, the fortunate ones end up multiplying multi-folds in most cases.
Whale transaction tracking platform Whale Alert recently brought to light one such case. A dormant address containing 6,071 BTC just got activated a few hours back. The worth of the coins in the wallet was just about $3.3 million in 2013. However now, it has inflated to almost $180 million.
Also Read: Holding Bitcoin has been Profitable 89% of the Time
Well, the market is currently in the midst of a meme season. Owing to Pepe Coin's surge post-launch, the meme spirit flag continues to be hoisted high. Honoring the joke season's spirit, people from the space have started claiming the wallet to be theirs. Recently, a trader mockingly claimed on Twitter that they intend to shuffle the wallet's funds from Bitcoin to Pepe Coin. Specifically, the tweet noted,
"Sorry, just doing some reshuffling of my portfolio, so I can free up and buy some more PEPE."


Also Read: Not Dogecoin! PEPE is the "Most Memeable Memecoin" Right Now
Pepe Coin's popularity is on the rise
A recent tweet by Chinese Journalist Colin Wu indicated that Pepe Coin is one of the "most popular trading objects" on Ethereum after WETH, USDC, and USDT over the past week. The coin has notably netted more than $250 million in transaction volume. In fact, even trading bots have been capitalizing on the said coin's hype and rally. Wu tweeted,
"The MEV robot controlled by jaredfromsubway.eth has captured about 1.5 million US dollars in profits in PEPE trading pairs."
Also Read: Exclusive: Doge Documentary to be "The Wildest" Film Ever Seen

At the moment, there are only green candles on PEPE's daily chart. In fact, it went on to claim a new all-time high even today by rising to $0.0000004619. The long body was discounted to merely a long wick at press time. Nevertheless, it was 7% up on the 1-day chart and was trading at $0.0000003262 at press time.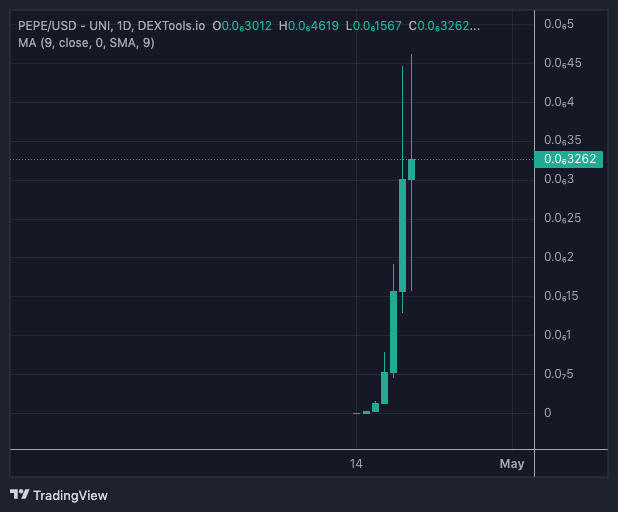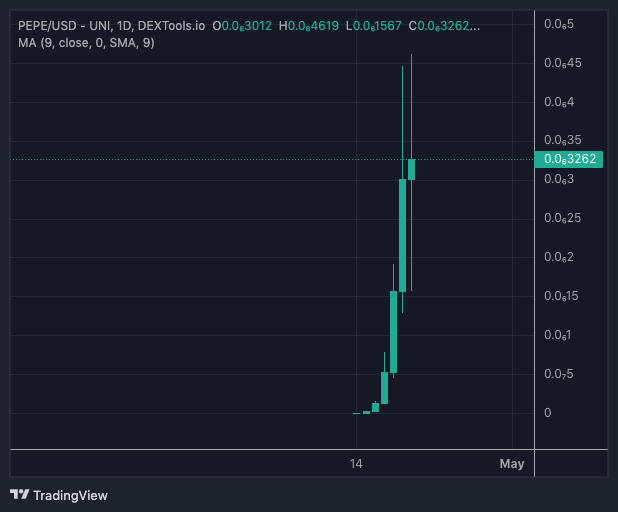 Also Read: With Shiba Inu, Dogecoin Hibernating, BabyDoge Coin Rallies 47%