Ripple's native token XRP is currently hovering around the $0.60 mark and remains in the green. The fifth biggest cryptocurrency in terms of market cap had a phenomenal rise in the last two weeks in the indices. The sudden price spurt is making Ripple's native token experienced a large inflow of funds. XRP spiked nearly 26% in the last 14 days and is attracting bullish sentiments in the charts.
Also Read: Shiba Inu: $500 in SHIB Becomes $3.8 Million in November 2023
Now that the altcoin is doing well, we will highlight how it could perform during the first week of November 2023.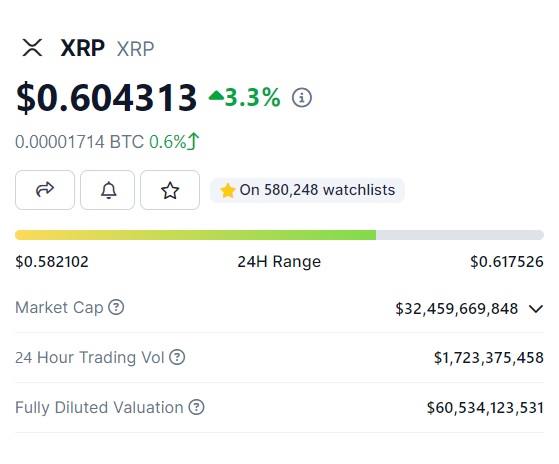 Ripple: XRP Price Prediction For November First Week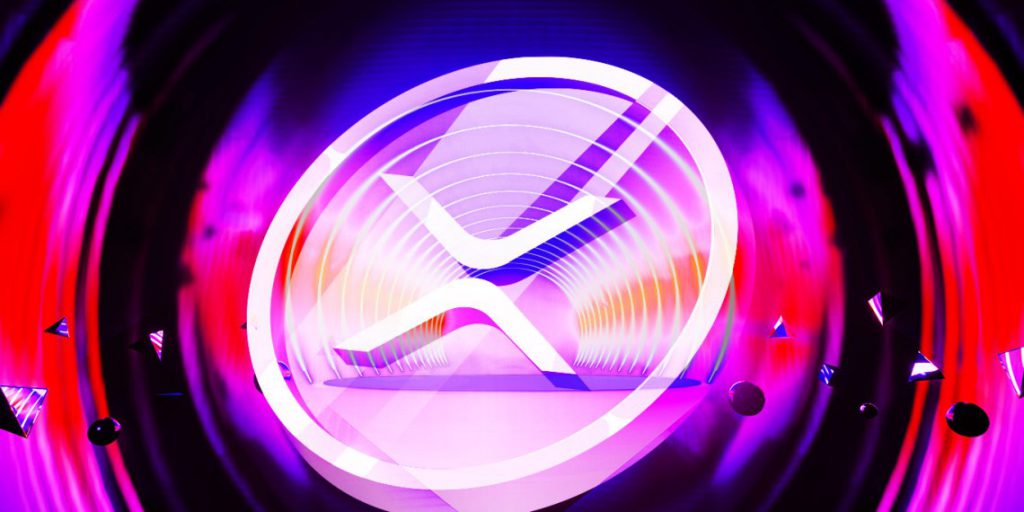 Leading on-chain metrics and price prediction firm Changelly paints a rosy picture for XRP during the first week of November. According to the forecast, Ripple's native token could reach a new weekly high of $0.80 in the next few days. That's an uptick and return on investment (ROI) of approximately 35%, predicted by the on-chain analytical firm.
Also Read: SafeMoon (SFM) Tanks Over 50% Minutes After Founders' Arrest
XRP could cool down in price after reaching $0.80 this week and settle around the mark of $0.72. That's a rise of close to 20% from the current price of $0.60. In conclusion, investors could reap the benefits of XRP as the cryptocurrency could deliver better returns during the first week of November.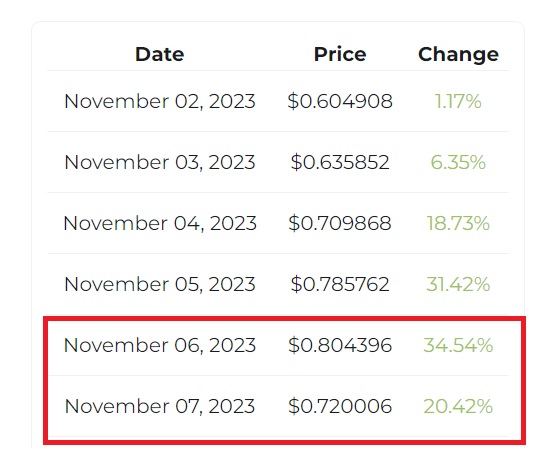 Also Read: Dogecoin (DOGE) Price Prediction: November 2023
Nonetheless, the cryptocurrency market is highly volatile and cuts both ways causing severe losses to investors. There is no guarantee that XRP could reach $0.80 in the first week of November. It is advised to do thorough research before taking an entry position into Ripple's native token now. The conflict in the Middle East could also make things worse for both the stock and cryptocurrency markets.
At press time, Ripple's native token was trading at $0.60 and is up close to 4% in the 24-hour day trade. However, XRP is down nearly 83% from its all-time high of $3.40, which it reached in January 2021.