Prominent cryptocurrency skeptic and investment advisor Peter Schiff is having a field day during the market crash claiming 'I told you so' that Bitcoin and Ethereum are poised to head south. BTC could slump below the $20,000 mark today and is expected to dip much further. Even Bitcoin billionaire Mike Novogratz believes that BTC could bottom out at $20,000 but added it may certainly go lower.
Financial analyst Peter Schiff shared a chart on his Twitter handle that shows BTC could nosedive to $5,000.
Read More: Celsius could experience more heat as past speculations resurface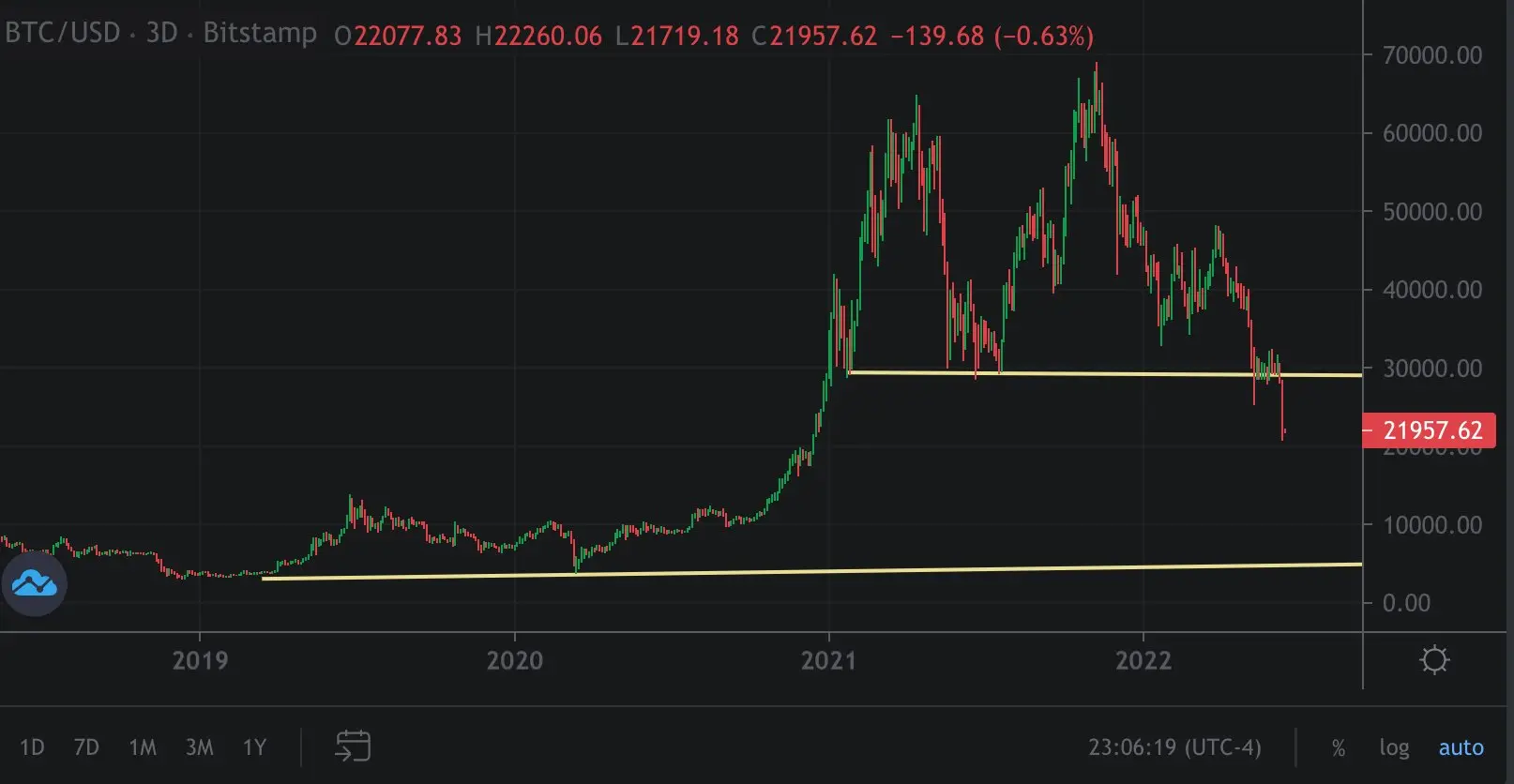 "How can anyone long Bitcoin. Look at this chart and not sell?" he tweeted. Schiff further added, "Even if you think Bitcoin will ultimately trade higher, it's hard to image that it doesn't test long-term support at the lower line first. I think it will fail that test."
Schiff advised investors to sell BTC now and rebuy it at a much lower price after it slumps further. "Regardless, better to sell now and rebuy lower," he said.
Among all predictions, Peter Schiff is the only one who shared a chart claiming that Bitcoin could fall to $5,000. However, we'll have to wait and watch if his predictions of BTC crashing to $5,000 will be true or not.
The other analysts have predicted that BTC could fall anywhere between $11,000 to $18,000. Read here to know more about the Bitcoin price predictions for the ongoing bear market.
Also, the fear and greed index for Bitcoin shows its lowest count of 7 today. The future of the market remains to be uncertain and majority of investors are already under water. Even JP Morgan CEO Jamie Dimon recently predicted that the worse is yet to come for crypto investors in 2022.
Bitcoin & The Economy
The global economy is treading in murky waters and a recession might be on the cards. In addition, the FOMC will conduct a meeting today and reports claim they plan to raise interest 75 basis points.
If the interest hike is announced, the markets could see further downturn and unleash another round of bloodbath. Therefore, it is advised to remain cautious during this period and take an entry position only when the dust settles.
Read More: Has Tether been impacted by Celsius, 3AC's wreckage?
At press time, Bitcoin was trading at $20,638 and id down 8.07% in the 24-hours day trade. The leading crypto is also down 70.1% from its all time high of $69.044, which it reached during November last year.