Shiba Inu burns are quite common and keep taking place on a daily basis. However, a sketchy burn transaction took place recently. A wallet with merely two transactions ended up burning 2 billion SHIB tokens.
Data from Etherscan revealed that the address first received 2,005,265,274.5 SHIB tokens from the Uniswap V3 exchange around 1 day 21 hours back. Right after that, it burned all the tokens by transferred them to a dead wallet address.

Also Read: Exclusive: Shiba Inu Metaverse Advisor Reveals 'Brands' are Currently 'Toe-Dipping'
Usually, known participants, stakeholders, and community members burn tokens. However, it being done by an unknown wallet with just a couple of transactions this time is what is making it sketchy. The odds of this transaction being an experiment are quite less because it involves a hefty amount of 2 billion tokens. So, this burn might have been carried out in an attempt to manipulate the price of SHIB. However, there's no surety, and just remains a speculation.
The overall burn rate of SHIB is is on a downtrend. Over the past 24 hours, the said metric has slashed down by 99.79%. In fact, only 4.3 million SHIB tokens have been burned in the said timeframe.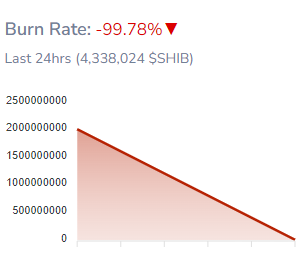 Also Read: Unlike Pepe Coin, DOGE Hasn't Joined the Meme-rally: Why?
Shiba Inu price trend
Whenever tokens are burned, they are removed out of the circulation. This is done with the aim of adding bullish pressure on the price over the long-term, for it makes contributes in making the asset scarce. With the burn rate dropping, Shiba Inu's price continues to remain flat.
Since mid-April, SHIB has been trading horizontally in-and-around the $0.00001 mark. Like shown below, SHIB's transaction volume continues to remain low, on Binance, indicating that market participants are exercising caution at the moment. In fact, as reported recently, the macro SHIB volume trend also remains unappealing at the moment. Parallelly, the market is characterized by under-nourished buying momentum, indicated by the dropping RSI, putting Shiba Inu on a slippery slope.
At press time, SHIB was trading in red with five 'zeros' at $0.00000996, post noting a 1.48% decline over the past day.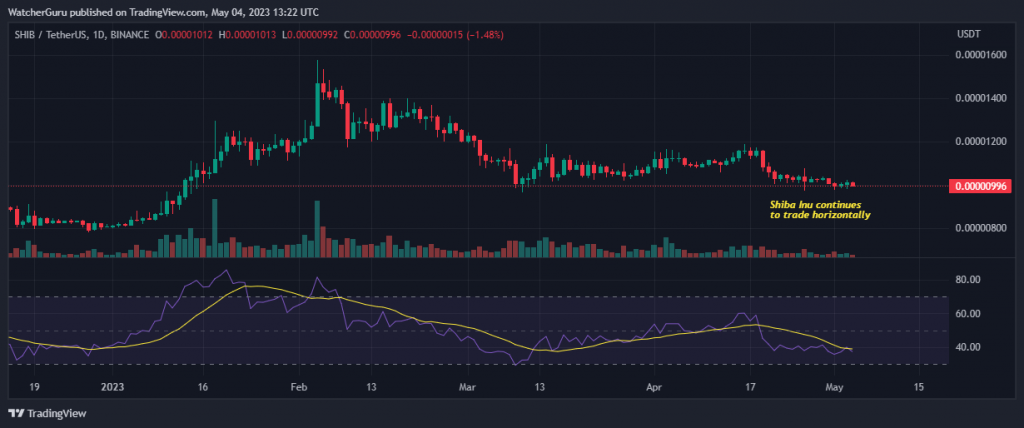 Also Read: Crypto Whale Swaps 'All' Assets for Pepe Coin: Profits $1.23M Instantly