The crypto market conventionally oscillates between the Bitcoin season and the Altcoin season. However, with meme-coins like Pepe [PEPE] rallying now, community members have come up with a new season name: Meme-coin season.
It all started a few weeks back when prominent memes started climbing up the charts, defying the broader sluggish trend. Baby Doge Coin and Shiba Inu's BONE had the baton initially. It was then passed on to the new kid on the block, Pepe.
Pepe has been under the spotlight over the past couple of weeks now. In the beginning, it was perceived that its hype phase will end soon. However, that hasn't been the case. Despite a recent setback, Pepe continues to trade in profit.
Dogecoin has, however, sidelined itself from the meme-coin rally party. As shown below, DOGE has shed around 16% of its value since mid-April. In the same time period, Pepe has inclined by more than 5100%, ballooning up the fortunes of traders and early investors.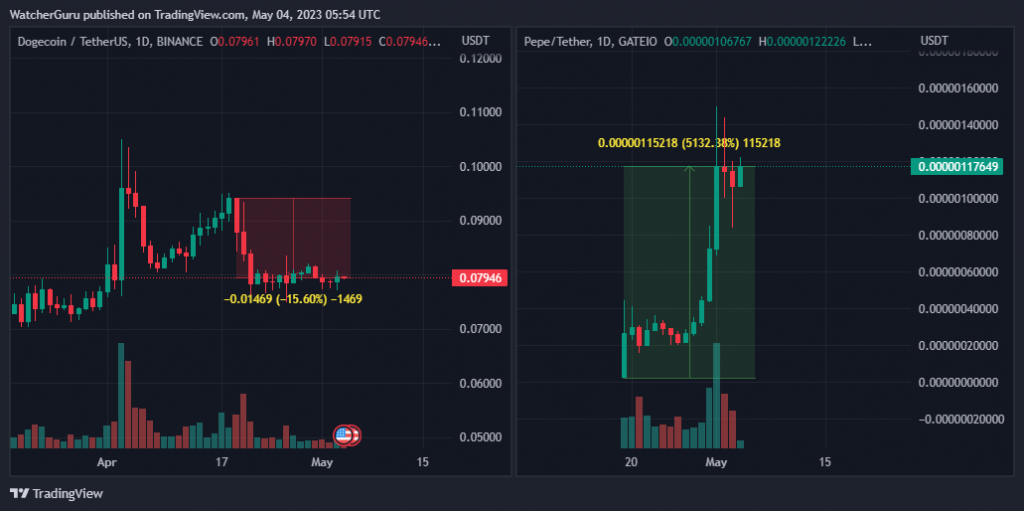 Also Read: Not Dogecoin! PEPE is the "Most Memeable Memecoin" Right Now
Why is Dogecoin being left-out?
Dogecoin's correlation with Bitcoin has been dipping lately. As shown below, the curve is currently pointing down south and reflecting a value of 0.35. So, what does this mean?
A healthy correlation usually indicates that the prices of two assets are closely-knit and dependent on each other. On the other hand, a weakening correlation suggested that their bond is breaking.
Thus, looking at the current state, it can be contended that Dogecoin is not in a good position to benefit, if at all a broader market recovery transpires. However, this also means that its damage will likely be minimal when things go haywire in the macro market. In a nutshell, Dogecoin is at that juncture where its price movements will be determined by what traders and investors within its ecosystem do, rather than it following Bitcoin's cues.
At the moment, things do not seem to be glossy for Dogecoin. The average time held off the transacted coins has dropped by over 61% over the past week, indicating that investors' holding period of Dogecoin is shrinking. For a Dogecoin to bid adieu to its horizontal trend and initiate an uptrend, it is quite essential for holders' conviction to refine. Without that happening, it'd be difficult for Dogecoin to organically rise.