The broader crypto market is currently in the midst of a correction. The abrupt flash crash that materialized last week instigated the downtrend, and the market is still bearing its brunt. Over the past day, the global crypto market cap depreciated by around 0.6%. As a result, it stood at the brink of $1.1 trillion at press time.
Most top assets have been following the same path and Shiba Inu is one such example. Over the past day, it has dropped by around 0.5%, while on the weekly, it has shed more than 12% of its value. So, will Shiba Inu see some respite soon, or will the correction extend?
Well, analyzing the state of the MVRV Ratio could give us some insight. This indicator is used to determine the average profit or loss of investors that purchased a particular asset. By comparing the Market Value to the Realized value, we can determine if the price is above or below "fair value." Thus, it becomes easier to assess the market profitability. For Shiba Inu, this ratio has been on a downtrend over the past week. It reflected a value of 0.5 at press time.


Also read: Shiba Inu's Metaverse is the Talk of Hollywood: SHIB Metaverse Advisor
Usually, low values mean that investors are holding low unrealized profits and high unrealized losses. This clearly means that Shiba Inu holders are not in quite a comfortable position at the moment. However, this reduces the chances of a deep correction. This is because there's no motive to sell, for Shiba Inu is undervalued at this stage.
MVRV hovering below 1 has time and again signaled bear phase bottoms. In fact, this has also been the stage where accumulation trends have picked up steam in the past. Thus, Shiba Inu being undervalued now, might just be a blessing in disguise.
Shiba Inu Price
Owing to the back-to-back red candles registered over the past few days, a downtrend has materialized on Shiba Inu's price chart. With the help of some bullish momentum, SHIB could break above the bearish trendline, flip it to support, and defy the current sluggish phase. In such a scenario, $0.00001134 would be the near-term target.
However, if it takes some more time for bulls to establish their presence, then SHIB could drop down to either of its immediate supports chalked down below [around $0.00001003 or $0.00000933]. At press time on Tuesday, April 25, SHIB was trading in red at $0.00001022.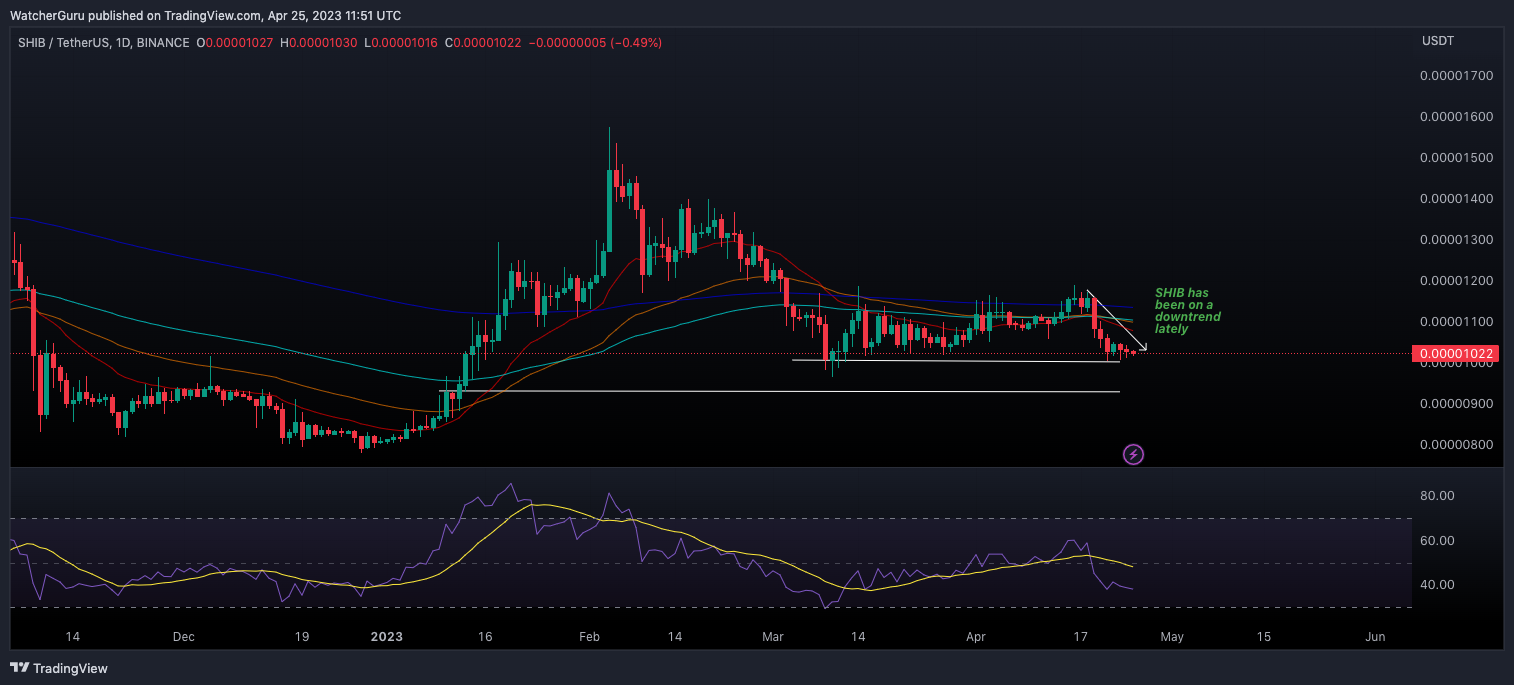 Also Read: Shiba Inu Whale Buys 312 Billion Tokens Worth $3.3 Million: Spike Incoming?