The Shiba Inu [SHIB] ecosystem has faced a tumultuous year, marked by the underwhelming debut of Shibarium, which failed to significantly influence the meme coin. SHIB continued to maintain its low trading values, recently revisiting the price levels last seen in July 2021. As of press time, the meme coin was trading at $0.000006843, showing a daily decline of 1.78%. Over the course of the week, SHIB experienced a decrease of more than 5%. Despite its price stagnation, the meme coin has continued to gain popularity as an alternative to Bitcoin [BTC].
A study was conducted by cryptocurrency experts at Marketplace Fairness, a platform dedicated to investment and financial growth. The research was based on Google search data and aimed to gauge investors' preferences for nearly 23,000 cryptocurrency assets in 2023. It went on to rank Ethereum as the leading alternative to Bitcoin. Shiba Inu, on the other hand, claimed the fourth position among the most popular altcoins.
Ethereum was the most searched cryptocurrency, with 3,260,000 monthly searches. Dogecoin, the OG meme coin, came in second with 1,659,000 monthly searches, followed by XRP with 1,250,000 monthly searches. Shiba Inu secured the fourth spot with 678,000 monthly searches, closely followed by Cardano with 677,000 searches, Solana with 542,000 searches, and the blockchain-based token EOS with 329,200 monthly searches.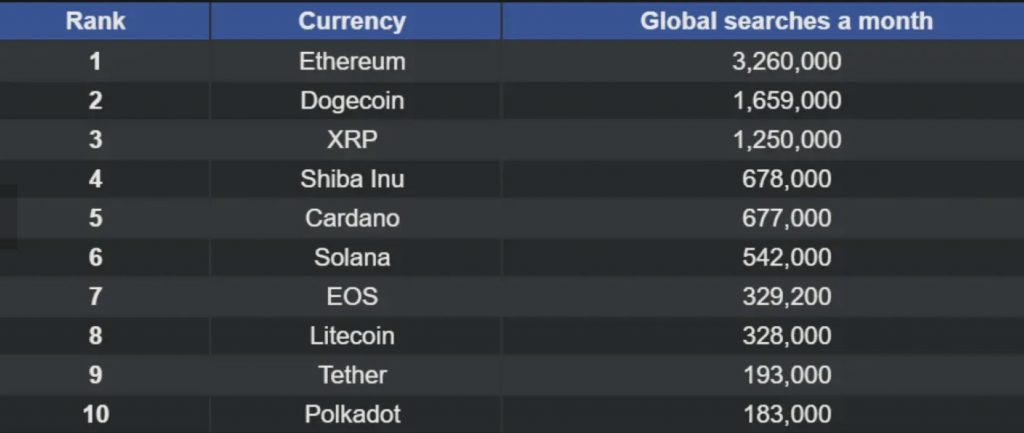 Litecoin, despite its status as one of the early cryptocurrencies, recorded just 328,000 monthly searches worldwide. It is likely that the halving that the network underwent is one of the primary reasons behind this.
Also Read: Shiba Inu Falls to July 2021 Lows
Can Shiba Inu continue to retain its popularity?
As previously noted, the price performance of the altcoin has attracted unfavorable attention to Shiba Inu. Nevertheless, ongoing network developments have significantly enhanced Shiba Inu's presence, with a multitude of updates helping the asset establish itself beyond its meme coin origins. Shiba Inu's marketing specialist, Lucie said,
Also Read: Shiba Inu Forecasted To Rise 1,300%: Here's When
"Shib is more than just a crypto; it's a vibrant community built on faith and vision. It's incredible to witness the unity and determination within the Shib community. Together, we believe in the potential and future of this project."