Shiba Inu is currently trading around the $0.000007 threshold and is showcasing little to no growth in the indices. SHIB failed to spike in price despite the launch of Shibarium in mid-August this year. The hype of the layer-2 network fizzled out post-release, leaving SHIB to trade on its own in the charts. Therefore, the dog-themed token has no catalyst to push its price up and is now left at the mercy of the bear market.
Also Read: Shiba Inu: Dubai Man Makes $70 Million in SHIB, But Sells for $4,000
However, the picture is different when it comes to the long-term. A leading on-chain metric and price prediction firm has painted a rosy picture for Shiba Inu. In this article, we will analyze when SHIB could reach a new all-time high and chalk out the odds of the token delivering handsome returns to investors.
Shiba Inu: SHIB Forecasted to Rise 3,600%, Here's the Timeline
According to leading on-chain metric and price prediction firm CoinCodex's forecast, SHIB could rise 3,600% from its current level of $0.000007 and reach $0.0001 in 2050. Therefore, a $1,000 investment made today could turn into approximately $36,000 in the next 27 years.
Also Read: Shiba Inu: $2 Worth SHIB Becomes $14.5 Million in October 2023
The token could delete only two 'zeroes' in the next three decades and trade at $0.0001, according to the estimates. The forecast pours cold water on the hopes of SHIB reaching the psychological $0.01 mark over the next decade.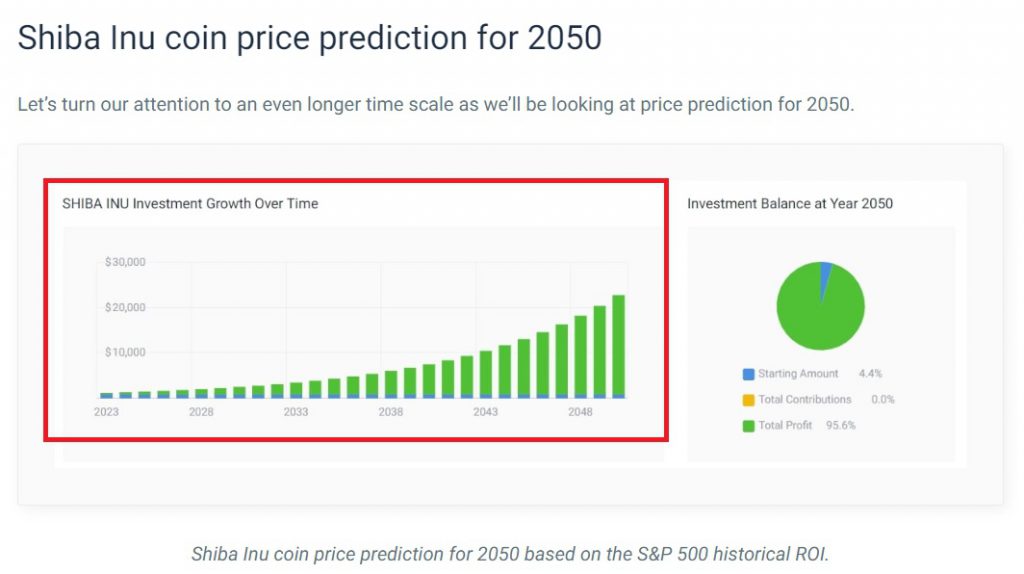 If Shibarium fails to burn trillions of tokens every year, then Shiba Inu hitting 1 Cent might never turn into reality. Read here to know a realistic price prediction on when Shiba Inu might hit the $0.01 milestone.
Also Read: Shiba Inu Forecasted to Rise 950%: Here's When
However, there is no guarantee that SHIB could reach the $0.0001 level by 2050. The cryptocurrency markets are highly volatile and go in tandem with the overall markets. Thus, it is advised to do thorough research before taking an entry position now, given that bears are in the driving seat.
At press time, Shiba Inu was trading at $0.00000729. SHIB is down nearly 4% in the 24-hours day trade. SHIB is also down close to 92% from its all-time high of $0.00008616, which it reached in October 2021.