At the moment, the directional bias is quite clear in the crypto market. The prices of assets have been making northward strides over the past few days. The market recovery comes on the heels of prominent institutions from the TradFi space getting involved with crypto.
With Bitcoin surpassing the $29k mark recently, most assets from the space clinched higher targets on their price charts. Well, Shiba Inu was one such asset. From yesterday's low of $0.00000698, the asset's price glided up by more than 7%, and went on to claim $0.00000739 earlier today. Like most cryptos, SHIB did reap the benefit of its strong correlation with Bitcoin. However, there's more to the tale.
Also Read: Exclusive: Shiba Inu Metaverse to Have 'Excellent Activities': William Volk
Role of SHIB bulls, zero balance addresses
With respect to the number of bulls and bears, data from IntoTheBlock revealed that the SHIB ecosystem currently comprises of 119 bulls and 116 bears. For context, the bulls and bears indicator tracks the number of addresses that purchased or sold more than 1% of the total amount of volume traded on a given day.
So, those who buy more than 1% of the total volume are bulls, while those who sell more than 1% fall under the bears category. Evidently, in terms of absolute numbers, big bulls have the upper hand as of now, and have been cushioning SHIB's price.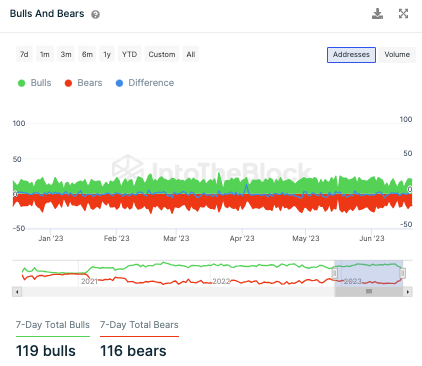 Also Read: Shiba Inu: 'Smart Trader' Earns $10 Million From SHIB
Parallelly, it is interesting to note that the number of zero balance addresses have been on the fall. On the weekly timeframe, they've shrunk by more than 16%. However, when zoomed out slightly more, the drop is quite significant.
On June 11, there were a record-high of 36.25k zero balance addresses on the Shiba Inu network. However at press time, this metric flashed a reading of merely 949. The same translates to a whopping 97.38% drop. Such a huge dip in the zero balance addresses indicate that less Shiba Inu investors are selling and transferring out their entire balance, bringing to light the refining sentiment of holders.

Also Read: Shiba Inu: U.S. Politician Says 'I'm Buying SHIB'