Volatility has made its way back to the crypto market. The onboarding of several prominent institutions from the TradFi industry managed to stir optimism and bring back bulls into action. Evidently, the last couple of days have been green, with assets like Bitcoin and Ethereum climbing above their local psychological levels of $30,000 and $1900 respectively.
Alongside the fundamental rally of the large-cap coins, even memes were seen blowing their trumpet. On one hand, Pepe Coin managed to register 40%+ gains over the past day, while Shiba Inu rose by 10.77%. Both the crypto assets were a part of the top-5 daily gainers. At press time, there were a few interesting trends associated with Shiba Inu. This article will be analyzing the outlook and assess the potential future course of action.
Also Read: Shiba Inu Investors with 'Zero Balance' Down by 97%
Will SHIB's rally be short-lived?
During the second week of June, both inflows and outflows noted a couple of spikes, indicating increased participation by SHIB investors. In just a day, inflows and outflows worth more than 4 trillion SHIB were registered by SHIB. However, the trend seems to be cooling down, with the number down to the 150-250 billion bracket.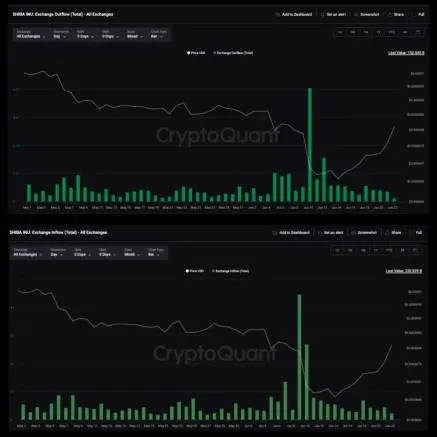 Also Read: Exclusive: Shiba Inu Metaverse to Have 'Excellent Activities': William Volk
Peeking into the net-flow chart highlighted a clearer view of the trend. Because the inflows and outflows have been nearly equal, they've been nullifying each other. As a result, the net figure is not that substantial. The bars on the chart have been getting shorter and shorter. Recently, red was dominating the chart, implying that more tokens were leaving exchanges. However, over the last couple of days, the trend has flipped.
A day back more than 21.7 billion SHIB tokens were sent to exchanges, while today, 85.3 billion tokens have already made their way back into exchanges. This means sellers have a slightly upper hand now.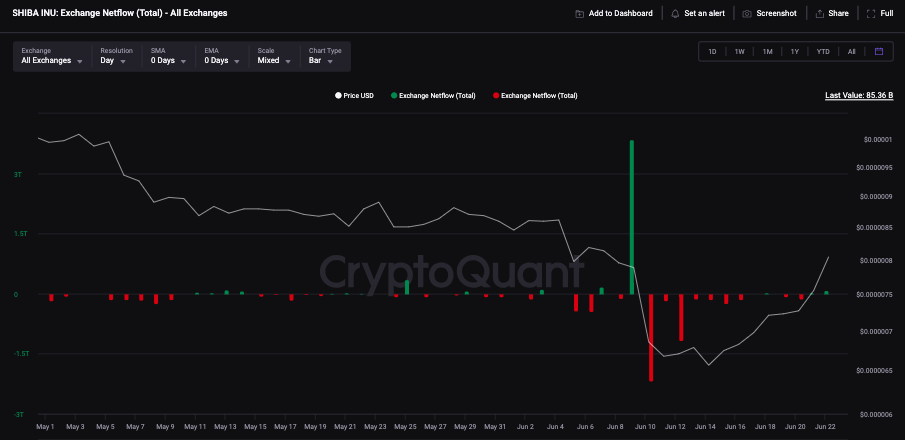 Also Read: Shiba Inu: U.S. Politician Says 'I'm Buying SHIB'
Shiba Inu has registered a double-digit daily pump after quite a long period, and perhaps investors are capitalizing on it by cashing out. As of yesterday, there were only 47.98k addresses that were in a profitable position. However now, the number has almost doubled. As of press time, around 83.64k addresses were well above water.
Thus, with more incentive to book profits, there are higher odds of another correction transpiring. If that indeed happens, then the latest uptick might be short-lived, and the market could see a brief pullback soon. As of press time, SHIB was seen exchanging hands at $0.00000817.