The past few days have been quite rough for crypto asset prices. Owing to the pessimism stirred-in by the Binance and Coinbase lawsuits, prices of most large and mid-cap coins rolled down the cliff. However, the market noted a brief recovery yesterday.
Just when the tables seemed to turn around, bears yet again managed to gain control. At press time, all assets in the crypto market were cumulatively worth only $1.1 trillion. The same marked a 2% decline when compared to the previous day.
Shiba Inu has also been following the cues of the broader market. Post registering one long red candle on Monday, June 5, SHIB has been consolidating. In fact, its current price of $0.00000795 is reminiscent to levels that were registered back in December and June last year.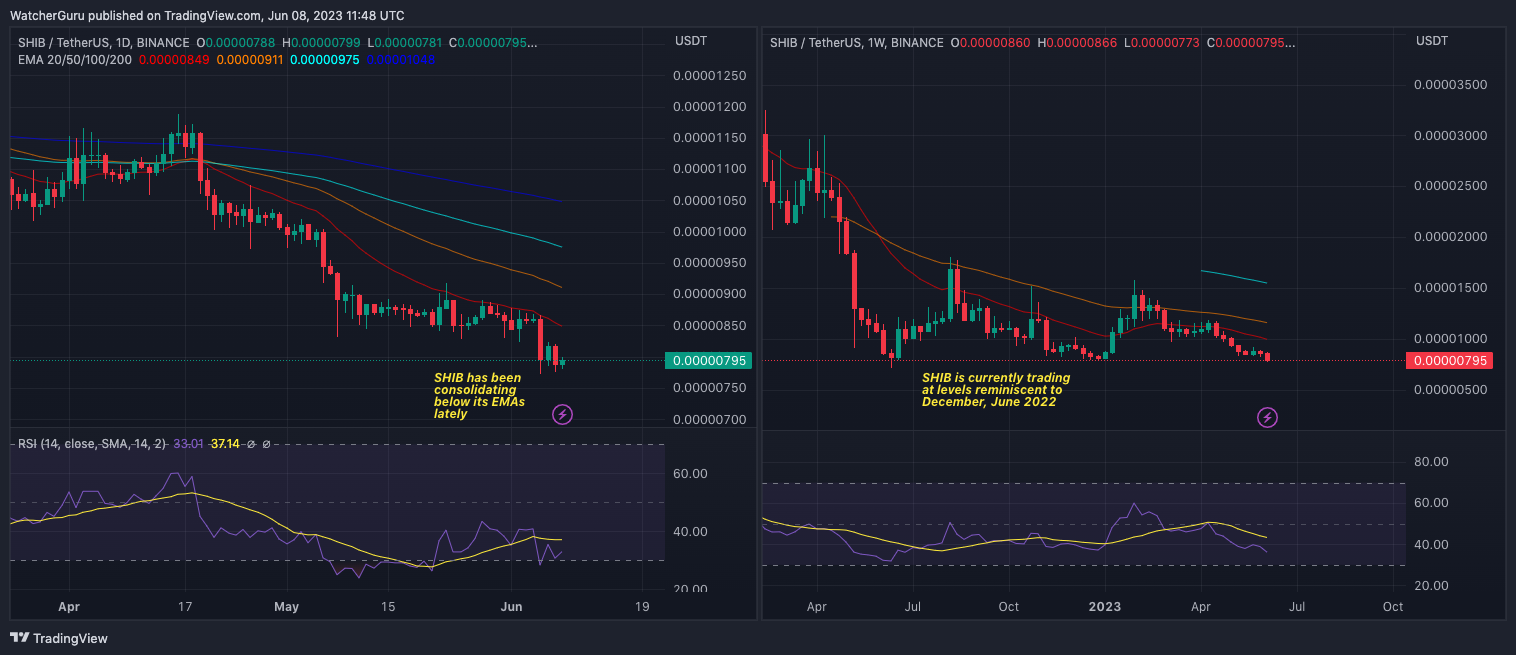 Also Read: 80% Of Pepe Coin Profits Were Accrued During Week 1: Research
Can Shiba Inu knock off another zero and continue rising in the coming months?
Despite the haphazard short-term outlook, investors can expect Shiba Inu's long-term prospects to gradually brighten. As far as the price front is concerned, SHIB could end up fetching 5x returns to its investors within just a couple of years.
According to Finder's panel of fintech specialists, SHIB's value will continue rising on the macro frame. With time, it will be able to eliminate a zero from its price as well. Specifically, they expect it to be worth $0.00004930 by 2025. From the current price, the same marks a 520.126% incline. The official report highlighted,
"The panel expects the token's value to continue its ascent and be worth $0.00004930 to close out 2025."
Alexander Kuptsikevich from FxPro noted,
"It is unlikely to roar as it did in 2021, although it can ride the future waves of the crypto market."

Also Read: Shiba Inu: Here's How Long It Could Take for SHIB To Reach $1