The lead developer of ShibaSwap, Shytoshi Kusama hinted in a recent blog post that Shibarium could release in August 2023. According to the blog, Shibarium "will be likely" released at the Blockchain Futurist Conference in Toronto, Canada. The event is scheduled for August 15 and 16 and Shiba Inu has secured the title sponsorship. However, Shytoshi only teased the Shibarium release but he did not confirm that it would release next month.
Also Read: Shiba Inu: Here's a List of Upcoming Releases in the SHIB Ecosystem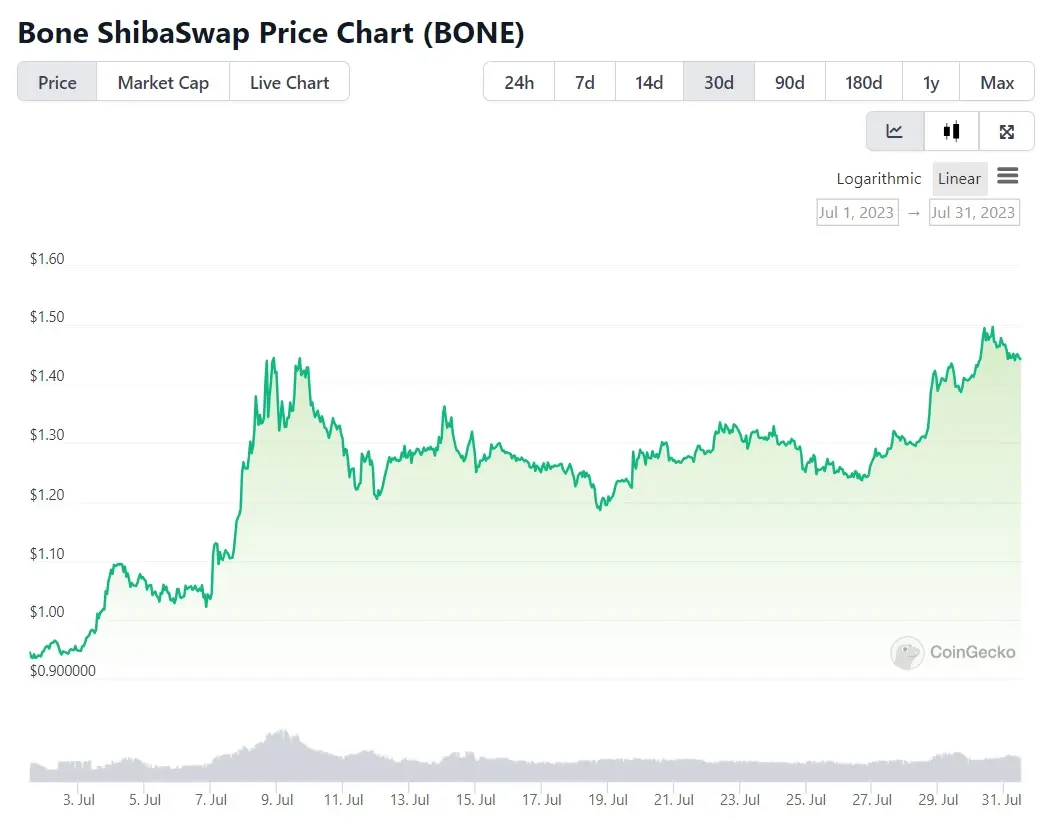 However, Shibarium's governance token Bone skyrocketed in price after the blog post indicating that investors are bullish on SHIB. Bone spiked nearly 55% in the last 30 days going from a low of $0.90 to a high of $1.50. If Shytoshi confirms a tentative release date for Shibarium during the conference, SHIB may rally and delete it's fifth 'zero'.
Shiba Inu: Can SHIB Reach $0.001 After Shibarium Launch?
Shiba Inu is currently trading at $0.000008 and needs to rise 13,000% to reach the $0.001 mark. That's deleting three 'zeroes' in a short period after the Shibarium launch. While SHIB could delete its fifth 'zero' and trade with four 'zeroes' in the charts, reaching $0.001 remains highly unlikely.
Also Read: Shiba Inu: You Could Make $7 Million if You Bought SHIB on 'This Day'
The cryptocurrency markets remain in bearish territory with fears of a recession taking over the second half of the year. Even the king cryptocurrency Bitcoin is struggling to remain above the $30,000 mark and is slipping to $29,000 levels. SHIB could take years if not decades to reach the $0.001 mark and deliver a handful of profits.
However, the fate of SHIB's price firmly depends on the scale of the burns from the Shibarium network. If Shibarium burns trillions of tokens every year, reaching $0.001 could be faster than imagined.
Also Read: Shiba Inu: When Will SHIB Climb Above Its All-Time High of $0.00008616?