The recent regulatory scrutiny in the United States has had a detrimental effect on many top-performing crypto tokens. One of the most impacted projects is Solana (SOL). Although SOL is up 2% over the last week, the asset has fallen 28.6% in the previous 14 days. Moreover, it is down by 23.5% in the monthly charts.
Solana (SOL) took a hit in particular, along with Polygon (MATIC) Cardano (ADA), and some others, as it is named in the SEC's (Securities and Exchange Commission) lawsuit against Coinbase. The U.S. SEC alleged that Coinbase sold unregistered securities, named SOL, ADA, MATIC, etc. Having been listed in the suit has given rise to fears among investors that these tokens might face delisting in the near future.
It should be noted that Solana (SOL) has risen by 55.02 % since Jan 1, 2023. The token was trading at $9.96 at the beginning of the year. Since then, it has risen to $15.44 as of press time.
Will Solana reclaim $20 anytime soon?
Solana (SOL) was trading above $20 for most of this year. In fact, it was only after the SEC's crusade did the popular asset fell to current levels.
SOL is currently facing resistance at $15.88, with support at $14.99. If current resistance levels are broken, SOL could face fresh resistance at around $17.40. SOL had previously reached this level on Mar. 10, 2023. However, if current support levels are breached, SOL could fall to around $14.08, a level last seen in early January of this year.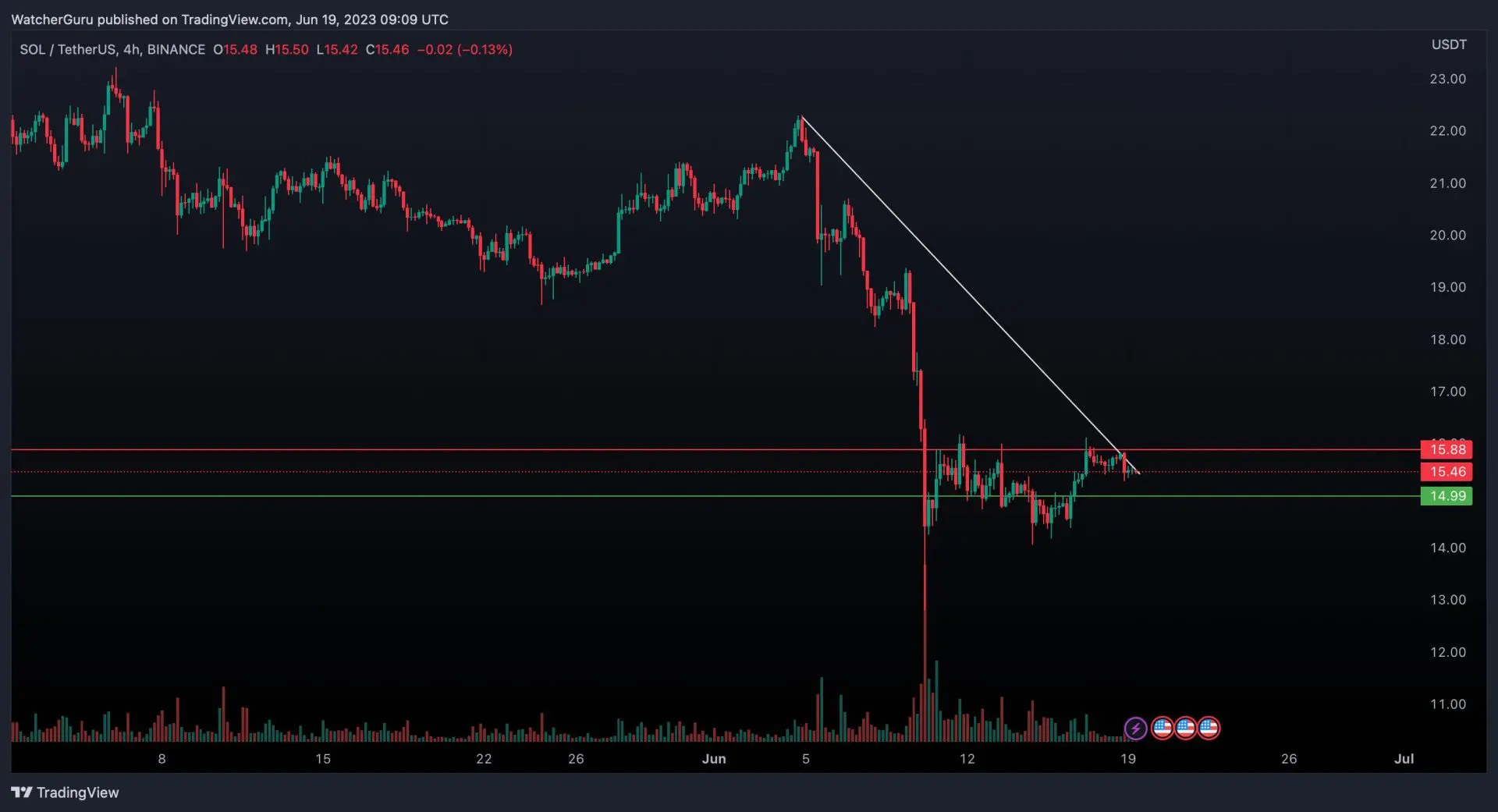 Solana (SOL) is a development-rich project. It has frequently topped lists and leaderboards for having the most development going on. This is a solid metric to keep track of for future growth. A network that has proper development activity, might see additional value in the future.
However, with that being said, SOL is currently facing a period of uncertainty as it is being called unregistered security by the top financial authority of the U.S. Until there are clearer rules on what defines security in the crypto space, SOL might continue to see a cloud of uncertainty. At press time, SOL was trading at $15.46, down by 0.8% in the last 24 hours.