The S&P 500 index's [SPX] performance has not been impressive lately. A recent analysis by Bloomberg pointed out that 19 trading sessions have passed so far in August without a single consecutive gain registered by the benchmark stock index. If the SPX wraps up August this way, the index will create a new 22-year bearish record. Specifically, the report noted,
"It will be the first month without two consecutive up days since May 2010 in the aftermath of the global financial crisis."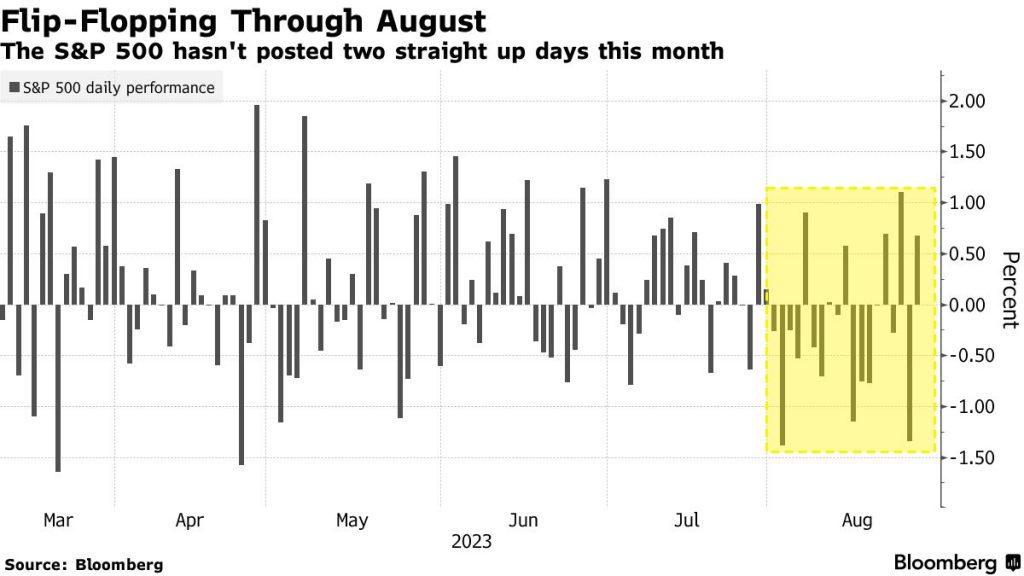 Also Read: MicroStrategy's Balance Sheet Comprises of ~75% Bitcoin
By the end of July, the SPX was up almost 30% from its October lows. Nevertheless, the latest struggle is a reflection of the lack of conviction among investors after the sharp AI rally. Furthermore, investors initially believed that the Federal Reserve would shift to cutting interest rates once the economy cooled. However, with no respite in sight, market conditions have worsened. According to Todd Sohn, ETF and Technical strategist at Strategas Securities LLC,
"The equity market ran very hot into late July, and it's in this cooling, what's-next phase. Some clarity on interest rates would certainly help. Is the Fed done? That's probably the next catalyst."
Also Read: Crypto: 31% Investors Willing to Follow AI Advice Without Verifying
How has Bitcoin Fared?
Bitcoin kicked off August on a positive note. From its swing highs to lows, the asset rallied by more than 7% during the initial few days. However, on August 17, the asset registered one of its most bearish days. From a high of $28,980, BTC created a low of $26,986. In fact, for more than a fortnight, even Bitcoin did not register back-to-back green candles. On the monthly timeframe, the asset was trading in the red, just like the benchmark stock index. BTC was priced 10.67% lower, while the SPX was down by -3.85% in the aforementioned timeframe.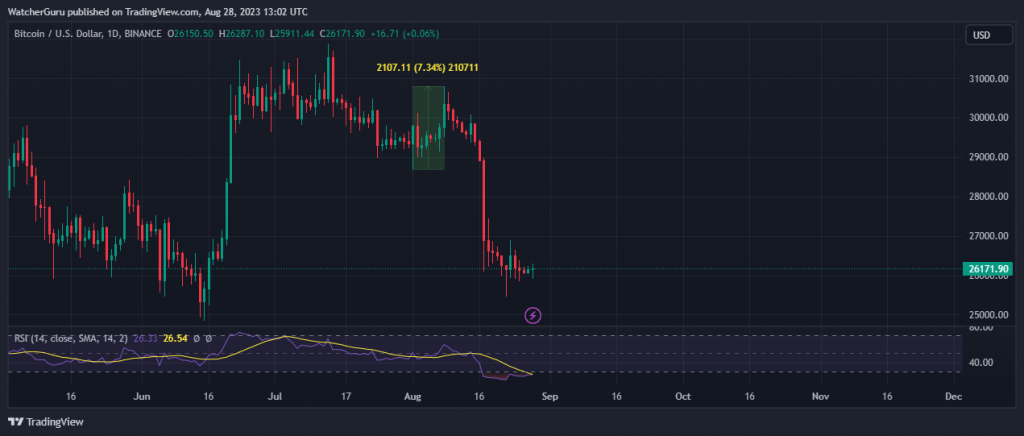 Also Read: Binance Might 'Not' be Manipulating the Bitcoin Market Yet