According to cryptocurrency analysis firm Nansen, six blockchains saw over a million active addresses in March 2023. As per the data, Binance's BNB chain had the highest number of active addresses, with 13.3 million users. BNB is followed by Solana (SOL) and Ethereum (ETH), with 5.8 million and 5.2 million, respectively. Polygon (MATIC) had 3.9 million active addresses, while Arbitrum had 2.2 million. Fantom finished the million list with 1 million active addresses in March.
BNB's lead was fueled by Binance and PancakeSwap users. However, other Web3 projects also contributed to the spike, such as Lifeform, Link 3 and Space ID. Binance's increase in users may have resulted from the FUD around a new lawsuit. Many people began taking their cryptocurrencies out of the exchange in fear. The US Commodities Futures Trading Commission (CFTC) accused Binance, its CEO Changpeng Zhao, and its former CCO, Samuel Lim, of breaking trading and derivatives regulations. Binance Coin (BNB), the company's native cryptocurrency, fell as much as 8% on the same day, from $330 to lows of about $300.
PancakeSwap DEX, on the other hand, has released its version 3 on BNB and Ethereum. Anticipation for the launch may have triggered an increase in users.
For Solana (SOL), Raydium Protocol was a major contributor. The STEPN Web3 application also played a significant role, along with Orca, a leading cryptocurrency marketplace.
On Ethereum, zkSync and Starknet saw a 1322% and 805% increase in users. According to Nansen, this is "likely due to airdrop farmers bridging to other chains."
What about the other cryptocurrency projects?
According to Nansen, Arbitrum saw a 8198% increase in users for the Gridex DEX. Bitkeep saw an increase of 7009%, while WINR Protocol saw an increase of 6340%. The Rhino.fi DEX also saw a whopping increase of 4601% in users.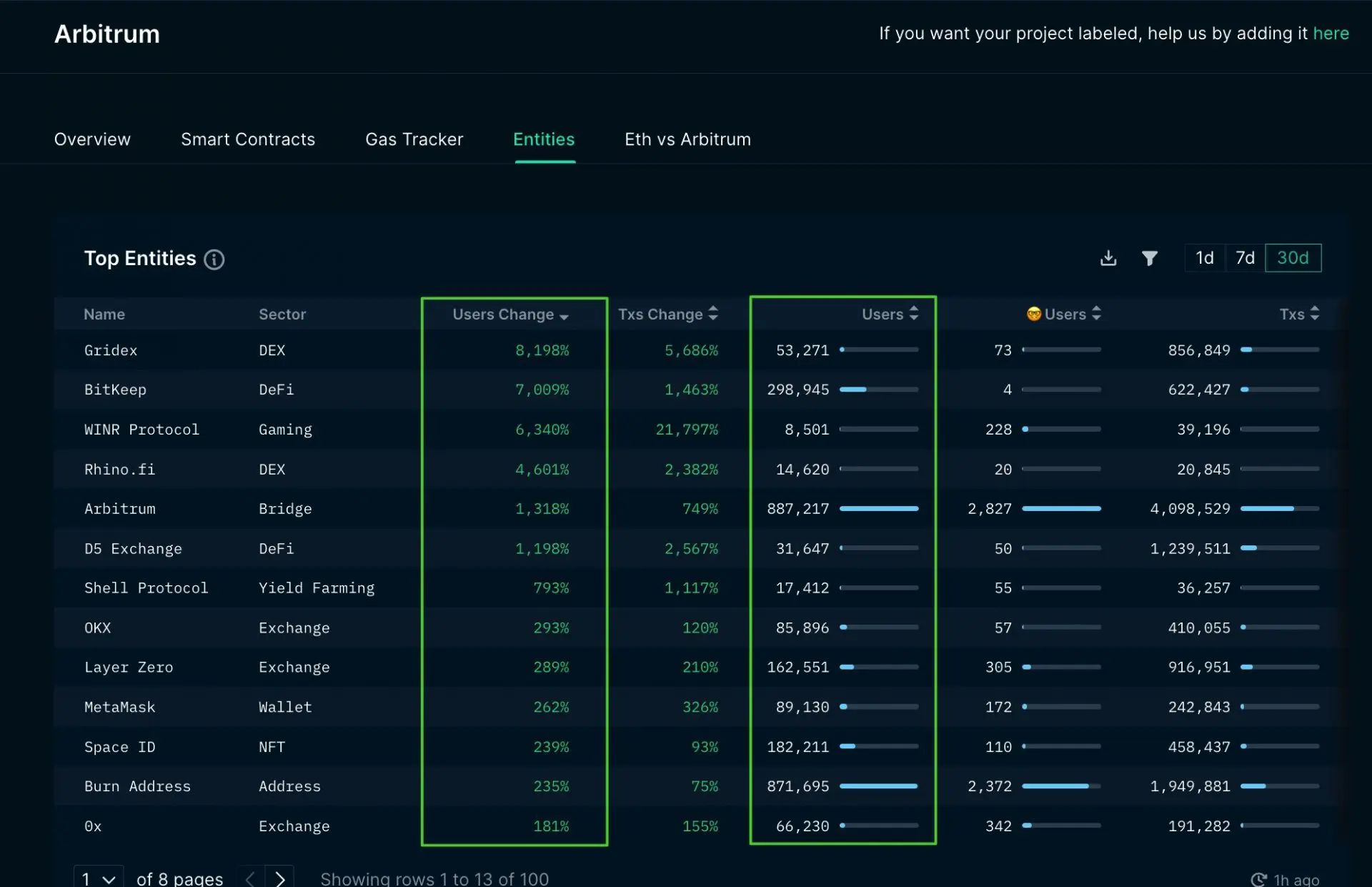 Polygon (MATIC) and stablecoin cryptocurrencies USDC and USDT had a big role to play in the increased number of active addresses. Moreover, Bitget also made a significant contribution to the active wallet spike.