The Bitcoin mining industry is plagued by a lot of challenges. Power issues, high maintenance costs, chip shortages, and regulatory hostility are just to name a few. Despite that, prominent names from the space, including Binance and Tether, have already started investing in Bitcoin mining.
Now, with the space expected to grow by the onboarding of other firms in the future, the UAE is presenting itself as a compelling base to set up shop. Jaran Mellerud, Business Development Associate at Luxor recently took to Twitter to explain how this region is gearing up to be the "prime destination" for Bitcoin miners in the Middle East.
He pointed out that at an assumed average energy efficiency of 30 J/TH, Bitcoin miners in the UAE should generate about 13 EH/s. The same would tally to 3.7% of Bitcoin's total hashrate. That number placed the UAE much ahead in the competition when compared to its "energy-rich" neighbors like Oman, Kuwait, Saudi Arabia,  Bahrain, Qatar, etc. Mellerud noted,
"All these energy-rich countries may have enormous bitcoin mining potential, but the innovative UAE is leading the way."
Also Read: Bitcoin: Investors Buy 1.01 Million BTC in 602 Days
UAE and its pros
Well, there are a host of positives that the UAE offers. To begin with, the region is in a much better position when compared to its Western counterparts because it "keeps expanding its electricity supply" at a pace that Americans and Europeans "can only dream of." Recently, the UAE recently opened Barakah, the largest nuclear power plant in the Arab region. According to Mellerud, this nuclear expansion will provide Bitcoin miners with "an ample supply of cheaply generated electricity." Alongside, it will also "increase the need for demand flexibility." With respect to the power price, UAE nationals and farmers "feast" on cheap electricity. For industrial consumers, however, the price differs. Bigger miners likely pay around the range of $0.04 and $0.05 per kWh. Mellerud pointed out,
"Many UAE citizens have installed small Bitcoin mining farms in their backyards and basements to arbitrage their heavily subsidized electricity rate of $0.02 per kWh."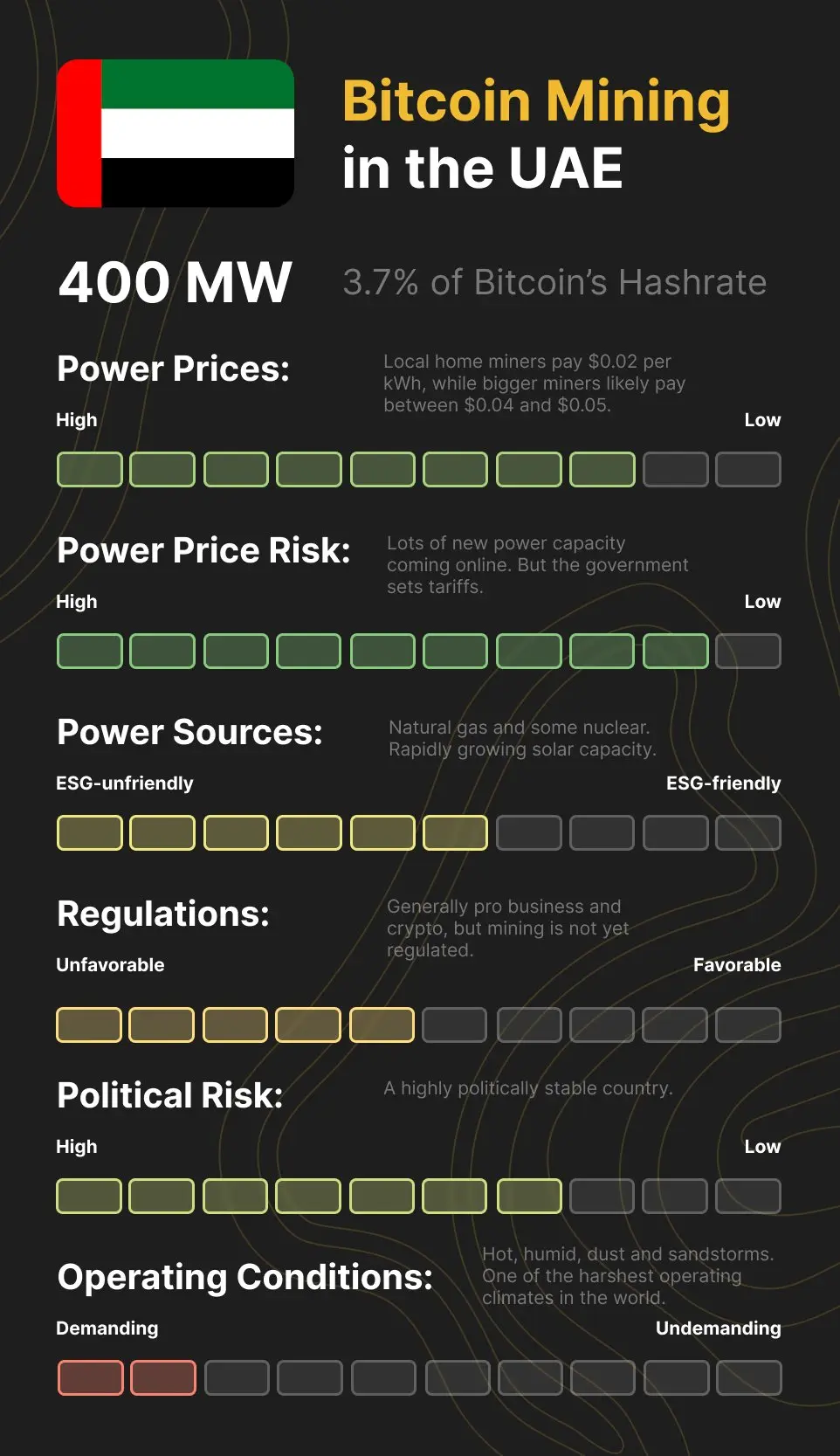 Alongside, the UAE is quite a business-friendly region. In fact, in terms of ease of doing business, it occupies one of the top ranks, giving it another added advantage. Additionally, the UAE has been fairly pro-crypto. This attribute is another positive for Bitcoin miners. Specifically, it could bring advantages in relations with government organizations, banks, and other service providers.
Also Read: Bitcoin 'Shrimps' Are Buying 33,800 BTC Every Month
It is not carved in stone, yet
Well, on paper, everything seems to be on track. It would be fair to contend that the region holds a massive Bitcoin mining potential. However, it should be noted that the industry is still in its early stages. In fact, this region has one of the harshest operating conditions, owing to its extremely hot climate. Alongside, the mining sector is not essentially regulated. This means, all miners, except for the semi-governmental projects, currently operate in a "legal gray zone."
Nevertheless, companies like Marathon Digital have already started operating in the UAE. In May, the company formed a joint venture with Zero Two, backed by Abu Dhabi's sovereign wealth fund, to create the Middle East's first large-scale Bitcoin mining operation. In fact, CEO Fred Thiel noted that via this venture they will together "build the next-generation Bitcoin mining facilities in Abu Dhabi." Usually, when one paves the path, others tend to follow. Perhaps, it is just a matter of time before the UAE emerges as a Bitcoin mining hub.
Also Read: Bitcoin: 'More Companies' May Join Binance, Tether in BTC Mining