A US court has officially called both Bitcoin (BTC) and Ether (ETH) commodities in the dismissal of a lawsuit against DeFi platform Uniswap. Specifically, a New York judge stated it would not "stretch the federal securities laws to cover the conduct alleged" in the class action suit.
The complaint was directed at Uniswap for "scam tokens" that had been issued on the protocol. Subsequently, the judge dismissed the allegations that the decentralized crypto exchange was to be held accountable for the scams that harmed investors. Moreover, calling both BTC and ETH commodities in the official filing.
Also Read: Only Bitcoin Can be Called a Commodity, Says SEC Chair Gary Gensler
US Court Calls Bitcoin and ETH Commodities in Uniswap Lawsuit Dismissal
The ongoing conflict between the digital asset industry and US regulators has shown no signs of slowing down. Indeed, that conflict has seemingly led to arguments regarding differentiating factors between a security and a commodity. The US Securities and Exchange Commission (SEC) chair, Gary Gensler, has long stated that Bitcoin is the only crypto commodity. Yet the US courts don't seem to agree with him.
In dismissing a lawsuit against Uniswap, the US court called both Bitcoin (BTC) and Ether (ETH) commodities. Specifically, a New York judge made the distinction in a key filing made on Wednesday. This differs from the stance that the SEC has long held. Creating another point of contention in the SEC's digital asset stance.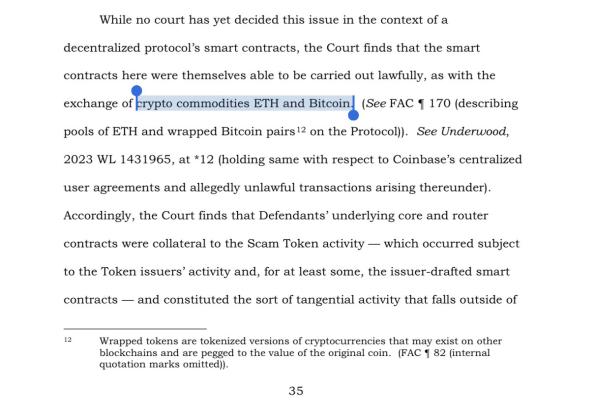 Also Read: CFTC Defies SEC Again, Calling Bitcoin, Ethereum, & USDC Commodities
"While no court has yet decided this issue in the context of a decentralized protocol's smart contracts, the court finds the smart contracts here were themselves able to be carried out lawfully," the filing reads. "As with the exchange of crypto commodities ETH and Bitcoin," it adds.
The differentiation could be crucial in future litigation regarding decentralized exchanges. Moreover, it could also come into play in determining securities law violations. Subsequently, the ruling of Judge Kathrine Poli Railla of New York clearly stated that the assets are not securities.