In the coming weeks, Apple is slated to introduce its eagerly awaited mixed-reality headset, called Apple View. Apple's entry into the space could breathe fresh life into the Metaverse industry. Although there isn't an official launch date from the tech giant itself, many have speculated that the new headset could debut sometime in early June.
However, apart from the headset itself, many are also talking about the consequences in the crypto industry. Apple's venture into the metaverse could potentially spark a rally for metaverse tokens. A similar incident happened in January when rumors about Apple's initiative caused a spike in Decentraland (MANA) and The Sandbox (SAND).
Going by the market's reaction in January, it is possible that we could see another pump in metaverse tokens. Popular crypto proponent and researcher Udi Wertheimer argued that Apple's launch will cause such tokens to "pump so hard."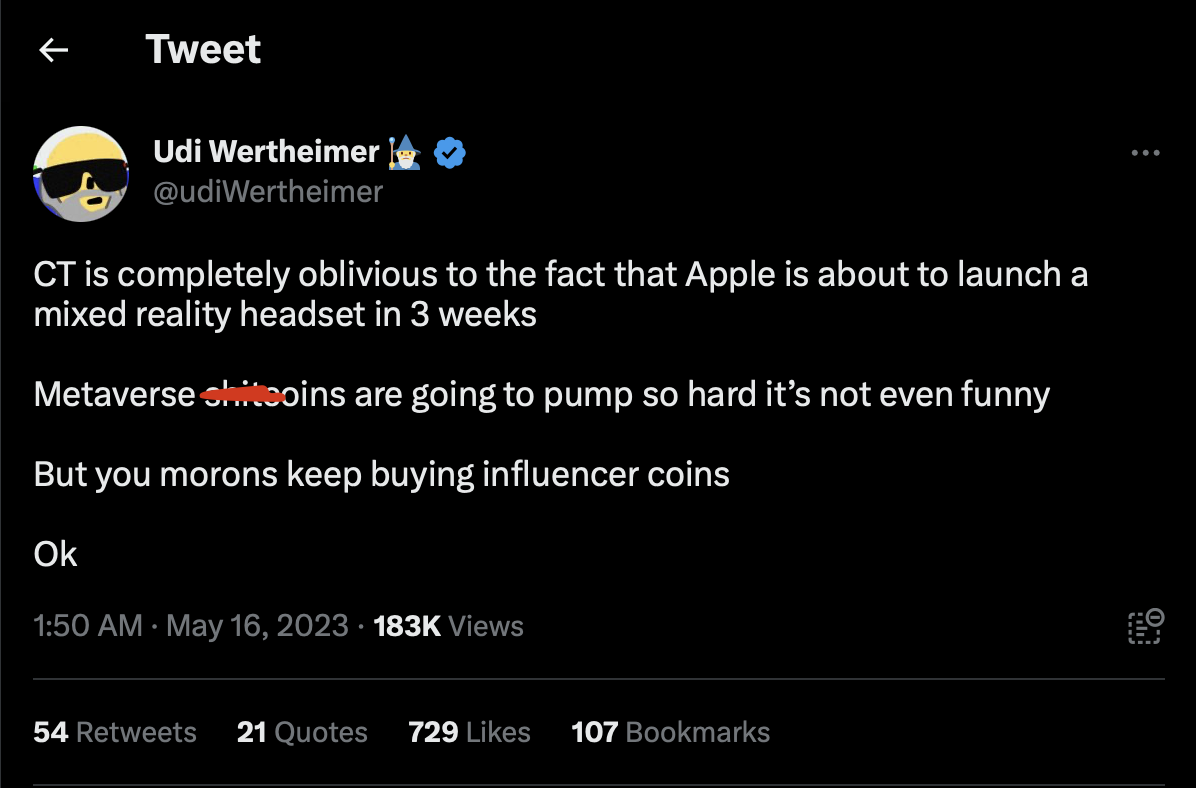 Josh Gilbert, an analyst at eToro, thinks the new headset will ignite the markets. Gilbert stated, "When Apple does it, they usually do it right." However, he expressed some skepticism if the launch will revive metaverse tokens.
The development of Decentraland's VR capabilities, on the other hand, is still ongoing. Meanwhile, The Sandbox previously stated that it has no ambitions to develop VR right now or in the future.
Will Apple's Metaverse initiative pay off?
Apple has rarely failed to deliver on its promises. The company is known to change the technological demography of the planet. For example, when the iPhone came out, it redefined what a phone was. And ever since, every phone has followed in its footsteps. Therefore, it would not be surprising if the new headset redefines what VR/AR devices can achieve.
However, there is also the possibility that the initiative could backfire, as many tech giants have failed to impress people with their metaverse initiatives, such as Facebook parent company, Meta. Nonetheless, Apple being Apple could actually deliver a product that the public loves. And it could also lead to a rally in metaverse tokens.