The crypto-verse has existed for years now, and the industry has seen several highs and lows. Despite this, 2022 would certainly go down as one of the worst years for cryptocurrencies. A plethora of bankruptcies, failed projects, and a bearish Bitcoin instilled fear among the community. It did not end there, as the "crypto winter" got colder with mass layoffs.
However, this wasn't limited to the cryptocurrency sector alone. Over 1000 tech firms sacked a whopping 152,730 employees in 2022 alone, as per Layoffs.fyi. Unquestionably, a sizable portion came from cryptocurrency. But in contrast to other sectors, it was significantly less. The industries with the most layoffs were consumer and retail driven. Right behind real estate, the digital asset sector came in at number eight.
Here's how many were sacked from the crypto industry
According to a recent report, a whopping 9,564 bid adieu to the digital asset industry. This is reportedly the highest yearly layoff that the industry had witnessed.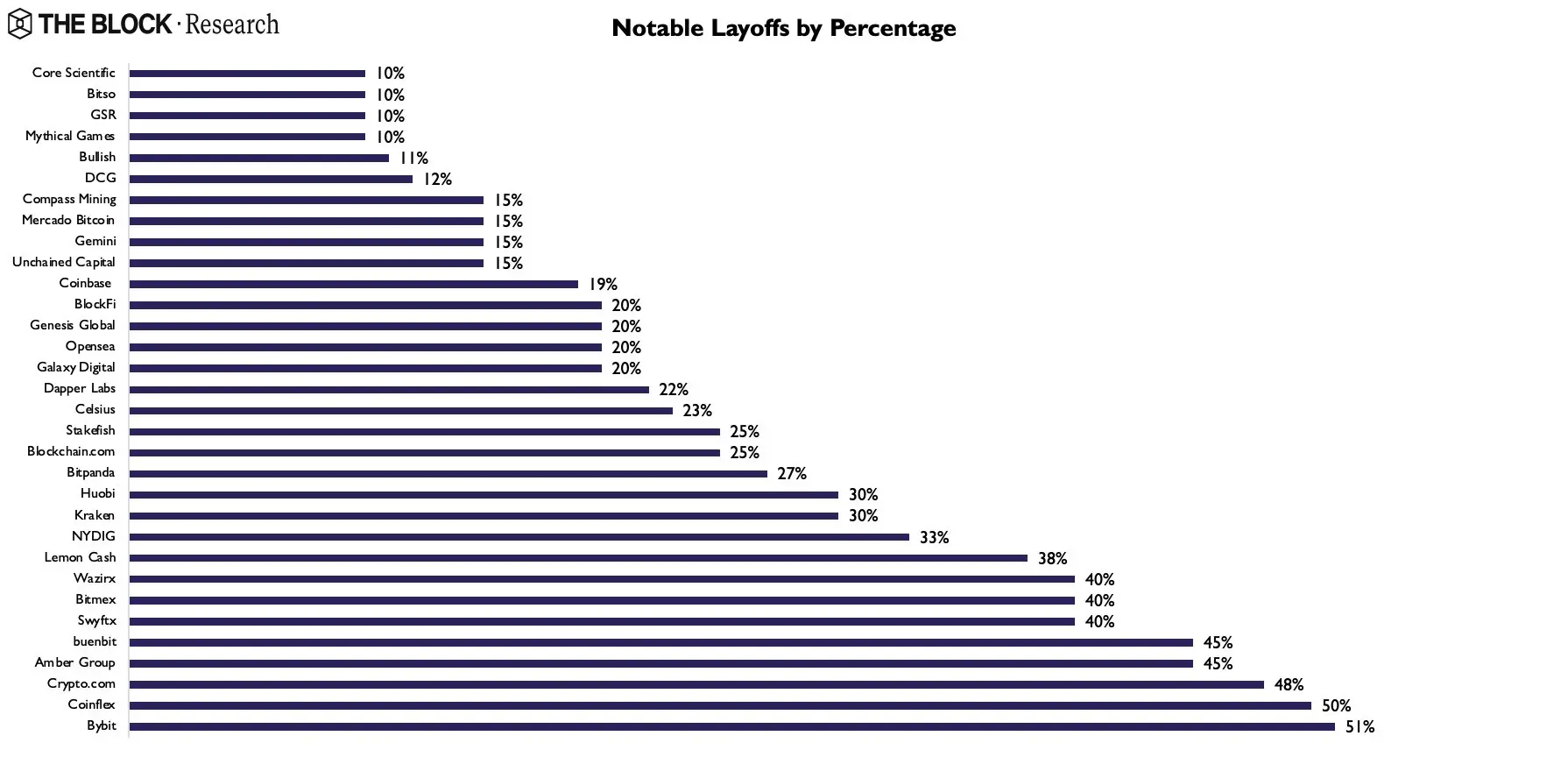 As seen in the above chart, Bybit, Coinflex, as well as Crypto.com witnessed the highest amounts of layoffs. Despite filing for bankruptcy, Core Scientific, a prominent Bitcoin mining firm, was among platforms that recorded minimal layoffs.
There were 31 trading and brokerage firms and 13 financial institutions with a focus on cryptocurrencies on this list. Only the trading and brokerage industry saw 7,037 job cuts. With 1,737, cryptocurrency financial services followed suit.
Trading firms, or cryptocurrency exchanges, accounted for most of these layoffs. Crypto.com sacked 2,260 people earlier this year. Around 260 employees were let go in August this year. Following this, reports claim that the exchange "quietly" fired hundreds more. But things got ugly in October when the firm carried out a mass layoff of 2,000 employees. As a result, 24% of all layoffs across all categories were due to the exchange.
Reports about Coinbase sacking its workforce were trending throughout the year. The exchange laid off 1,160 this year. Kraken wasn't too far off. With intention of slashing 30% of its workforce, Kraken let go of 1,100 throughout the year. Coinbase, Kraken, and Bybit contributed a dainty 6% each.
In addition to this, the downfall of a plethora of cryptocurrency projects is expected to have affected over 1,600 employees.
Cities with the highest layoffs
These layoffs weren't limited to a single geographic location. Cryptocurrency firms across the globe witnessed a plethora of layoffs from the start of the year through November. A recent report by CoinGecko pointed out that most of these job cuts came from San Francisco.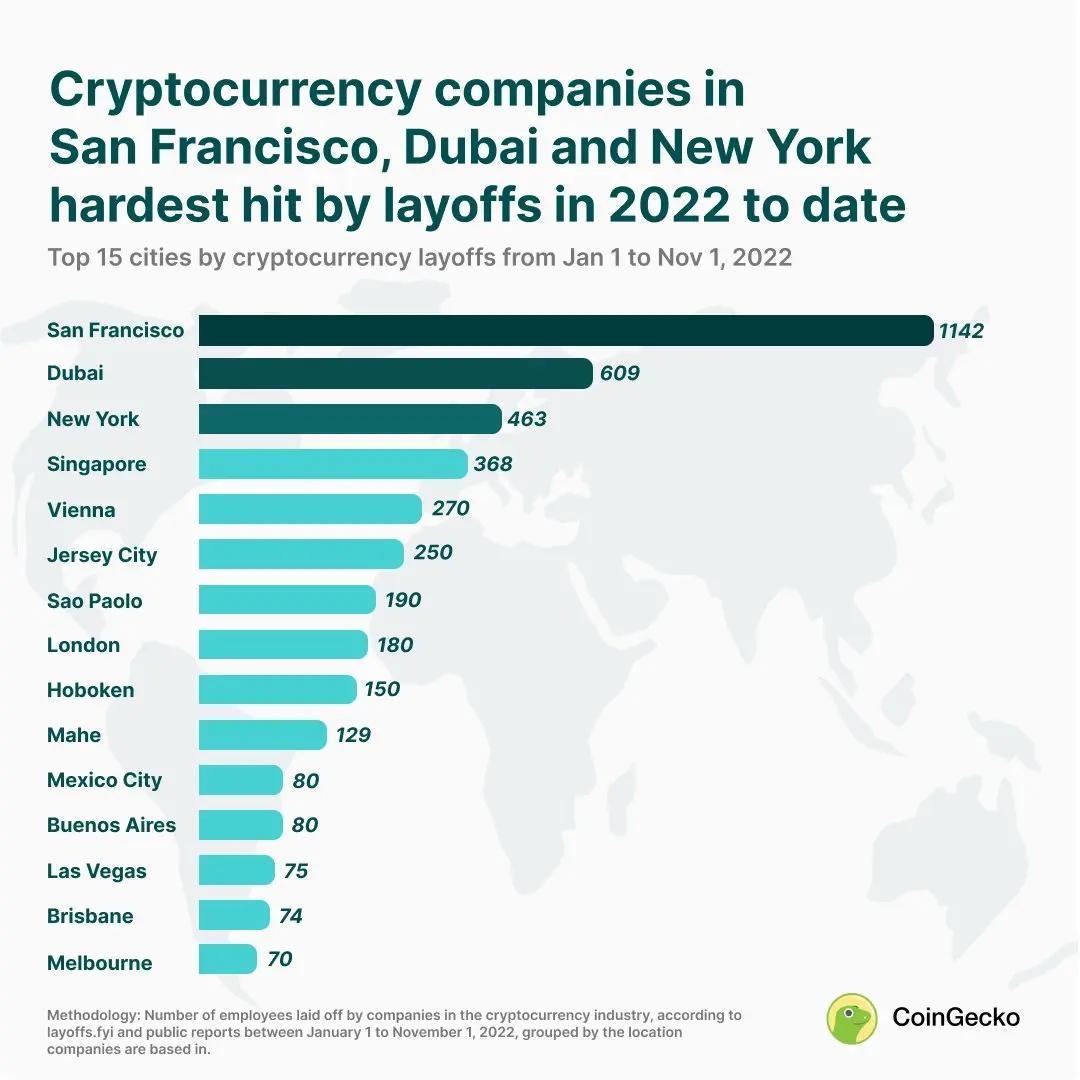 San Francisco is a well-populated area of California. The region is home to prominent tech firms including Meta, Twitter, PayPal, Visa, and CashApp. Cryptocurrency firms like Ripple, Chainlink, and Robinhood are among several platforms that operate in San Francisco. Other U.S. cities, including New York, Jersey City, and Las Vegas were also part of the list.
Dubai's presence on the list isn't too surprising, considering crypto's big entry into the city this year.
Singapore witnessed the downfall of several platforms headquartered in the region. Therefore, Singapore was bound to be a part of the list.
Hiring did take a backseat but not for these firms
The survival-of-the-fittest narrative applies to the crypto-verse now more than ever. While the harsh bear market took down several firms, Binance went on a hiring spree. Binance's co-founder, Yi He, revealed a whopping 2,000 roles, from engineers, product, marketing to business development, were available on the exchange. Changpeng Zhao had even stated that the firm was "expanding hiring right now."
A recent report revealed that the exchange doubled its size to 7,300 employees.
Binance wasn't the only one. Polygon revealed that it intends to raise its workforce by 2023. Appearing in an interview, Polygon spokesperson Bhumika Srivastava noted that Polygon would hire at least 200 people throughout the year. Crypto custody firm, Fireblocks, also expanded its workforce by over 200.
While this was certainly a plus for the industry, the hiring process instilled fear among existing employees of the crypto-verse.