On July 17, Cathie Wood's ARK Invest sold another batch of Coinbase shares. The investment firm reduced its COIN holdings from the ARK Innovation ETF [ARKK] by 127,266 shares. Likewise, 76,788 shares and 44,784 shares were reduced from the Ark Fintech Innovation ETF [ARKF], and ARK Next Generation Internet ETF [ARKW]. In total, 248,838 COIN shares were sold. Based on the last close price of $105.55, they were worth around $26.26 million.

All Coinbase-related transactions of ARK have only been sell transactions so far in July. Prior to the latest selling spree, the firm sold close to 500,000 shares on July 14, and more than 100,000 shares on July 11. However, before that, ARK had been on an accumulation spree. After the last set of transactions, ARK held a total of 10.7 million COIN shares. Thus, Cathie Wood's firm's total COIN position is now roughly worth around $1.13 billion.

Also Read: U.S. SEC, CFTC Can Work Together on Crypto Rules: Caroline Pham
Is regulatory pressure mounting for Coinbase?
The SEC thrusted a lawsuit against the exchange last month citing alleged securities law violations. However, after the recent Ripple case ruling, and the retail classification of XRP as a non-security, the community expects Coinbase to emerge victorious as well. However, Berenberg analysts pointed out that the company's challenges remain "significant" and seem to be "far from being resolved." The bank's analysts noted that Coinbase's staking services remain suspended in four states. This, in turn, could open the door to scrutiny over its 'earn' product. Elaborating on the same, they wrote,
"We believe Coinbase Earn, the securitized product through which COIN offers staking rewards to retail customers, appears particularly vulnerable to being defined as a security within the context of the judge's ruling."
Thus, ARK's latest profit-book spree could perhaps be a cautionary measure taken by the firm. Alongside, the stock price hovering around its yearly high might have been another incentive to sell. It should be noted that Cathie Wood has time and again asserted that she is quite bullish over Coinbase's stock. From June's low of $46.43, the stock is already up by 127.18%, Similar levels were last registered by the stock in H2, 2022.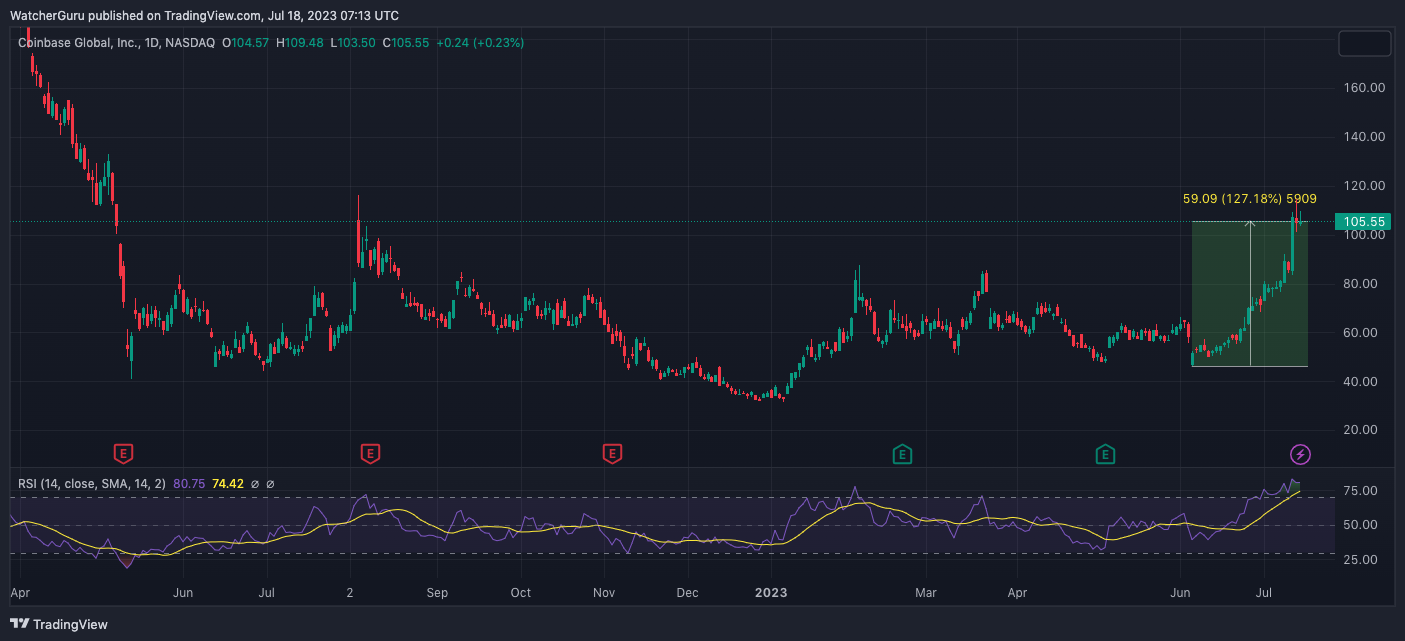 Also Read: Tether, USD Coin, DeFi Could be Targeted by SEC Next: Berenberg