One of the most exciting things to hit crypto has to be NFT games. One such game is Axie Infinity which has grown to be the most popular NFT game in the crypto world. In case you don't know what the frenzy is about, you earn simply for playing an online video game.
Axie reported an all-time high on July 14 when AXS traded for $21.53. The blockchain-based game currently has more than 2 million daily users from 38,000 user it had six months ago. Roughly, there's been a sale of NFTs worth $2.5 billion through the game.
How Exactly Does the Axie Infinity Marketplace Work?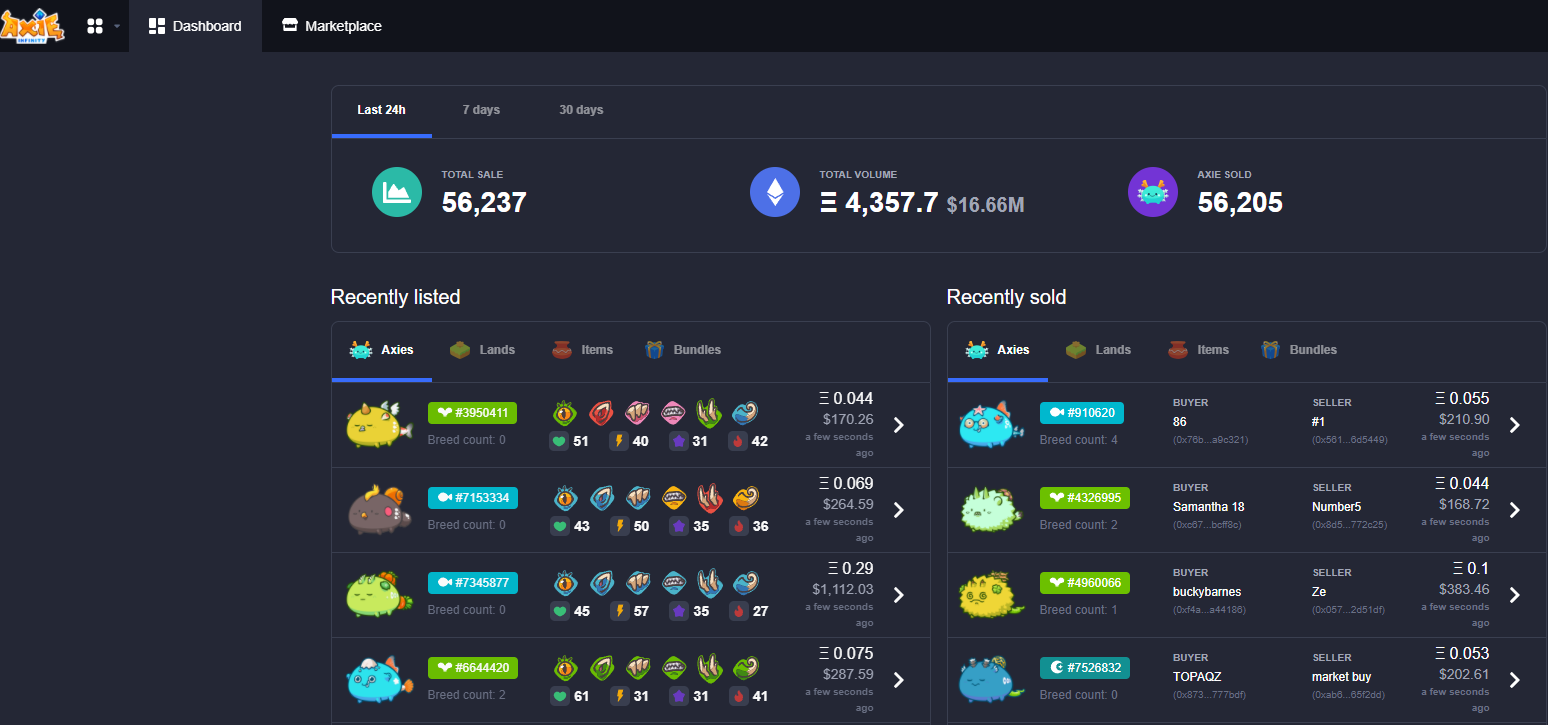 Axie infinity was launched in February 2018. It immediately became a popular online video game. Just months after its launch, a new update came. The Marketplace which was hugely anticipated by many. Who wouldn't want to earn some crypto while gaming?
In this battling and trading game, players get to breed, trade, collect and Axies. If you aren't conversant with what Axies are, they are non-fungible token (NFT) monsters.  Players need to collect rare Axies and they earn more resources through battling. The battles, hosted by the game's adventure mode, are PVP battles. The breeding of the token-bred creatures is done by leveraging SLP.
To take part in the game you will require the Ronin wallet and bridge. One needs Metamask, a web3 ETH wallet to connect with the game. For you to be a part of the crypto universe to participate in the game, you need to have sold at least three Axies on the marketplace.
The players can sell their Axies in an auction, Clock auction. Like all auctions, the Axies auctions have a start price, an end price and a duration. All sales are however subject to a 4.25% commission fee.
By taking part in this online video game, you earn a cryptocurrency called AXS or Axie Infinity Shards. It's important to note that you can exchange AXS for real money.  Currently, AXS is trading at $127.
READ ALSO: How Axie Infinity Company Earns Money
More on Axie
Axie Infinity is developed by a Vietnamese developer Trung Nguyen. Nguyen also co-founded Sky Navis, a game developer company. The company currently has a valuation of around $3 billion.
Sky Navis has attracted investments form many big names such as Andreessen Horowitz, a Silicon Valley capital firm, Reddit co-founder Alexis Ohan and Cuban. These investments were made through the funding rounds held by the company.
The first funding round happened in May 2021. The company collected $7.5 million. The was a second funding round, Series B, held earlier this month. This resulted in Sky Navis racking up a whopping $152 million.
There's no telling how big the NFT market may or may not get in a couple years. But if things go as they currently are, AXS may give other crypto currencies like Bitcoin a run for their money!