The Bank of Korea will likely be given the right to scrutinize crypto businesses. This comes at a time when the regulators in the country are discussing crypto laws. A recent report from The Korea Herald pointed out that the Central Bank of South Korea has been competing with the Financial Services Commission [FSC] on the crypto and virtual asset jurisdiction front. It stated,
"While discussions on virtual asset-related laws are currently underway in the National Assembly, it seems that the Bank of Korea, the central bank of Korea, will be given the right to investigate virtual asset operators."
Also Read – Terra: Kwon Could be Sentenced 100+ Years in U.S., 40 Years in Korea
BoK's request to be accepted?
The Bank of Korea recently revealed its concerns with respect to stablecoin and financial stability risks. An official from the National Assembly's Political Affairs Committee, confirmed last week that the BoK's right to request data from crypto exchanges was confirmed. This means that the central bank will be able to request transaction data from digital currency operators. However, the FSC will reveal its official position during a subcommittee meeting tomorrow. According to the report,
"The Financial Services Commission plans to officially express this position at the bill 1st subcommittee to be held on the 25th."
Democratic Party lawmaker Kim Han-gyu who proposed the Crypto Assets Act in the bill's first subcommittee said,
"The Financial Services Commission recognizes that it is necessary for the Bank of Korea to have the right to request data, but it is refusing to include it in the bill.
This likely means that both the central bank and the financial regulator will be able to investigate crypto exchanges and other operators and have complete access to transaction data. The FSC has been taking enforcement actions against crypto companies. It recently ordered five domestic virtual asset exchanges to abolish securities tokens. Right after that, it also published related guidelines. The same touched upon which security tokens will qualify for regulation under South Korea's capital markets laws.
Also Read: Holding Bitcoin has been Profitable 89% of the Time
What are Korean Bitcoin investors upto?
Korean investors were making a lot of noise in the crypto markets lately. In fact, XRP went on to clinch multiple records towards the end of March because of them. Parallelly, Bitcoin was also being traded at a premium.
Now, the hype seems to be cooling down. As shown below, the Korea Premium Index has been on a downtrend over the past few weeks. At the moment, Bitcoin is being traded at a borderline premium. In fact, on a couple of instances between 10-18 April, BTC was priced at a discount in Korea, bringing to light the fading retail investor interest.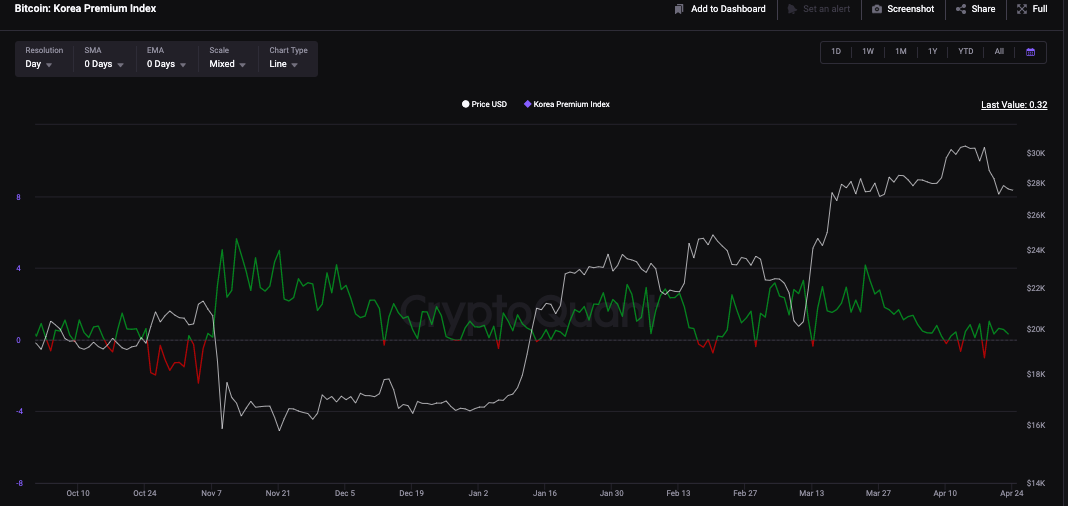 Also Read: Ripple: Is XRP Making Noise Because of Korean Investors?