Over the past few days, the search volumes for "gráfico bitcoin agora" has noted a sharp incline in Brazil. The interest with respect to the phrase is currently nowhere close to any peak registered previously over the past five years. When translated, the aforementioned phrase means, "bitcoin chart now." Thus, it can be contended that Brazilians are keenly monitoring the state of the top crypto at the moment.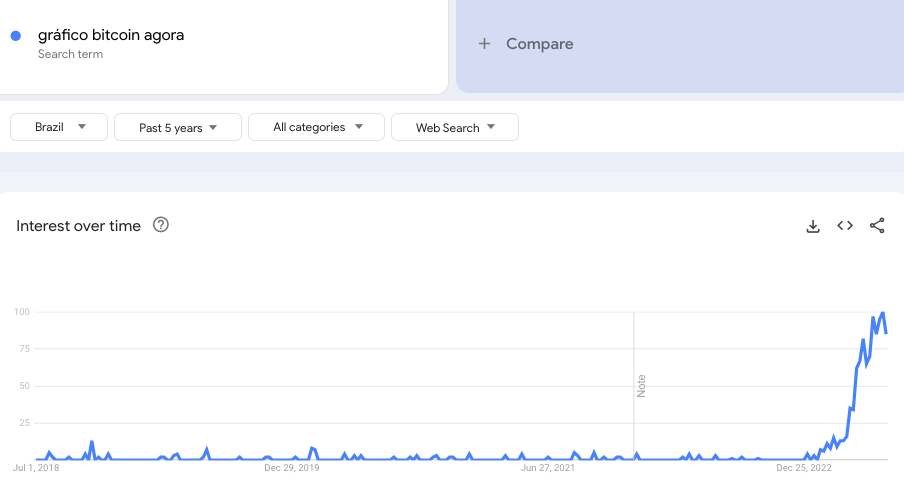 Also Read: Crypto Investment Products See $199 Million Inflows: Bitcoin Contributes 94%
Well, people are not just searching about Bitcoin, but they are also taking action. On Sao Paulo-based exchange Mercado Bitcoin, BTC has been trading at a premium. At press time, the spot market price of the asset flashed a value of $30,299. While on Brazil's largest exchange, people were paying $30,443 to acquire one Bitcoin. This is fairly an indication of the budding buying pressure.
Alongside, it is worth noting that BTC transactions on Mercado account for around 61.93% of the total volume, re-underlining how the majority of traders and investors are eying the largest asset rather than other Altcoins.


Also Read: Bitcoin Cash Rallies 111% in 5 Days: Back From the Dead?
Crypto and Brazil
A host of positive developments w.r.t. crypto have taken place in Brazil of late. Just last month, for instance, FinTech company Revolut launched crypto investment and foreign exchange services in Brazil. The company specifically stated that the region is seeing a "growing demand" for access to crypto.
Alongside, in other regions like the U.S., where there's still not much regulatory clarity for crypto, Brazil lawmakers are headed in the opposite direction. Recently, the Central Bank and Securities Commission were appointed as the crypto market regulators. Parallelly, regulators are also handing out licenses. For instance, Mercado received a license as a payment institution earlier this month.
Furthermore, Brazil is fairly ahead when compared to other pro-crypto regions when it comes to crypto adoption. According to a recent report by crypto payments company Triple-A, the crypto ownership percentage in Brazil currently hovers around 6.98%, while in other regions like Nigeria, the proportion is only around 5.75%. Thus, keeping all the aforementioned exhibits in mind, it can be contended that Brazil is perhaps bracing for a crypto boom period in the near future.
Also Read: With Ethereum at $1.9k, Exchange Balance Drops to 'All Time Low'