Whales have started participating more in the Cardano market lately. Over the past week, both, the number of transactions worth $100k+ had been on a downtrend. That was accompanied by a parallel volume downtrend. However now, an uptrend has been initiated.
A day back, only 5.47k large transactions took place. Nevertheless, the number is already up to 6.46k. Likewise, the volume registered a spike from 33.2 billion ADA to 36.6 billion ADA.

Usually, whenever whales get into the arena, significant price fluctuations take place because they transact in bulk. Even though the trend seems to be shifting at the moment, it should be noted that there isn't that much pressure being applied by whales at the moment. The zoomed-out version of the same chart supported the same narrative further.

Also Read: Crypto: $172 Million Wiped Out From ETPs in 2023
Does ADA have fundamental legs to recover?
On the price front, Cardano has been struggling. When compared to its June peak of $0.3819, the asset has already shed over 1/3rd of its value. With the market highly oversold at press time, ADA was seen exchanging hands at $0.2534.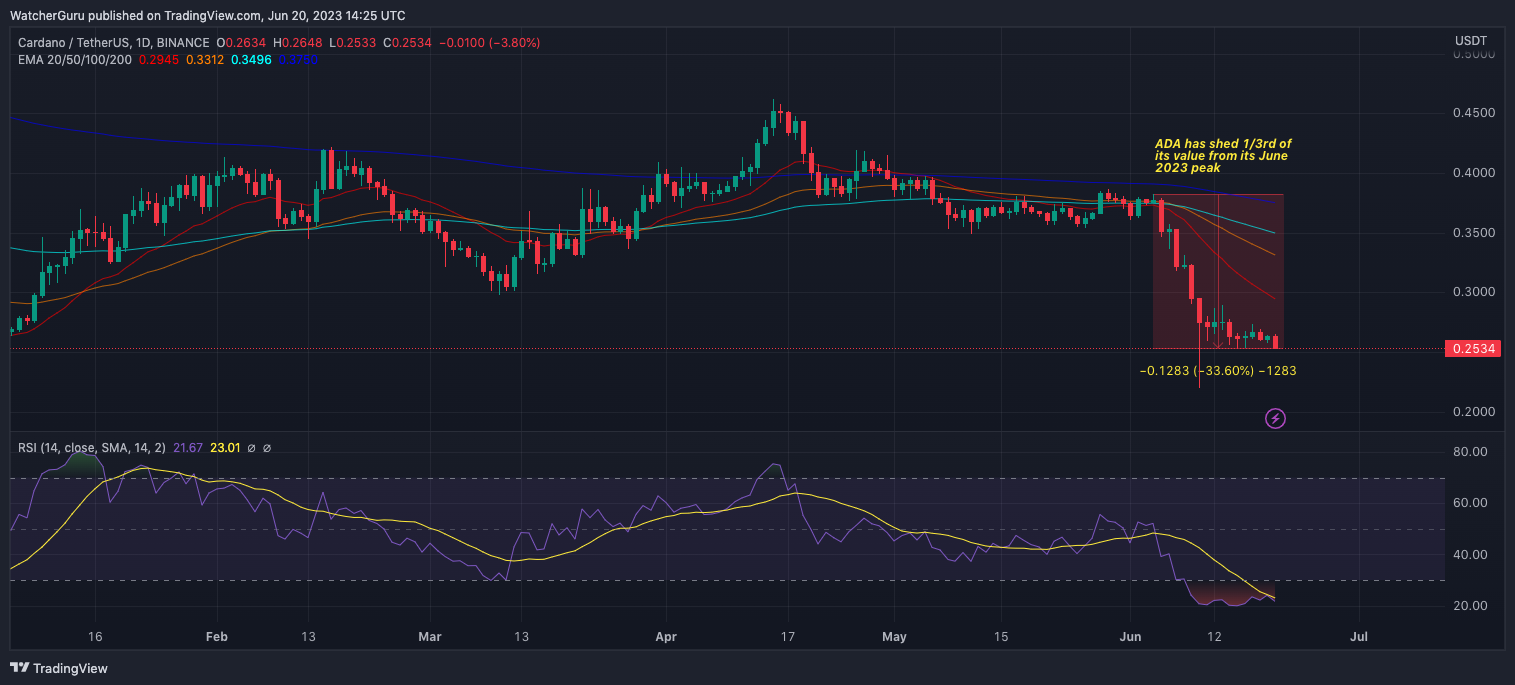 Also Read: Ethereum Registers 'Largest' Outflow Since the Merge: $35.6 Million Withdrawn
On Tuesday, most other on-chain fundamentals weren't favorable to ADA. On-chain numbers from ITB brought to light that the new and active addresses joining the network dropped by 9% and 2% respectively over the past week. In fact, data from Cardanoscan revealed that the transactions carried out on the blockchain have neither noted any major incline. When compared to early June's peak of 111.9k, the number merely stood at 71.7k at press time.
The total value locked on Cardano also flashed an unappealing trend. After consistently inclining over the past few weeks, the funds locked noted a sharp fall a couple of days back and have been consolidating around the lows. For context, the TVL peaked at $183 million in the first week of this month but is currently down to $137 million.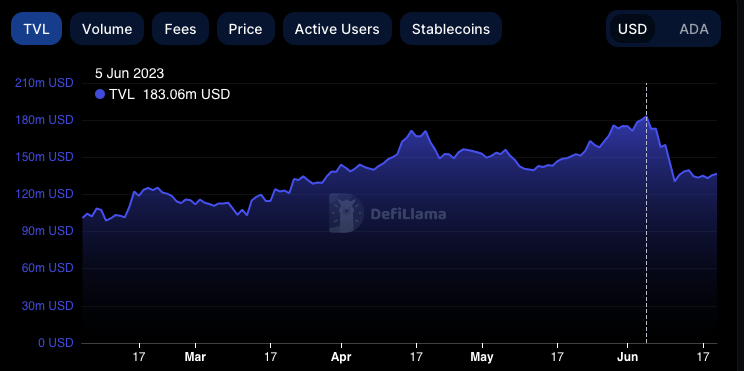 Thus, with no major catalyst providing support at the moment, ADA doesn't have any fundamental incentive to negate its losses and start recovering. Only when things start improving on the aforementioned fronts, an organic and sustained trend reversal materialize.