For the most part of 2023, Chainlink has been trading in the $6-$7 range. In June, it dropped to a low of $4.7 but swiftly recovered. Despite the price fluctuations, LINK has been in Contango since Q2 2023. It has not stepped into the Backwardation yet.
To contextualize, Contango and Backwardation are futures curves that depict the pattern of prices over time. A market is considered to be in Contango when the futures price is above the expected spot price. This is usually a bullish sign. Contrarily, when the futures price hovers below the expected spot price, then the market is considered to be in backwardation and is a bearish sign. Thus, with the LINK market consistently in Contango, it can be contended that traders expect the asset's price to rise over time.

Also Read: Bitcoin Must Surpass $98,000 for Miner's Sustainability in 2024
Amid the bullish sentiment, whales and sharks have been accumulating LINK. A recent analysis by Santiment revealed that holders of 100,000 to 10 million LINK currently hold the most coins since December 2022. Alongside, it is also interesting to note that Chainlink's development activity has been notably higher of late. In fact, this has led the protocol to crack the top-5 most frequently developed assets list.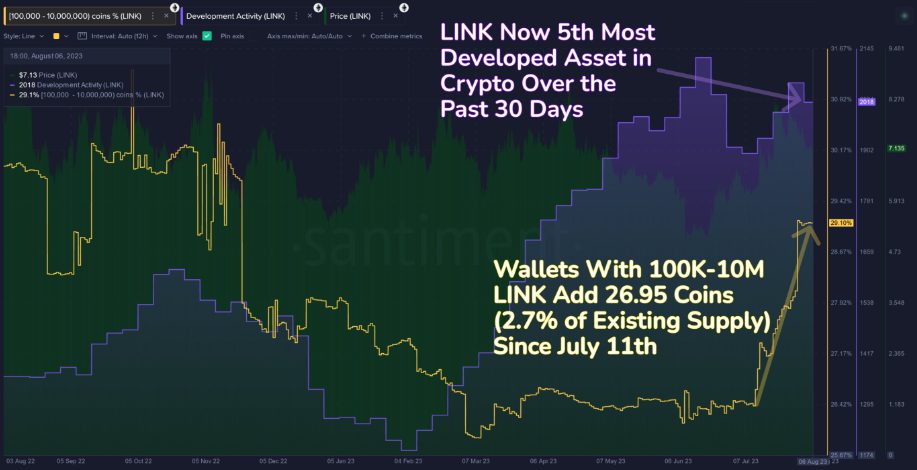 Also Read: Uniswap Makes $3 Billion in Fees but Analyst Calls UNI 'Worthless'
Chainlink CCIP
A few weeks back, Chainlink's Cross-Chain Interoperability Protocol [CCIP] launched on Ethereum, Avalanche, Polygon, Arbitrum, and Optimism under early access. This cross-chain communication protocol provided developers the ability to transfer data and tokens across blockchain networks.
As reported in a recent article, this upgrade received a positive reception. With funds flowing between smart contracts, across public chains, private bank chains, etc. CCIP will "accelerate" chain connectivity, Chainlink executive Sergey Nazarov asserted in a tweet. This development, in turn, will help in unlocking DeFi's full potential, he added.
Also Read: Crypto Volume on Exchanges Dropped 12% to $2.6 Trillion