This year, crypto as a whole struggled. 2022 has undoubtedly been a bad year for a variety of reasons. Even while bear markets have come and gone, this year's one left everyone with empty pockets, including the market's billionaires.
According to a recent Forbes study, crypto millionaires lost a staggering $116 billion in all. This list includes well-known individuals like Changpeng Zhao of Binance, Sam Bankman-Fried, and others. Several individuals on the list had their net worth go to zero. Not only removing them from the list of cryptocurrency millionaires but from any form of rich list.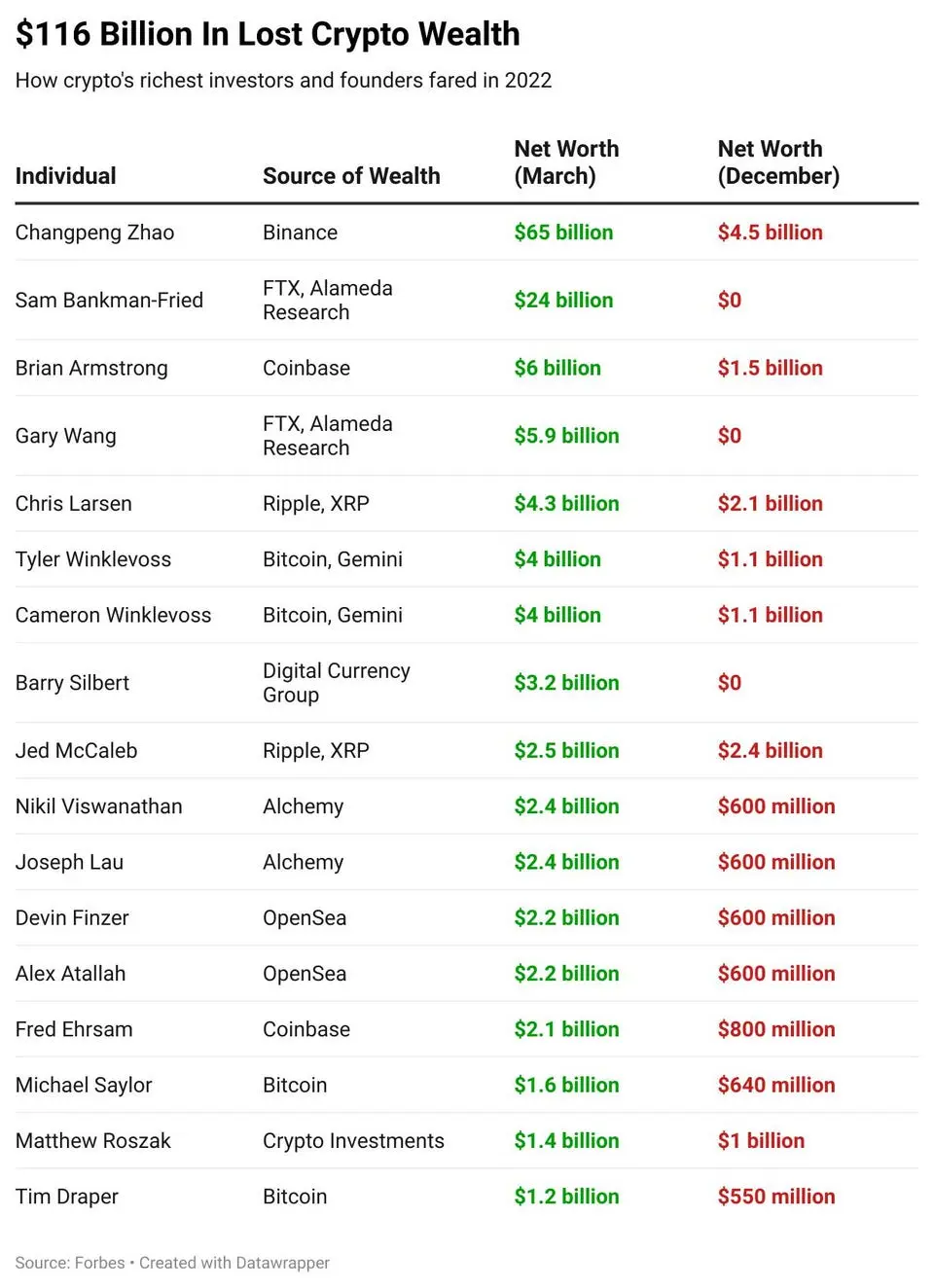 Did Binance's CZ lose the most in 2022?
Changpeng Zhao ended up being the biggest loser in terms of net value, as can be seen in the image above. The CEO of Binance had a net worth of $65 billion in March 2022. Sadly, in December 2022, this figure dropped to $4.5 billion.
With the decline in the value of cryptocurrencies and the ensuing issues, CZ has undoubtedly had a challenging year. The demise of the FTX empire put centralized exchanges in the public eye. Binance had a lot to cope with this year due to increased investigations by American and European regulators as well as the entire proof of reserves report debacle with Mazars. In addition to this, the Binance blockchain was hacked for $570 million back in October.
Brian Armstrong, the CEO of another prominent exchange, Coinbase's net worth was at $6 billion back in March. However now, his billionaire status was on the verge of dropping. His current net worth sits at $1.5 billion.
Similar to Armstrong, the crypto billionaire tag of Gemini's Winklevoss twins was also at stake. Their respective net worths, which were once $4 billion, are now $1.1 billion each.
Other billionaires like Microstrategy's Michael Saylor as well as Investor Tim Draper endured big losses this year. Saylor's value dropped from $1.6 billion to $640 million. Saylor decided to bid adieu to his role as Microstrategy's CEO this year and decided to focus on BTC. Draper, on the other hand, was valued at $1.2 billion and his present net worth is $550 billion.
Few others like Nikil Viswanathan and Joseph Lau of Alchemy, Devin Finzer and Alex Atallah of OpenSea along with Fred Ehrsam of Coinbase saw their billionaire status disappear as their net worth fell into the millions category.
Crypto Billionaires who went from riches to rags
As seen in the list, Sam Bankman-Fried and Gary Wang of FTX went from being one of the wealthiest individuals in the crypto ecosystem to nil. SBF who is currently out on bail has multiple charges on him. The man behind the FTX empire and its downfall were valued at $24 billion in March. But now, Forbes pointed out that his net worth was at $0.
Gary Wang co-founder and CTO of FTX went down with SBF. Wang recently pled guilty to four counts in the United States. His net worth dropped from $5.9 billion to $0.
Last but not the least, Barry Silbert of the Digital Currency Group [DCG] who was immensely exposed to the FTX debacle was previously valued at $3.2 billion. This list emphasizes how strong the bears are while also highlighting how wrongdoers never avoid justice.