Meme coins are yet again being perceived to be lucrative investment opportunities. Recently, an investor made $1.14 million in 4 days with just a $251 investment in PEPE coin. In fact, even an MEV robot captured around $1.5 million in profits by trading PEPE trading pairs.
Owing to recent developments, Floki Inu and BONE have also fared better than their other counterparts like Dogecoin, Shiba Inu, and BabyDoge Coin. As shown below, they've fetched investors with more than 8% returns each over the past week.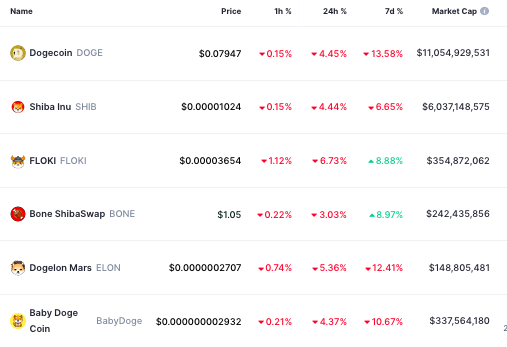 Also Read: PulseChain Testnet Withdrawals 'Coming' to Testnet 'Probably Tomorrow': Richard Heart
However, meme coin investments are always risky. Exponential rallies aren't seen frequently hence, memes are neither essentially a sustainable nor a dependable long-term investment. A particular Twitter user recently tweeted and asked the community how would they turn $1000 into $100,000. Specifically, the user questioned, "Would you buy nfts or memecoins?" Dogecoin founder Billy Markus was one of the many people who replied to the aforementioned question.
Dogecoin founder's words of wisdom
Even though Markus created Dogecoin, he has time and again advocated that the project is merely a meme and was launched for fun. Thus, without being biased toward memes, he gave a single-worded reply, "neither." Markus' response indicated that he is not a fan of NFTs either and doesn't essentially believe either investment option could help investors turn $1000 to $100,000.
There are undoubtedly many meme coins and NFT-related rags-to-riches stories. But parallelly, investors have also lost funds by diverting funds toward these assets. In fact, these assets take the hardest hit during bear markets. Alongside, there have been several cases of rug-pulls and scam cases as well. Thus, by not diverting funds towards these assets and playing safe, investors can shield themselves. At the end of the day, every penny saved is a penny earned, right?
Also Read – Not Dogecoin: Scammer Creates 114 Dodgy Meme Coins in 1.5 Months