Barring the brief "Uptober" pump, the price of Ethereum has been consistently dipping. From a high of $1751, the asset's value dropped to $1606 a day ago. Owing to the volatility in the Ether market, numerous positions in the derivatives market got liquidated. Data from Coinglass revealed that more than $11 million worth ETH positions had been wiped out over the past 24-hours. Around 80% of them were long trades [bullish bets].

Also Read: Ethereum Transaction Cost Drops to $1
In fact, on the macro market cap rankings front, Ethereum slipped by 6 positions to occupy the 58th rank. Even so, it managed to stay significantly higher than McDonald's. ETH and McDonald's have always been quite competitive on the valuation front. They have flipped each other several times over the past year. At press time, there was a $12.1 billion gap between the market cap of Ethereum and McDonald's.


Also Read: JPMorgan: Ethereum has Become 'More Centralized' Since Merge
Ethereum investors have been waiting on the sidelines of late. The asset's RSI was hovering around the neutral zone, coinciding with its SMA, indicating that there was no clear buy-sell bias established yet among this set of market participants.
McDonald's 'Death Cross'
Ethereum could use this opportunity to cement a position for itself above McDonald's. From the technical perspective, McD has formed a death cross on its daily chart. As illustrated below, the 50 MA [$279.6] has just dipped below the [$280.04] 200 MA. A death cross is usually considered to be a bearish sign and indicates that the market could be headed towards a longer-term downtrend. McD's stock price closed at $252.23 a day ago, 2023, a level last registered in October 2022.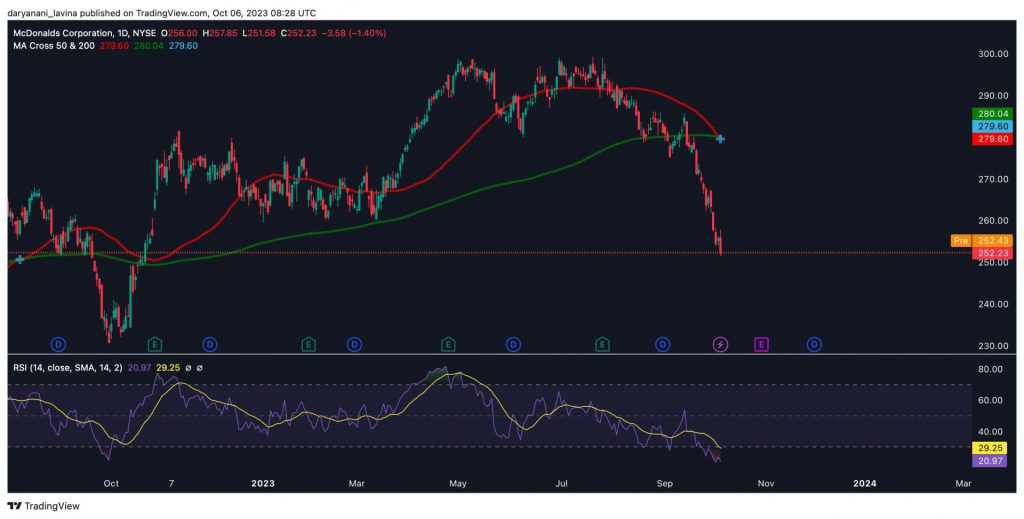 Also Read: Analysts Cut Down Coinbase Q3 Revenue Estimates by 7% to $609 Million