An investor had purchased $8,000 worth of Shiba Inu tokens in late 2020 and his portfolio ballooned to $5 billion in October 2021. SHIB had reached its all-time high of $0.00008616 during that time making him a billionaire in less than a year. The larger-than-life returns were extensively covered in the news back then calling it the greatest trade of all times.
However, talks were rife nearly two years ago that the investor who made $5 billion with SHIB might have lost access to his wallet. Imagine earning generational wealth and not being able to experience all the money by losing your security keys.
Also Read: Shiba Inu: Investor Would Have Made $40 Million With A $200 Investment
Shiba Inu: SHIB Investor Who Made $5 Billion Lost Keys & Wallet Access?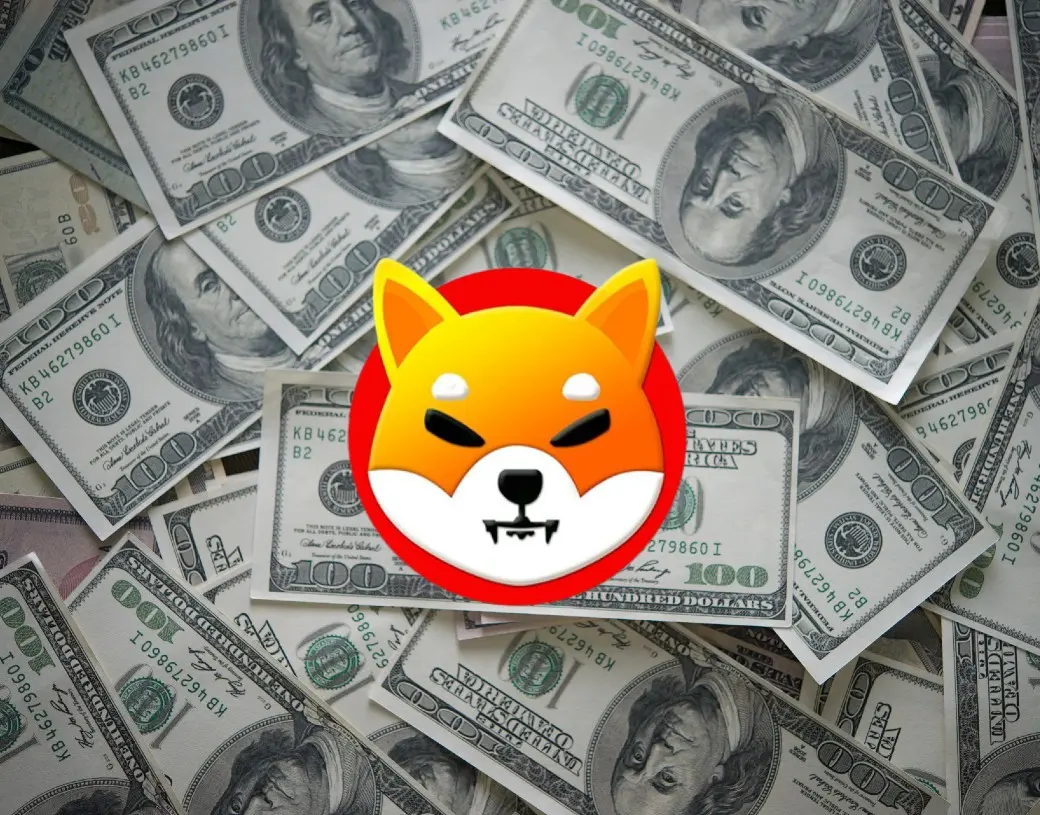 Shiba Inu made a lot of early investors turn into multi-millionaires and billionaires from 2020 to 2021. The token spiked 85,000,000% (85 million percent) between August 2020 to October 2021. It just took 14 months for early SHIB investors to create wealth that lasts a lifetime.
So here's what happened to the investor that turned $8,000 investment into $5 billion. To keep it simple, the investor did not lose access to his keys but was in shock looking at his portfolio. The SHIB investor who made life-chaining gains of $5 billion had clear access to his wallet.
Also Read: Shiba Inu: Early Bitcoin Investor Says Shibarium Will Be Something Big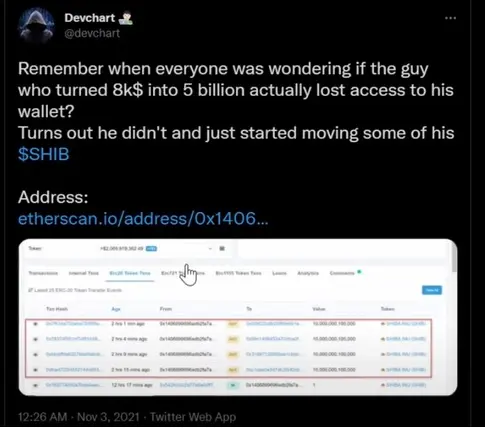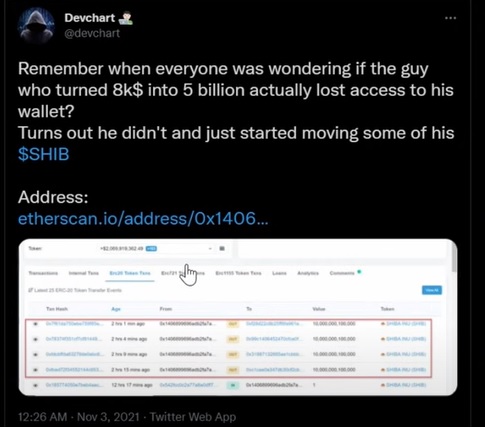 He sold a mouth-watering amount of $2.9 billion just a few days after SHIB reached its ATH in October 2021. The remaining of the other billions of dollars, he sold them a few weeks later, never to be seen again.
Also Read: Shiba Inu: CEO Says SHIB Has a Chance for $0.01 With Shibarium
The Shiba Inu billionaire might now be relaxing in his mansion sipping cocktails in his jacuzzi. There might be a Lamborghini in his garage overlooking a large plush lawn and pool. If there's one investor who made good use of Shiba Inu, it's undoubtedly him, hands down.