Shiba Inu is back on the radar of crypto enthusiasts. On analytics platform LunarCrush, SHIB was the top-trending digital asset. Other large and mid-cap crypto assets like XRP, Pepe Coin, Dogecoin, and MATIC ranked lower than SHIB tokens.
Also Read: Shiba Inu Expected To Rise 1,800% After Shibarium Launch: Timeline Revealed
SHIB's concentration has been fluctuating lately. According to data from IntoTheBlock, the whale holding clusters have dropped by nearly 2%, while investors' shares have risen more than 10% over the past month. At press time, the former cluster collectively possessed 624.6 trillion SHIB tokens, while the latter was in possession of 134.16 trillion SHIB.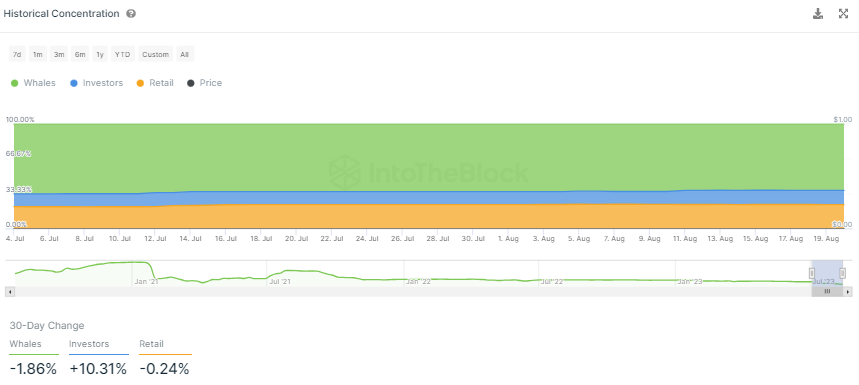 Also Read: Shiba Inu: How Much Did SHIB Rise from 2021 to 2023?
Glimpse of SHIB's short-term changes
When the timeframe was shortened, the situation seemed different. SHIB's large holders' netflow recently registered one of its sharpest spikes since May. Over the past week, this metric has increased by 746%. Consequently, it flashed a value of 4.69 trillion at press time. A positive value on the net flow usually indicates that market participants are buying the asset.
The latest rise highlights renewed traction. Perhaps, owing to these large-holder buys, other investors have started eyeing SHIB and adding it to their radar. On CoinGecko, more than 600,000 people had the asset on their watchlist.

Also Read: Shiba Inu: Can SHIB Make You A Millionaire?
It should be noted that Shiba Inu's beta coefficient has registered its sharpest decline of 2023. At press time, it was down to almost zero. This indicator evaluates SHIB's volatility relative to that of Bitcoin, and helps gauge the comparative risk and price fluctuations. Thus, given the current state of this metric, it can be contended that SHIB has started decoupling from the broader crypto market and is slowly dependent on its own fundamentals.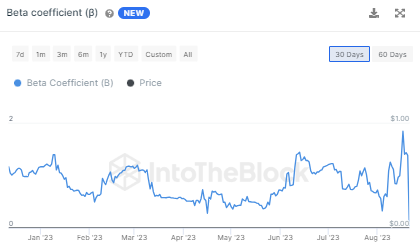 Also Read: Shiba Inu: How Much Will $100 SHIB Be Worth If It Reaches ATH?