There are three VeChain hardware wallets in existence, Ledger Nano X, Ledger Nano S, BC Vault One. A hardware wallet is an external plugin device that cryptocurrency users use to store passwords and pirate keys externally. It gives an extra layer of protection against cyber-attacks, for example, phishing.
This is the most common hardware wallet that most cryptocurrencies use. It is an external USB flash drive, which is portable; the features are as below.
Bluetooth enabled
It is the latest hardware wallet for VeChain released by Ledger. 
Built-in battery for mobile use via smartphone
The price value is about $150 to $200
You can order it at the Ledger Shop
Includes free shipping from the official site
The advantages of the Ledger Shop include free shipping, 14-day easy return, more than 15 secure payment methods, multilingual customer support with crypto experts, and the security that you will receive an original device.
Of course, you can also order the device through one of the many official resellers. There are resellers all over the world. Here, in addition to free and fast shipping to Germany, you also benefit from premium customer service via chat, email, and phone and the free help with installation (in English).
An improvement of the Ledger Nano S
It has a certified security element that offers state-of-the-art security
According to hardware wallets.net, the wallet has a first impression of 95%, setup of 95%, handling of 90%, compatibility of 100%, documentation and support of 95%, and a security level of 96%. Therefore, the overall test results are 95%
Disclaimer: It is important to order hardware wallets from the manufacturer to avoid low-quality devices. Some platforms manipulate the wallets to steal coins from your wallet later. 
The Ledger Nano S is a wallet that Ledger released before Ledger Nano X. It is the cheapest VeChain and most commonly used wallet. The features include;
First-ever certified hardware wallet you can use for cryptocurrencies, such as VeChain.
Most popular wallet in the market
Sold over 1.5 million times
It uses a security chip that is the same as the type passports use to offer security.
You can order from Ledge, the manufacturer, and get free shipping and good merchandise.
It has a cost value estimate of $19-$20
According to hardware-wallets.net, Ledger Nano S has an overall test result of 94%. 95% first impression, 90%set up, 85% handling, 100% compatibility, 95% documentation and support, and 99% security
Has over a million devices in more than 106 countries.
READ ALSO: What will VeChain be worth in 2025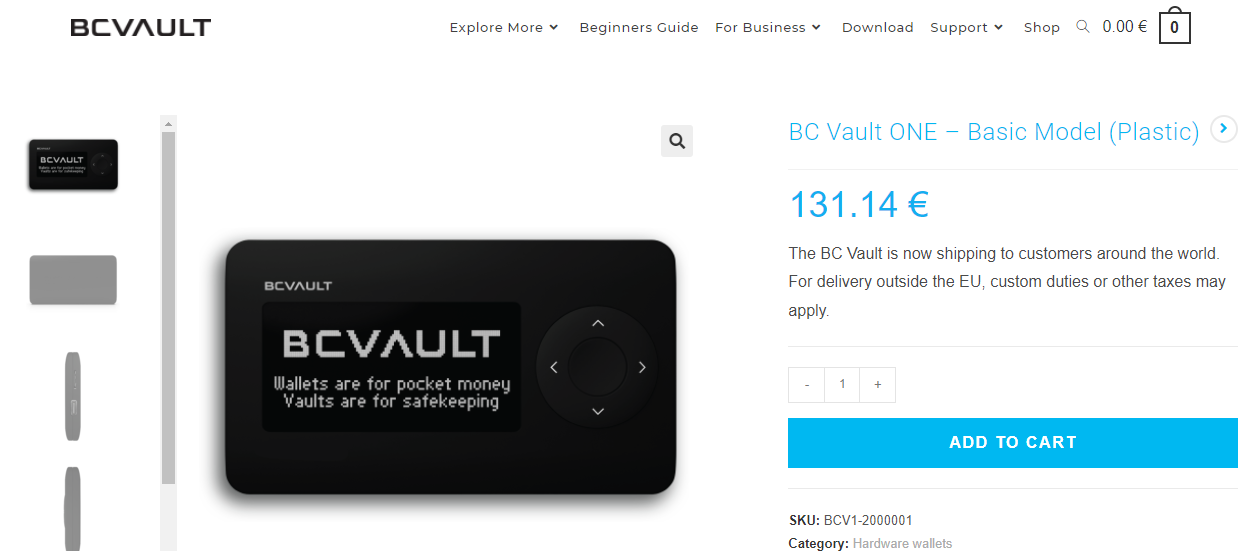 A third hardware wallet for VeChain is BC Vault One. The wallet is certified and approved for cryptocurrency storage. The features of the wallet are as below.
Secure storage of Vechain
Backups easily
Quickly encrypts and stores on the SD Card
Uses FeRAM storage feature to allow for long-term storage for up to 120 years
It has a large display that displays the complete address and more information on the wallet
You can use it as a U2F authentication, or for example, for web services like Facebook.
Overall rating of 83%
Sells at $130-$135
VeChain Hardware Wallets
The three are the main hardware wallets that you can use for VeChain. The hardware wallet stores the private key. Your $VET cryptocurrency remains live on the blockchain. The private key acts as a lock to your addresses on the blockchain. Vechain is a promising cryptocurrency set to moon soon. Buy and HODL.