"Merch," what crosses your mind when you think of the term Merch? It is easier to explain when used together with the word Safemoon because many know it is a cryptocurrency. This brings us to Safemoon merch and what it is all about.
Safemoon Merchandise
Safemoon merch is an online merchandise store launched earlier this year in support of cryptocurrency. The store sells several products designed by independent genius artists from all over the globe.
Many of the products are clothing, but there are also posters and stickers. The official site is shop.safemoon.net, with a featured collection of items. However, other e-commerce sites such as the teen public sell the merchandise too. The sites sell the merchandise at equally the same price.
Reasons for Safemoon Merch
Safemoon aims to expand growth and gain momentum globally because very few people know about the coin. It is not only targeting the cryptocurrency community but also people without any cryptocurrency knowledge. The Merchandise helps to create awareness of the cryptocurrency.
Sample Safemoon Merch Products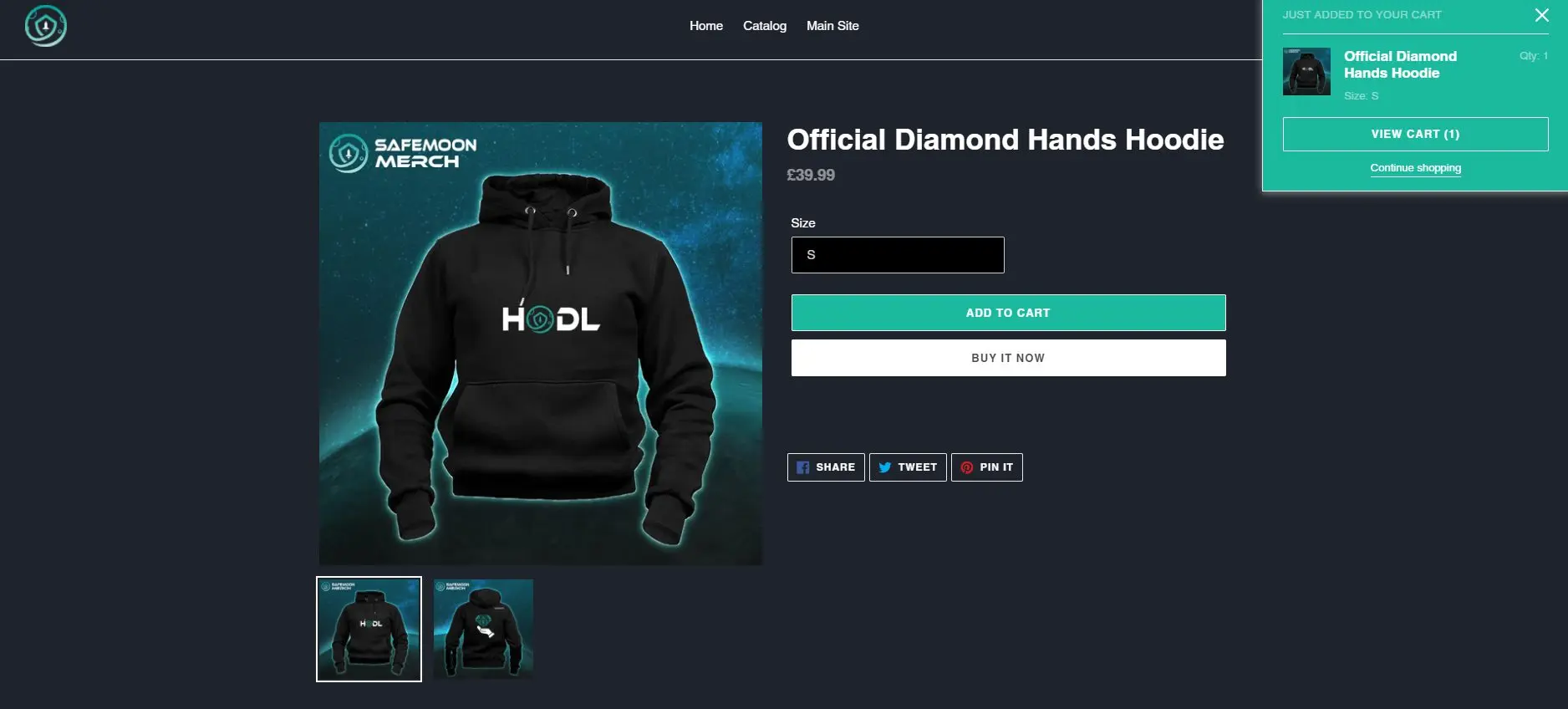 July 2021 marked the launch of Safemoon's second official merchandise set. The merchandise, labeled 'Safemoon Merch V2', was to tease the release of its wallet.
The items on sale on the official site include the:
Official New Safemoon Hoodie – £39.99
Official Safemoon T-shirt – £24.99
"TOKENOMICS" JOGGERS- £34.99
Official New Safemoon Joggers- £34.99
Safemoon Coffee Cup – £14.99
Official New Safemoon Beanie-£14.99
Official New Safemoon Hats – £14.99
X3 Official New Safemoon Masks Pack –£ 19.99
Official Diamond Hands Hat – £14.99
X3 HODL face masks pack- £19.99
Official Diamond Hands Joggers- £ 34.99
Official Diamond Hands T-Shirt – £24.99
"TOKENOMOMICS" SAFEMOON HOODIE- £39.99
"TOKENOMICS" T-SHIRTS- £24.99
Official SAFEMOON T-Shirt- £24.99
"TOKENOMICS" beanie – £14.99
Official Safemoon Sticker Pack – £14.99
Other merchandise not listed in the V2 set includes posters and women's clothing such as leggings.
Payment method
The site offers direct shipping to its customers. The payment process is straightforward:
1. Open the official Safemoon merchandise site.
2. Scroll to locate the product you want to buy.
3. There are two options, 'Add to Cart' for buying later and 'Buy it now for immediate purchase.
4. Select the option that best suits you.
5. Select the number of items. Use the + sign to add the number of articles and – to reduce the number of selected merchandise.
6. The site will display the amount to you in total.
7. Click pay.
8. The site will redirect you to another page with either G-pay or payShop. This is also where you will fill in your shipping details and personal information. Note: The site does not ship merchandise to PO BOXES, therefore, select a general area of delivery like popular parcel agencies near you.
9. Wait to receive your merchandise.
Conclusion
Merchandise Safemoon lists sell out quickly, which means the products are of good quality. This is an excellent way to create awareness of a cryptocurrency coin.